The Bible overflows with stories of holy men, evil men, and those whose morality could be best labeled "it's complicated." What many readers don't realize is that the Bible also tells the stories of complex women.
Women in the Bible have historically been either overlooked, unfairly sexualized, or wrongly vilified—not out of ill intent, usually, but because of limited effort in exploring them as vital to the biblical saga. What we don't spend time studying we don't understand well.
Author and literary agent Mary DeMuth wants to change our perception of ten biblical women who were misunderstood in their own times and remain so to many even now. In her latest book of her, The Most Misunderstood Women of the Biblereleasing March 29, she opens up the lives of women like Eve, Rahab, Tamar, Phoebe, and more in a unique fashion—through both storytelling and scholarly analysis.
Mary in her own words:
What was your inspiration for The Most Misunderstood Women of the Bible?
I've had my fair share of being misunderstood, particularly in the church. Through that journey of giving my pain to Jesus and having great conversations with wise people, I realized the Bible was full of people who were misunderstood just as I was. Misunderstanding is universal, and we can glean so much by learning from these ten misunderstood women from scripture.
What makes this book special/unique?
I use both my skillsets as the author. I am first a novelist, so I use storytelling to craft a narrative of each of the women I highlight, being careful to stay as close to the biblical text and solid, excellent scholarship. What a joy to bring people like Eve and Phoebe to life! Then I don my non-fiction Bible teacher hat and unpack the narrative, giving the reader unique insights in how to navigate the minefield of misunderstanding. So, the reader gets a stronger understanding of each biblical woman and how to be wiser in battling misunderstanding.
What is the biggest lesson you've learned while writing The Most Misunderstood Women of the Bible?
That the people of the Bible were real human beings who had weaknesses, stresses, and worries just like me. They aren't archetypes or flat representations on the page. They lived, mourned, made mistakes, and they battled being misunderstood. It's really quite amazing when you realize Bathsheba was a human being. Seeing her story of loss from her perspective from her changed the way I look at the broken.
How are you reflected in The Most Misunderstood Women of the Bible?
I pour a lot of myself into every book I write. My story permeates its pages, and the wisdom I've gained from reading the Bible several times a year has given me unique insight into the narrative of scripture and how to apply it to our lives.
What do you hope readers will take away from The Most Misunderstood Women of the Bible?
That it's normal to be misunderstood, and there's a positive way to work through the pain of misunderstanding.
What has been the hardest chapter of the book to write and why?
The Tamar chapter because she has such a sad, difficult story that doesn't necessarily resolve. I'm grateful for stories like that, though, because sometimes life is not easily understood, and our dreams sometimes get swallowed up by grief. The beauty of that story is that Tamar persevered. She chose life.
~~~
Pre-order a copy of The Most Misunderstood Women of the Bible before March 29 (or if you're reading this late, go grab your copy now). I recommend it for book clubs and small group discussions as well.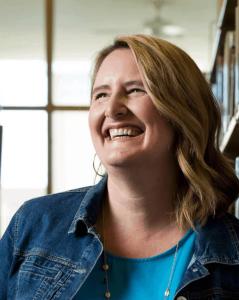 Mary DeMuth has written more than 40 books—both nonfiction and fiction. She has spoken all over the world, helping writers hone their message, write powerfully, and get noticed. Her podcast, Pray Every Day, has surpassed a million downloads and has been listened to in more than 150 countries. In her spare time, she creates small-scale art projects for her Etsy shop.
A former church planter in Southern France, Mary has a heart for the world. She is a mother to three adult children and the wife of Patrick for thirty years. They make their home in beautiful Rockwall, Texas.