Rivals national recruiting director Adam Gorney and national recruiting analyst Ryan Wright along with jason higdon from 1standTenFlorida.com and Julie Boudwin of TigerDetails.com tackle three topics and determine whether they believe each statement is FACT or FICTION.
1. Ohio State has a real shot to land two of the top three receivers in the class in Brandon Inniss and Carnell Tate.
Gorney's take: FACTS The chatter out there is that Alabama and Ohio State are the slight front-runners for Brandon Inniss and that the Buckeyes and Notre Dame are the favorites for Tate. although others remain in the running for both. Inniss especially was watching Chris Olave's performance at the NFL Scouting Combine on Thursday and commented on it making me believe his interest in him in the Buckeyes is growing. I still think both could end up elsewhere and this isn't necessarily a package deal but Ohio State is very much in the running for both and I could see it happening for sure.
Wright's take: FACTS Brandon Inniss and Carnell Tate are 7-on-7 teammates and may be a packaged deal of sorts. Inniss has shown a lot of love to Ohio State on social media, and another South Florida Express 7-on-7 teammate, four-star 2023 athlete Cedrick Hawkins, is already a verbal commitment. If Ohio State could land the trio, this would be momentous for the Buckeyes and a blow to programs like Miami, Florida and Florida State. Inniss, a one-time commit to Oklahoma, seems to have a very strong tie to Lincoln Riley from the Sooners to USC. The Trojans could play a major role in where Inniss ends up.
SHARE YOUR THOUGHTS WITH OHIO STATE FANS AT SCARLETANDGRAYREPORT.COM
*****
2. Dante Moore had a strong relationship with Brian Kelly at Notre Dame. Now at LSU, Kelly could land the five-star QB who visits Baton Rouge this weekend.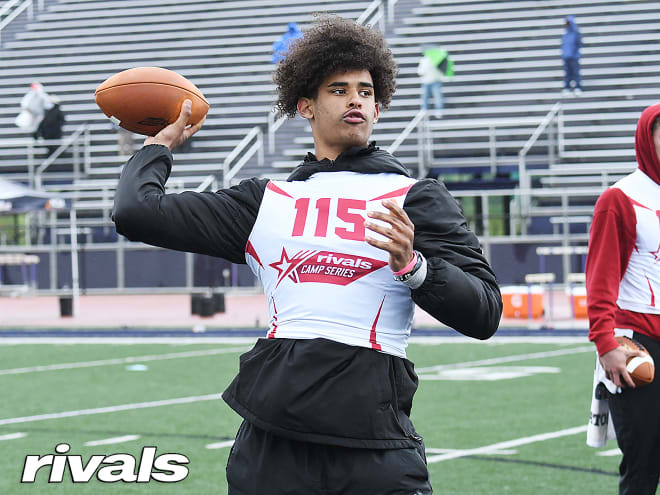 Gorney's take: FACTS There has been talk that Dante Moore would prefer to stay in the Midwest with Notre Dame and then Michigan probably the programs he's most serious about right now but this LSU visit makes things more interesting. He was high on the Irish when Brian Kelly was there and now he's running things in Baton Rouge. Big-time SEC football. Warm weather. And the opportunity to still play for Kelly? It could be very, very tempting. I still think he ends up somewhere closer to home but LSU is now very much in play.
Boudwin's take: FACTS LSU is searching for a quarterback in the 2023 class and while many believe Moore has some favorites already, his trip from him to Baton Rouge this weekend could change things. He has a previous relationship with Brian Kelly from his time at Notre Dame along with holding an offer from Cincinnati when mike denbrock was there plus Moore has also been communicating with LSU quarterbacks coach joe sloan. Moore isn't traveling all the way to Baton Rouge for nothing, so we'll have to see how the big weekend goes but there's potential for LSU to shake things up a bit for the five-star.
SHARE YOUR THOUGHTS WITH LSU FANS AT TIGERDETAILS.COM
*****
3. After a great visit to Florida in recent days, the Gators should be considered the front-runner for four-star all-purpose back Treyaun Webb.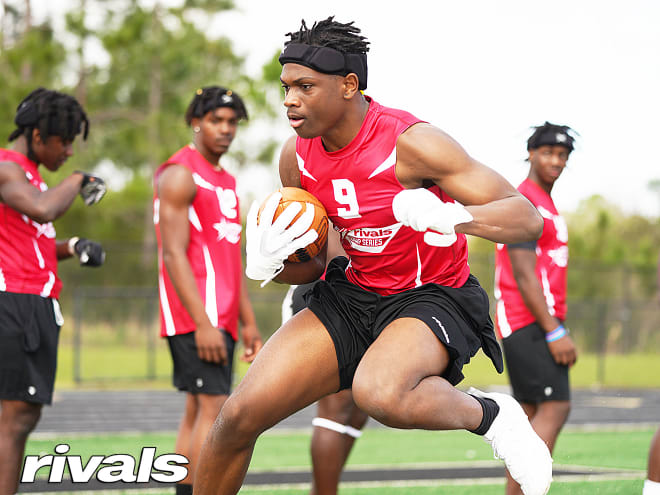 Gorney's take: FICTION. Treyaun Webb had an excellent visit to Florida and when I asked him what stood out the most, he said, "Everything. The meetings, the practice, the new facility." He didn't mention coach billy napper's renewed focus on recruiting in-state prospects and how important that's going to be for the Gators but that could be a big calling card for Webb as well. Here's the thing though: I just don't think Webb has a front-runner now. Georgia is in there, he will be at North Carolina this weekend, others are making a serious push. After commitments to Georgia and Oklahoma that he's backed off from, it looks like the four-star could be a little more patient and review everything before making another pick. Florida is in great shape but others are right there as well.
Higdon's take: FACTS I was told the plan in place made a huge impression. His most important factors to make his decision about him will be genuine relationships and great academics, both Florida knocked out of the park. Webb knows how serious Billy Napier is about recruiting the state of Florida and now it's about continuing to build the relationship.
SHARE YOUR THOUGHTS WITH FLORIDA FANS AT 1ST AND TEN FLORIDA