In today's Fact or Fiction national columnist mike farrell looks at three big recent topics in college football and decides whether each statement is indeed FACT or if it's FICTION.
****
THREE-POINT STANCE: Pac-12 transfers, top defenders, odd coaching fits
CLASS OF 2022 RANKINGS: Rivals250 | Position | Team | State | JUCO
CLASS OF 2023 RANKINGS: Rivals250 | Position | Team | State
PORTAL TRANSFER: Stories/coverage | message board
RIVALS CAMP SERIES: Info for 2022 series
*****
1. Ohio State OL Harry Miller is a hero.
Farrell's take: FACT. If you haven't read it yet, please go to Harry Miller's Twitter account and read what he says about his retirement from football. Miller was a big-time get for Ohio State as an offensive guard from Georgia back in 2019 as Rivals' No. 44 player overall. He hasn't seen a ton of playing time at Ohio State, and when he was playing he wasn't overly effective. In fact, many began to call him a bust. Little did they know he was battling thoughts of suicide.
Ryan Day helped Miller get the mental health help he needed, and now Miller is a hero for bringing his struggles to light. More and more, sports personalities are coming out about mental health issues, and Miller's writing of him is profound. He is far from a bust. He's truly a hero.
SHARE YOUR THOUGHTS WITH OHIO STATE FANS AT SCARLETANDGRAYREPORT.COM
*****
2. Alabama's Will Anderson will be in New York next year.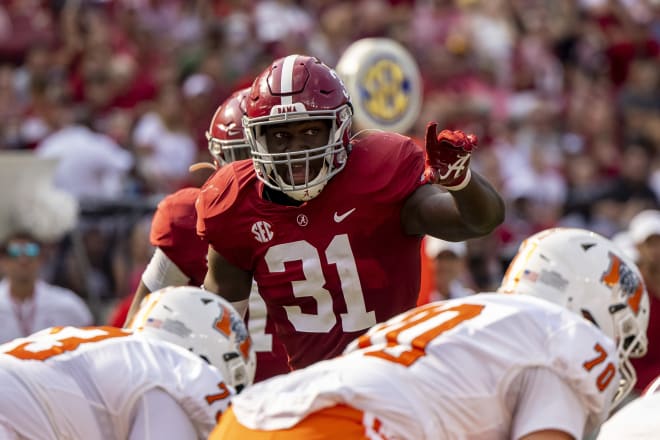 Farrell's take: FACT. It's March, and the football season is far away. But with spring football starting there is at least hope on the horizon and it has me thinking of the Heisman for some reason, and the snub of Alabama edge rusher Will Anderson. Michigan's Aidan Hutchinson finished second in the Heisman race last year to Alabama quarterback Bryce Young after a season in which Hutchinson registered 62 tackles, 16.5 tackles for loss and 14 sacks. Anderson didn't get invited to New York as a finalist, even though he had 101 tackles, 31 for loss and 17.5 sacks.
Even if he doesn't match those numbers this upcoming season, and that's obviously hard to do, he will be in New York next season as a finalist. I expect him to at least surpass Hutchinson's numbers next year, and he deserves the recognition.
SHARE YOUR THOUGHTS WITH ALABAMA FANS AT BAMAINSIDER.COM
*****
3. Ty Thompson wins the starting QB job at Oregon.
Farrell's take: FACT. Former Auburn offensive coordinator Kenny Dillingham is running the offense at Oregon under new head coach Dan Lanning, and he obviously has a connection to Bo Nix, who is transferring in from The Plains.
But Thompson was a five-star recruit for Oregon in 2020 and is exceptionally talented, so this is where the portal comes in. It gives you experience with Nix, but it could also take away a talent like Thompson if he isn't the starter. And I have a feeling Oregon won't let that happen, even if he's not the best fit right away.
SHARE YOUR THOUGHTS WITH OREGON FANS AT DUCKSPORTSAUTHORITY.COM