Now that we're a week removed from the NFL Combine drills, it's time to sit back and assess the true winners and losers of the underwear olympics. There has been a lot of speculation on the effects of the combine, but most assessments lack hard evidence.
When looking at skill position players, we have early offseason best-ball drafts that give concrete data on how fantasy players have changed their views on different prospects. In this analysis, I collected draft data from over 100 drafts that have taken place in FFPC best ball leagues so far this offseason. I found the average draft positions for 2022 running back and wide receiver prospects in the week before and the week following the NFL Combine.

Click here for more PFF tools:
DraftGuide & Big Board | Mock Draft Simulator
Dynasty Rankings & projections | Free Agent Rankings | 2022 QB Annual
Player Grades
---
By comparing the pre- and post-combine ADPs, we have realtime feedback on how the prospects' combine performances are affecting their public valuations, which is as good of a measure as any for determining the real-world impact of various measurements and drills that took place in Indianapolis.
THE FULL LANDSCAPE
The plot below has every 2022 running back and wide receiver prospect with an average draft position of 250 or lower going into the NFL combine, comparing the pre- and post-combine numbers. The dashed line indicates where a prospect would land if his ADP was unchanged, with those above the line having improved their ADP, and those below having fallen out of favor. The running backs are identified with red points, the wide receivers in blue.
There are now two distinct tiers of prospects coming out of the combine. With Chris Olave rising and Kyren-Williams falling, there is near a 50-spot gap in draft positions between the two tiers.
Focusing on the top tier of prospects, Breece Hall and Kenneth Walker were the biggest winners, both dominating the combine drillswhile Isaiah Spiller didn't participate. Optically, it might not look like Hall and Walker moved much, but each gained more than a round in ADP, which is significant for players who were already drafted in the top-100. The receivers in the top tier are now bunched up in ADP, whereas Treylon Burks was clearly the WR1 going into last weekend, with Chris Olave previously the clear WR4.
The biggest gainers in absolute number of draft spots are christian watson and Skyy Moore, whose ADPs rose 65 and 46, respectively. Moore and Watson were also my two biggest winners of the weekend according to their "real" football value. Jahan Dotson and George Pickens also rose, but not nearly to the same degree, as their pre-combine ADP were much stronger. The losers among wide receivers were Wan'Dale Robinson and David Bell, whose ADPs fell 48 and 30 spots, respectively. Neither tested well, even with modest expectations.
Among running backs, Kyren-Williams fell from the RB4 of the class to RB5, and could have further to go. Pierre Strong's ADP worsened, but he was infrequently drafted going into the combine, so there could be noise in his results, as his combine performance was one of the better in the running back group.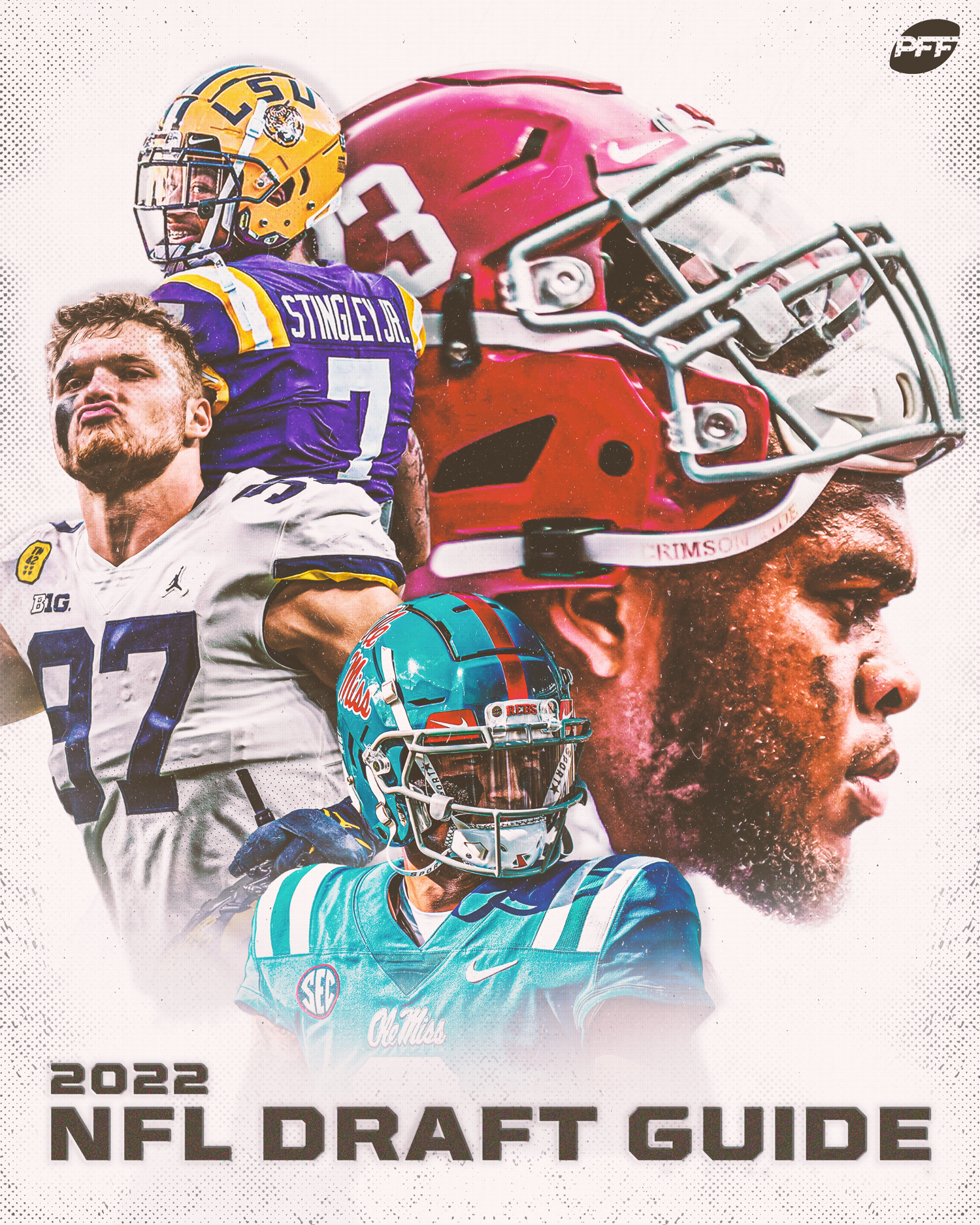 TOP-TIER MOVEMENTS OVER TIME
The plots below track the daily ADP movement for the top-tier or running backs and wide receivers from when best-ball leagues began on Feb. 1 through this week.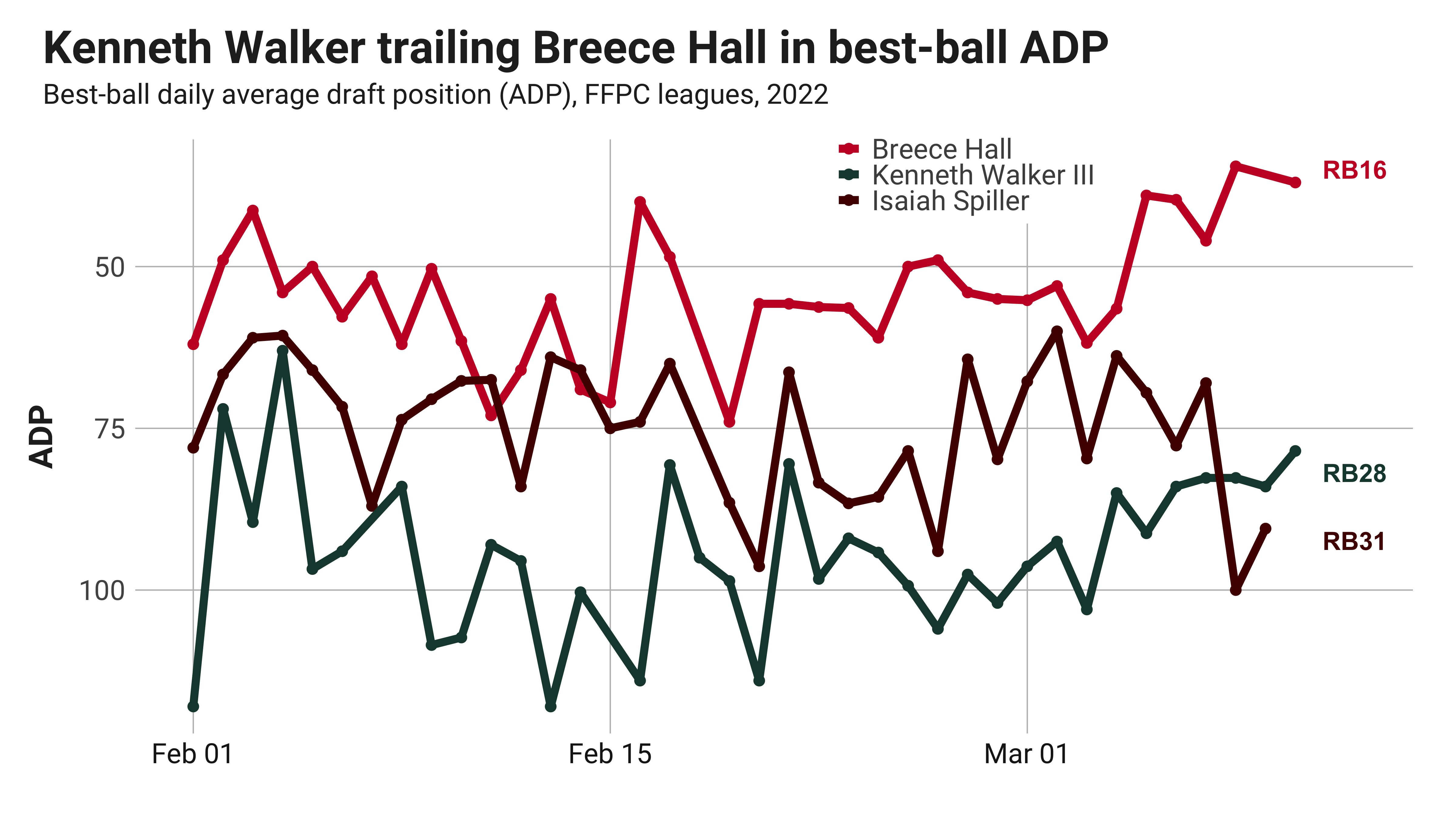 Breece Hall's ADP was trending up going into the combine, then accelerated its ascent after the results. Hall has moved all the way up to RB16 overall in recent drafts, which is approaching where Najee Harris was drafted last season, though Hall projects to go a round later in the current NFL draft.
If there is a value in the top tier of running backs, it's Kenneth Walker. Walker posted just as strong of drills at the combine, plus he's going earlier in mock drafts than Hall. A 30-40 spot gap in ADP between these backs is far too great, even if, like me, you're a big fan of Hall.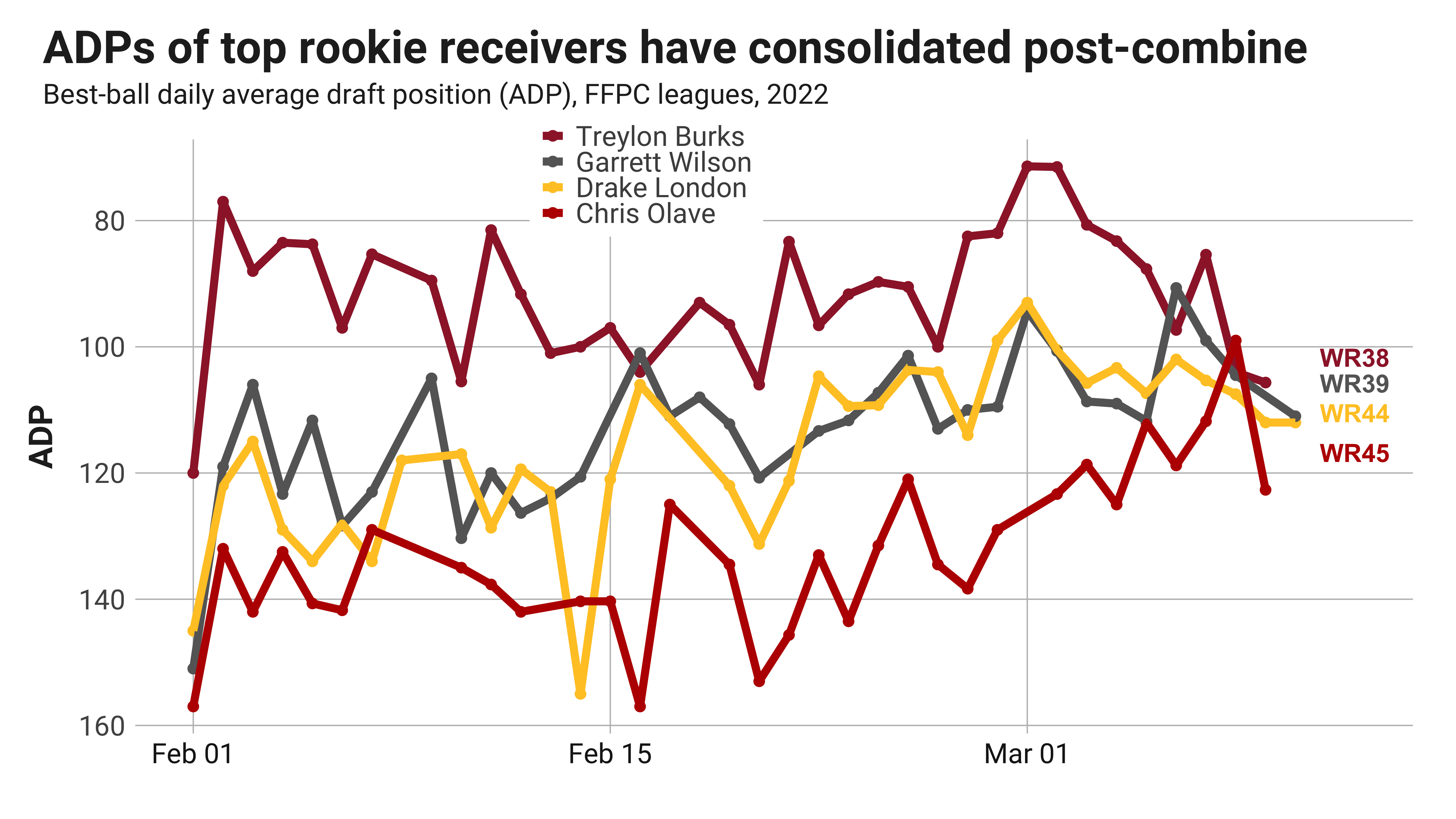 The top-tier wide receiver ADPs began the offseason spread out over 50-60 spots, and have now narrowed to less than 15. The combination of Treylon Burks falling on a disappointing combine and Chris Olave strengthening his stock places all these receivers in a range from WR38 to WR45. Any of the four could end up the ADP leader by the time we get to the NFL draft.