The Lafayette Parish public library director may be self-censoring books and movies, whether he realizes it or not, an LSU assistant professor of library science said Friday.
But Library Director Danny Gillane said he knows what he's doing and he's trying to find compromises that keep books and movies on the libraries' shelves.
"How do I please as many people as possible without pulling books off the shelf" is his approach, Gillane said Friday.
Two actions taken by Gillane in the past six months regarding books and a DVD that library patrons wanted banned raise the question of self-censorship.
Between October and November, after a patron sought removal of "This Book is Gay" but before the library board heard his appeal, Gillane decided to move teen non-fiction books to the adult non-fiction section. That included "This Book is Gay." At the main library downtown, the adult non-fiction section is on the third floor. The teen fiction section is on the first floor.
"If you move a book from the young adult section to the adult section and a kid's downstairs looking for that book, he's never going to find it," Jennifer Thiele, assistant professor of professional practice, LSU School of Library and Information Science, said Friday. "You might as well censor it outright."
Gillane disagreed with that assessment. If a book is removed from the library, he said, that's censorship.
"I do not think moving a book and keeping it in the library is censorship," he said. "My job is to keep as many books on as many subjects available. I'm looking for the most peaceful way to keep books."
"This Book is Gay" is the first in a series of recent requests to ban books and DVDs from the public library system.
A reconsideration committee on Wednesday did not censor a documentary film about the life of a gay sex worker in Hollywood. The complainant filed an appeal that the full library board will hear, possibly March 21.
The Acadiana Advocate this week learned about a fourth request for reconsideration, of an animated film "Noah's Ark," that was in the children's section. The Feb. 26 complaint noted the film contains fart jokes, a chicken stripper flashing her breasts, a guinea pig talking about drug use and a gay orangutan whose portrayal may be offensive to gay people. The complainant called the film a disgrace that mocks Christianity and Christian beliefs.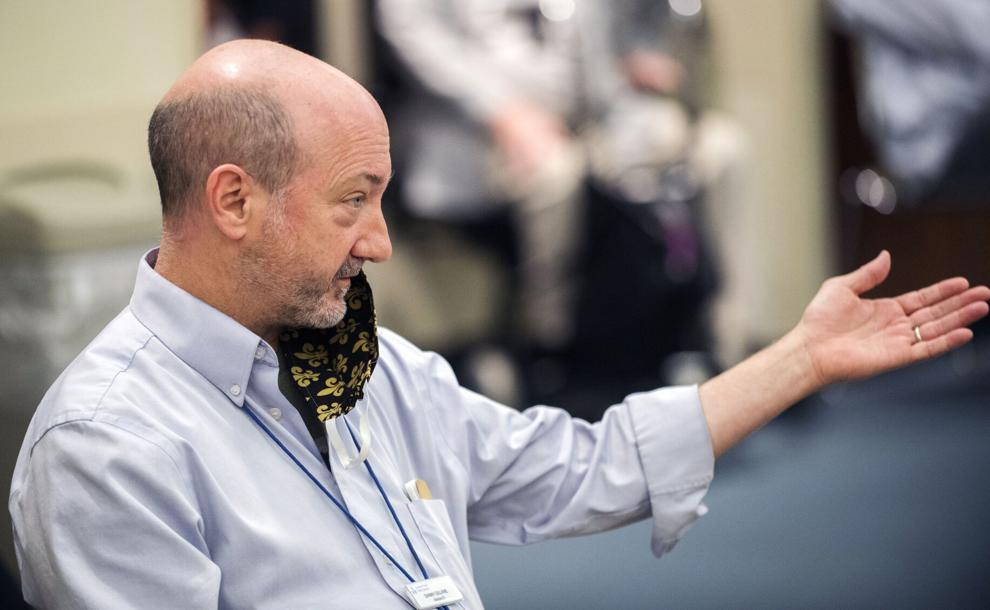 Gillane said Friday the movie is a 2007 Argentenian cartoon that was not necessarily made for children and "probably shouldn't be in the children's section." The library bought the film prior to 2015, before the library had separate librarians selecting material for children and for adults. Had it been bought after 2015, Gillane said, it would have been in the adult section.
After consulting a few librarians, Gillane said he spoke with the patron, as he does with anyone who files a request for reconsideration. He alone decided to move the movie to the adult section, he said, and the complainant is "perfectly happy." She withdrew her request for reconsideration.
"If it's a kids video in the adult section, kids won't pick it out," Thiele said. "An adult's not going to want to watch an adult Noah's Ark animated video. So there it sits on the shelf and no one is checking it out. You might as well get rid of it."
Whether it rises to self-censorship or not depends on Gillane's motivation, Thiele said. But the effect is the same: No one is going to see a book or DVD geared toward children or young adults if it's shelved in the adult section, so it might as well be banned.
Gillane said teens may be reluctant to ask a librarian for help finding a book on a sensitive topic, but most are tech-savvy and able to use an online card catalog to find what they want.
Jean Menard, a library patron who speaks against censorship at board meetings, said she's concerned that Gillane is making decisions to appease library board members who appointed him director after they squeezed out Teresa Elberson more than a year ago.
Gillane, she said, should be standing up to the board, telling them the trained, experienced librarians will make decisions about what books and movies belong in the library, not the board.
"I really want to hang onto all of the books that library staff have chosen to purchase for the people of Lafayette Parish," Gillane said. "And if moving a few keeps those books available" without burdening patrons and without locking the books up, he said, "It's not much of a victory, but to me, it's a victory."
.