March 18 marks a huge milestone in the life of Sister Lillian Kroll, a Franciscan Sister in Little Falls. She'll be turning 100.
"I can't believe I'll be 100," she said.
Although Kroll has macular degeneration and can barely see, she is counting her blessings. She is healthy, can get around, gets to enjoy people and is often surrounded by company. She also enjoys receiving mail, which the other sisters gladly read to her.
While writing is difficult for her because of her eye disease, Kroll has never been one to give up. Instead, she just types what she wants to write with the help of a typewriter.
"I make mistakes from time to time when typing, but I don't get bothered about that," she said.
Born March 18, 1922, to Frank and Margaret (Cekalla) Kroll, she grew up on a farm east of Royalton. The farm was home to a variety of animals — pigs, cows, horses, chickens, turkeys, cats, dogs and more.
Frank and Margaret had 13 children. Kroll was the oldest among her siblings of Ella, Pauline, Stephen, Cordelia, Mary (deceased), Clem, Cel, Jean, Father Anthony, Jim, Sister Adeline, Janet and Tom.
Growing up, Kroll said her parents were poor. Living in a small farm house with no telephone, radio, television, car or electricity, life on the farm was simple. When there wasn't much to do outside, Kroll said her parents often spent time with their children and did things together, such as making candy.
"It was a lot of fun. Oh my, it was nice," she said.
When Kroll was about 7 1/2 years old, the family moved to a larger farm. Because of the work that needed to be done outside — a seemingly neverending toil to make money to make the farm payment, the intimate closeness they felt on the small farm, was gone.
As her parents worked hard outside, Kroll became responsible for tending to the home with cooking, cleaning and caring for the children.
"I was an old woman by the time I was 8. But it never bothered me. That's what was expected. That's what I could do. That's the way it was," she said.
Eventually, the financial struggle became too much for the family. Kroll said that her mom decided it was time to think outside the box and do something different. As a result, they started raising turkeys. Once the turkeys were grown, they were killed, de-feathered, cleaned and stored in barrels before they were shipped out.
"That was really interesting," she said.
Kroll said raising and selling the turkeys solved the family's money problems.
Devoted Catholics, faith was an integral part of the Kroll family's life.
"Both my mom and dad were very, very religious and they prayed and prayed," she said. It was also important that their children were baptized. Kroll recalls the story of her own baptism of her as a baby. With snow on the ground and in freezing weather, she was brought to the church in a sled.
Since the baptismal water was frozen, Kroll said her father, her grandfather and her uncle, who was her godfather, had to first melt the water before the priest could baptize her.
"I was meant to be tough right away," she said.
Drawn early to lead a life devoted to God, Kroll said she was 6 when she first told her mother that she wanted to become a priest. However, she quickly learned that because she was a girl, she never could become a priest. It eventually led her to consider becoming a sister.
As soon as Kroll learned how to read, it was unusual to see her without a book.
"From the day I could read one word, you couldn't keep a book out of my hands. I'd read everything in the house. I was just an avid crazy reader," she said.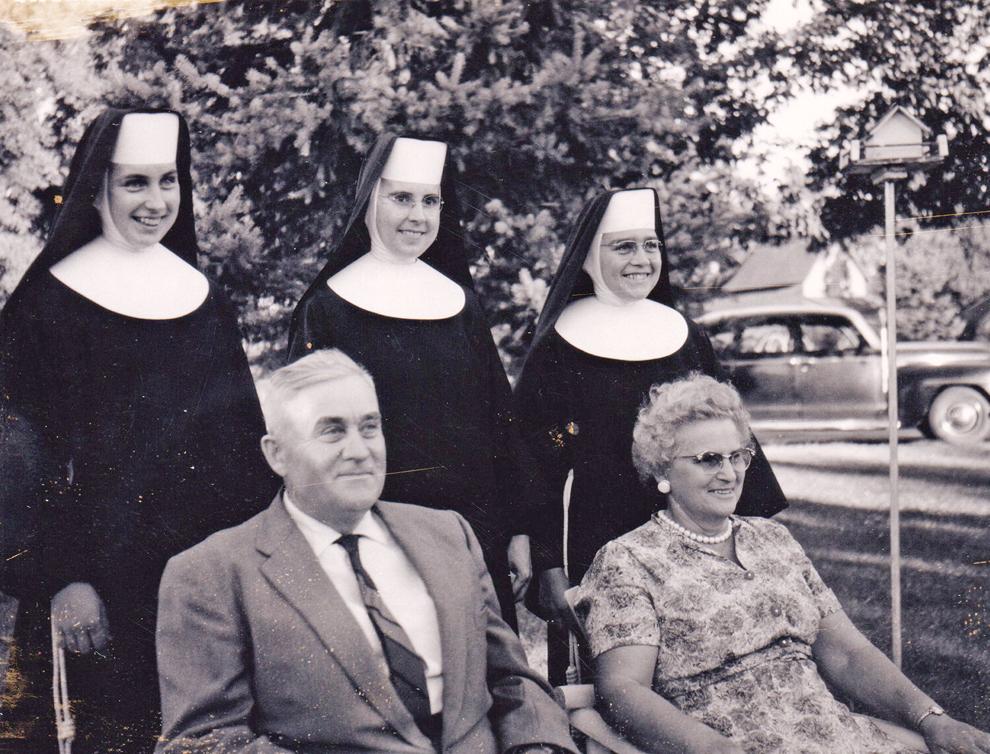 With lack of material to read, before long, she was reading the Bible. At that time, Kroll said, people were not supposed to do on that their own.
"One day I heard my mother say to my father, 'You know, pa, I think we better get our girl something to read because she's reading the Bible,'" Kroll said.
When Kroll was 15, she met with Father Lamusca and told him she wanted to join the Poor Clare Convent. However, I believed the Franciscan Sisters of Little Falls was a better fit for her because of the outreach ministry they do and more.
"He said, 'Go to the Franciscan Sisters. They're the best there is.' I never forgot that line," she said.
During the 85 years Kroll has been with the Franciscan Sisters of Little Falls, she has worn many hats.
At the age of 15, Kroll came to the Franciscan Sisters community as a postulant. When she was encouraged to attend high school and to learn how to play the piano, Kroll was thrilled.
"It was really the most wonderful thing. When I was a little child, I used to sing, sing, sing all the time. I'd make up songs, make up my words," she said.
Kroll said that she sang so much so that her dad told her that for slow, a good penance for her would be not to sing.
Kroll was 21 when she took her final vows. By then, she had improved greatly in her piano playing skills and had already started teaching others how to play the piano.
Looking back at what inspired Kroll to become a sister in the first place, was visiting with her aunt, Sister Clarentia Kroll and seeing other sisters teach the children religion during the summers. While they taught, Kroll hosted, cooked and helped them with everything they needed. It sparked the idea that she could teach children, and that she did.
During her years with the Franciscan Sisters of Little Falls, Kroll has taught students from kindergarten to university level.
"It was a challenge at times, but I loved to teach," she said.
Kroll recalls when she was first called to teach fifth and sixth grade students. After having taught kindergarten for about eight years, as well as music, for about 60 students a week, she was suddenly called in after Christmas one year to teach fifth and sixth grade. With not enough time to prepare a lesson plan before she started teaching, Kroll said she had no choice but to do the best she could with what she had. No one had told her what she needed to do, either.
There were two classes in Kroll's classroom. All in all, there were 52 fifth and sixth grade students. When Kroll entered the classroom for the first time, she greeted the students and told them she was very happy to meet all of them. The reply she received from the students was not what she had expected.
"They said, 'We got two teachers sick and you are next. It was like in unison," she said.
Kroll said that in the previous semester, the class had two different teachers. The first one resigned after she was unable to hold the class and the second teacher, became ill. As a result, by Christmas, they had no one, she said.
"I still can't figure out why they thought I would be able to teach that class. I still think about it," she said.
Before long, Kroll had the students singing, completing art work and more.
Kroll said that while she wanted the children to learn, her goal when teaching was always for the students to ultimately feel good about themselves.
Throughout the years, Kroll has tried something new about every five years. After teaching different age groups and difficulty levels, she led groups of people on pilgrimages to Assisi, Italy.
She also learned how to play several other instruments, such as the flute when she was 65 and the harmonica at age 90.
Working in faith formation and in family ministry in several parishes, Kroll led many retreats for many families. At one point, the idea to do it for her own family was formed.
Kroll talked to her mother about the retreat idea, who thought it was a great idea. Kroll chose the topic for the first retreat and her brother de ella, Father Anthony Kroll said, the Mass. Before long, the retreats turned into two-day events and after a couple of years, she left the choice of topic up to her family members and led the discussion. Now, 48 years later, the family continues to gather on the last weekend of July for a retreat, she said.
With a love for serving God and people, Kroll has also served as a spiritual assistant for secular Franciscans in the St. Francis Convent and as a travel agent for sisters and spiritual direction at the convent. Eventually, when she was 85 years old and still going strong, the leadership asked her to retire.
"I said, 'Well, what am I going to do now?'"
Kroll started painting and has since produced hundreds of paintings. She's also had her work by her, 100 paintings at a time, exhibited at large shows.
Reminiscing, Kroll said that throughout her life, she has enjoyed reading throughout her life. Kroll said she has enjoyed many audio books now that her eyesight of her is failing.
She has also never regretted she never married or had children of her own. Growing up and caring for her siblings de ella gave her plenty of experience and teaching children still allowed her to be surrounded by children.
One thing Kroll has always enjoyed is nature. She has found it to be quite energizing just to be outside. She recalls when she was caring for her siblings, cooking and cleaning and the fatigue that followed. She loved to go for long walks.
"I would get so tired and if they got crabby and I felt like I just couldn't do it, I'd just go outside. If it was night, I'd lay on the ground and just look at the stars. I used to just be so fed by creation," she said.
Although she may not be able to see creation as she once did, Kroll said she enjoys going outside and feeling breeze and the sun or just hear the birds singing.
"It's just so healing," she said.
Kroll is looking forward to see what her next chapter in life will be, but as a centarian.
.