Last year, at the height of lockdown, I took a legal walk to a skate-bowl in Alexandria. Skate-bowls plural, from dimple to crater, the moonscape set above Alan Davidson Oval in Sydney Park. All cambers and ridges, the place teemed with kids and kidults, grinding and stacking on boards and scooters, tick-tacking for TikTok. I was mesmerized – and intrigued.
Since my gaze kept lingering on a band of tiles, an ocher frieze looping one pit, just below the concrete lip. Was that a decoration? An affectation? I was stumped for a time until my brain recalled a word: skeuomorph.
A Greek marriage of sorts, the term combines skeuos (tool) and morphe (shape). Modern designers apply the tactic often, retaining a moribund flourish to evoke a sense of an installation's lineage. Flame-shaped bulbs on an electric candelabra. say, honor the medieval version, just as lino's faux-grain suggests a timber finish.
It's a vibe thing, really. A vague sense of genesis, the ochre tiles echoing a Californian pool of the 70s, drained to serve as the skater's original bowl. Fifty years on, the frieze holds true to what's been superseded, reverberating the unsaid, as vibes tend to do.
Look at your phone. Its so-called desktop is rife with skeuomorphs, from the art-deco mike denoting voice memos, to the industrial cog of settings. Lost objects translate their new incarnations. While each motif is deliberate, like the jotter-like lines marking your electronic notepad, their effect is subtle. Every tile-trim, every flame-bulb, pays mute witness to the overtaken.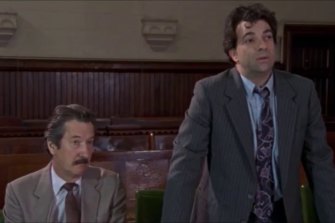 Dennis Denuto, the hapless lawyer played by Tiriel Mora in The Castle, had a sense of such matters in court. When asked what section of the Constitution had been breached by the looming demolition of the Kerrigan home, Denuto fumbled for the implicit truth: "There is no one section…it's just the vibe of the thing….It's Mabo, it's justice, it's law , it's the vibe and, not that's it, it's the vibe. I rest my case."
Vibes, like skeuomorphs, are pervasive. They shimmer on the surface, implying a pool's depth. Their story reads as palimpsest, lying below the current narrative. Rather than speak, vibes resound, just as Outlook's envelope murmurs yesteryear.
Later in The Castle, when Lawrence Hammill, QC – played by Charles Tingwell – took on the Kerrigan case, he underscored a phrase: "on just terms". I have claimed this expression represented his client's argument from him, reviving an historical ideal that could well apply in the present, as much as things might have altered since the initial draft.