Two of Dalhousie's leading researchers are being honored with the $100,000 Killam Prize, winning two of the five prestigious awards granted annually by the Killam Trusts.
On Tuesday morning, the Canada Council for the Arts announced Françoise Baylis and Jeff Dahn as 2022 recipients of the honour. Offered to Canadian scholars who have distinguished themselves through sustained distinction and impact in their fields, the Killam Prize is considered the top national award of research excellence.
"It is a historic achievement for our university to have two Killam Prize winners in one year. Drs. Baylis and Dahn are known internationally for advancing knowledge in their fields – areas that promise to shape the way we live in the future," say Deep Saini, Dalhousie's president and vice-chancellor.
Drs. Baylis and Dahn are only the fifth and sixth Dalhousie faculty members to receive a Killam Prize since the awards were created in 1981. Biology's Brian Hall (2005), Philosophy's Susan Sherwin (2006), Chemistry's Axel Becke (2016), and Medicine's Ford Doolittle (2017) are past recipients.
"Dr. Baylis is a leading voice in the discussion of how we should proceed with human genome editing for reproduction, and Dr. Dahn is a major force in battery science, creating urgently needed sustainable energy solutions. Both scholars' work is making a substantial impact, and their Killam Awards are extremely well deserved," says Dr. Saini.
Learn more about Drs. Baylis and Dahn below:
Françoise Baylis: To make the powerful care
WinnerHumanities

Nick Pearce photo.
As one of the world's leading bioethicists, Françoise Baylis speaks out about some of the thorniest issues of our time — and when she speaks, people listen. She says that using her platform as an academic to raise awareness about injustice has been a driving force of her career.
"At one time I thought I could change the world — and then I grew up. I realized the most I could hope for is to influence people who have a whole lot more power than me. It was an important reframing of what my contribution could be — and that's to make the powerful care," says Dr. Baylis, who was the Canada Research Chair in Bioethics and Philosophy for 14 years and now holds the distinguished title of University Research Professor at Dalhousie.
Making people care is the mantra she says pushes her to weigh in on some of the world's most hotly contested issues. Most recently, it has taken her into a leading role in the debate about the ethics of using human-genome editing for reproduction.
"People seem to think that the only question is whether science is safe and effective. But that doesn't answer the most important question of what kind of world we want to live in. That isn't a question about facts, it's a question about values. It's not just about science leading the way. It's about everybody having a chance to have their say," she says.
Her emphasis on bringing more perspectives to the table to decide if we should "take over our evolutionary story" led to Dr. Baylis's invitation to join the planning committee for the First International Summit on Human Gene Editing in 2015. In 2019, she became a member of the WHO Advisory Committee on Developing Global Standards for Governance and Oversight of Human Genome Editing. Currently she is a member of the planning committee for the Third International Summit on Human Genome Editing scheduled for 2023.
Her leadership in the field caught the attention of Harvard University Press, which asked her to write a book that would help the world understand the ethical implications of human genome editing. The result is 2019's Altered Inheritance: CRISPR and the Ethics of Human Genome Editingwhich won the 2020 PROSE Award in Clinical Medicine.
Of the book, Adam Hayden writes in Science: "Commitments to justice, responsibility, accountability, and consensus building are features of a socially just science and bioethics. Toward this end, Altered Inheritance is a foundational tool in the path ahead."
The attributes credited to Altered Inheritance are the same attributes Dr. Baylis has emphasized throughout her large body of scholarly work, including 18 additional books, nearly 100 peer-reviewed articles and more than 40 expert testimony appearances and briefs for the Canadian federal government. She is a member of the Orders of Canada and Nova Scotia, and a Fellow of both the Royal Society of Canada and the Canadian Academy of Health Sciences. In 2017, she was awarded the Canadian Bioethics Society Lifetime Achievement Award, and in 2021 she was elected to the Governing Board of the International Science Council.
Dr. Baylis says with a laugh that when some look at her career, they perceive her work as "bouncing all over the place." And there is no doubt that she has extended herself to address a wide range of areas, including topics like assisted human reproduction, transplantation, deep brain stimulation, and genetic enhancement.
Over the pandemic, she wrote more than 30 articles for the popular press and provided dozens of media interviews on topics like vaccine equity, vaccine passports, and the absence of pregnant and breastfeeding women in vaccine trials. An effort, she notes, to help correct policy decisions based on individual needs rather than collective good.
But while her topics are nonsense, she emphasizes that there has been a guiding arch to the work focused on "making the world a better place."
"I will continue to shine a light on injustices, with the recognition that I won't change it alone," she says. "But if I say it, then someone else says it, and then someone else believes it, then someone else writes it into a policy, then someone else votes on it, then eventually together we change the world to make it a better place for us there."
Jeff Dahn: Building the future of energy storage through science and students
Winner, Engineering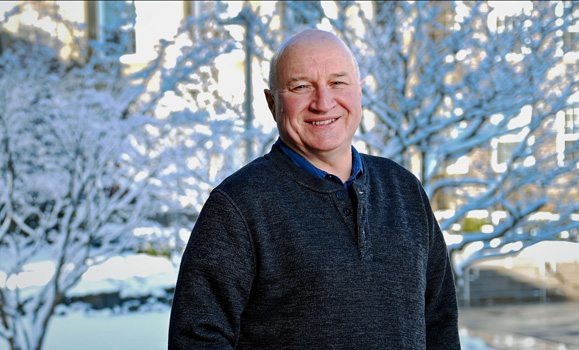 For nearly forty years, Jeff Dahn has been a global leader in advancing the science and technology of lithium-ion batteries. His pioneering research has driven innovation in the field and helped create the science necessary for lithium-ion batteries to become the preferred power source for portable electronic devices, electric vehicles and more. Now, he is focused on building the technology to make the batteries last even longer — decades. As we look to the future of how energy will be stored, managed, and distributed, it can be viewed through the lens of Dr. Dahn's research on it.
"Over the years, we have made many useful contributions in all areas of lithium-ion battery technology ranging from faster charge, higher energy density, improved safety and most recently longer lifetime," says Dr. Dahn, referencing the work of his lab at Dal, which is now regarded as one of the world's most renowned hubs of expertise in battery technology.
"Positive electrode materials that were actually invented in the labs of Dalhousie are used in some lithium-ion batteries today."
One interesting aspect of Dr. Dahn's research is its breadth. His work by him has covered fundamental physics in insertion compounds as well as technical engineering issues of batteries. This ability to cross over between fundamental science and engineering has made Dr. Dahn an eminent figure in battery research.
"The lithium-ion battery is a multidisciplinary puzzle. There is lots of great science to do with a huge payback to society. I have been in the game since the beginning and have witnessed lithium-ion batteries take over and dominate so many different markets," he says.
Dr. Dahn receives invitations to speak at most battery conferences around the world and his opinion is sought after by academic and industrial researchers alike. He is co-author of over 750 refereed journal papers and has co-invented 73 inventions with patents issued or filed.
He has won both the Research and the Technology Awards of the Battery Division of the Electrochemical Society, a rare feat. In 2017, I received the Natural Sciences and Engineering Research Council's (NSERC) Herzberg Canada Gold Medal — Canada's top science prize. In 2019, Dr. Dahn was awarded the Royal Society of Canada's prestigious Henry Marshall Tory Medal for outstanding research. And in 2020, Dr. Dahn was named an Officer of the Order of Canada.
To add to his achievements, two spinoff companies have come out of his Dalhousie lab. DPM Solutions, a supplier of custom-designed machine solutions, and Novonix, a reputable battery and technology company that brings better battery technology to market rapidly. Novonix now employs more than 100 people in Halifax and Chattanooga, Tennessee. It is a world leader in the production and sale of high precision battery test equipment and synthetic graphite for use in lithium-ion batteries.
Known for his ingenuity, practical nature, and dedication to his work and students, Dahn generously gives advice to the younger generation of researchers in his lab. His chief guidance from him is to always stay true to science. It is wisdom that he has benefited the students and postdocs who have spent time in his laboratory who are consistently sought after by industry and academia around the world.
"I get great satisfaction from knowing that those who have been taught in my classroom and trained in my lab have gained valuable skills and are using them to make positive change in the world."
He says that this Killam Prize is thanks in part to the hard work and dedication of his students.
"The students and the graduates of my lab have been doing work on lithium-ion batteries since 1990. This Killam award is about their achievements, as well. Many of these graduates have become industry leaders in our field, and for that I am proud," he says.
Dr. Dahn says he will use his Killam Prize to give back to Dalhousie through support to the Jeff Dahn Bursary in Physics and to help a new start-up from his lab, Zen Electric Bikes.
"The Jeff Dahn Bursary in Physics was established in 2017 during my 60th birthday celebration. My then graduate student Leah Ellis and some of her peers reached out to establish the bursary. Leah knew that I am not a person who needs material objects and establishing the bursary would be a permanent legacy. I was stunned when I learned of this gift — it was truly amazing," he says.
At this time, the bursary provides funds to one male and one female first year Nova Scotian student demonstrating financial need with an interest in Physics or Engineering.
"For my 65th birthday, which was in January 2022 this year, my daughter Hannah organized a fundraising drive and we raised significant additional funds for the bursary — and to me this has been an unforgettable moment of my career."
.