Rivals national recruiting director Adam Gorney and national recruiting analysts Nick Harris, Adam Friedman and Ryan Wright tackle three topics and determine whether they believe each statement is FACT or FICTION.
1. Following Jason Moore, the best defensive tackle in the region is Jamaal Jarrett.
Gorney's take: FACTS Devan Houstan and Joel Starlings would be the two defensive tackles that Jamaal Jarrett would have to leap to become the second-best defensive tackle in the region – and I say it should definitely happen. Jarrett was super impressive on Sunday at the Rivals Camp Series inCharlotte. He's huge, moves well, overwhelms and overpowers all offensive linemen. Really, he has not only made an argument for a four-star ranking but someone who should shoot up the defensive tackle rankings in the coming months.
Friedman's take: FACTS Jarrett's stock is definitely on the rise after winning defensive line MVP at the Charlotte Rivals Camp on Sunday. He's grown about three inches and really filled out since we last saw him in person. Despite that added size, Jarrett is still very quick at the snap and can just push around most offensive linemen he comes across. There's still a few months until the next rankings update so we will see plenty of the defensive tackles ranked ahead of Jarrett during that time. If we had to re-rank them right now, I'd slot Jarrett at No. 2 in the region.
*****
2. A strong performance at the Rivals Camp in Charlotte means Jadyn Davis should make a push for No. 1 in the 2024 class.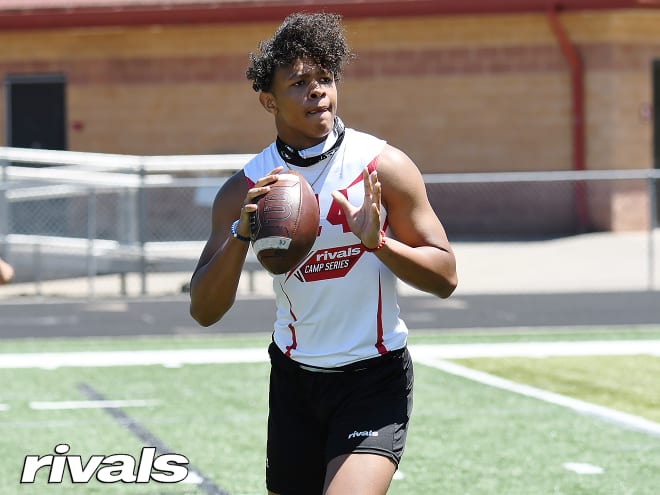 Gorney's take: FACTS Colin Simmons' sophomore film is so impressive that he deserved the initial No. 1 spot in the 2024 rankings and that he could continue through this rankings cycle. But Jadyn Davis possesses unique ability, he plays the quarterback spot and greatness in the future is very likely. He has all the skills to be a five-star quarterback and one of the top overall players in the country. What also makes him so special is that he's a born leader, top receivers gravitate to working with him and he carries himself like someone who can command an offense but who never gets too high or low. There is a whole lot to like about Davis and while others deserve to be No. 1 overall, he could easily make that argument as well.
Wright's take: FACTS Davis was everything a five-star quarterback is supposed to be on Sunday. We all knew about the live arm, what we got to see more of was how he handled situational throwing tests. Rolling to the left, away from his dominant hand, Davis was still on point with great footwork and accuracy. Anything asked of him, he delivered. From the drills to the 1-on-1s, his skills transferred over delivering the rock in tight windows and dropped it in receivers' breadbasket in stride. If the pieces are around him at Charlotte (NC) Providence Day this fall, playing such a high-profile position, an even better case can be made for him sliding up from fourth overall to the top-rated player in 2024.
*****
3. Even after his Texas A&M decommitment, Eli Holstein will end up somewhere in the SEC.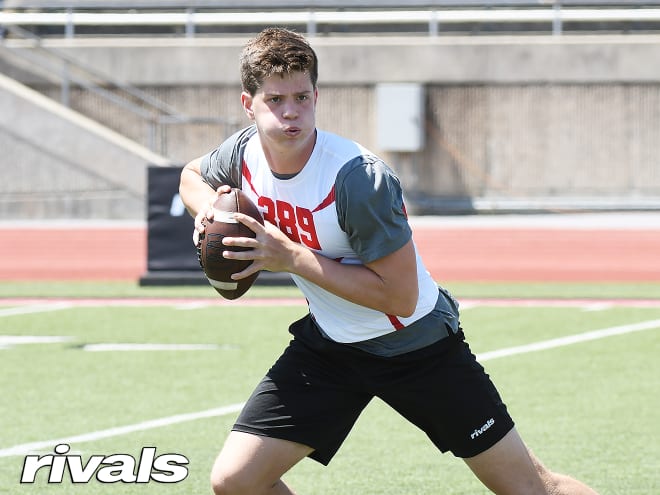 Gorney's take: FICTION. There is no doubt Eli Holstein could end up in the SEC – and more than likely another SEC West program with Alabama and LSU leading – but I don't think it's a lock just yet. Ohio State, Stanford and others are coming after the high four-star prospect and there is a chance visits could happen. If that happens, then the floodgates of interest could open and Holstein could look at others. If I had to pick right now, I think Holstein ends up in Tuscaloosa or Baton Rouge. But if the Zachary, La., standout wants to take his time and figure things out later then I don't think the SEC is an absolute lock.
Harris' take: FACTS Alabama has generated a ton of buzz in recent weeks with Holsteins since his early March visit for the Tide's Junior Day, and that has to be noted when talking about his decommitment from Texas A&M on Friday. However, I expect LSU and Florida to get just as involved with the talented four-star quarterback from Louisiana moving forward as well. With the amount of SEC programs already heavily involved, I'd be surprised at this point to see Holstein take his talents from him outside of the conference.