Piggybacking on an increase in adult-skewing podcasts that have been successfully adapted as TV series, such as Amazon's lore and Peacock's Dr Death, the burgeoning kids podcast sector seems poised to start generating some brand extensions of its own. Wonkybot, for one, recently announced plans to expand its Tara Tremendous podcast IP into animated and live-action series and publishing following news of a Tara Tremendous feature film project.
Plenty of other kids podcast producers are equally keen to partner up and move their brands beyond the audio-only market. So with this nascent trend in mind, kid screen has selected some new podcast projects that have the potential (and plans, in some cases) to cross over into other entertainment realms.
cummerbund (pictured above) – eight to 12
Producer: FableVision's kids audio content division audiyo-yo (FableVision Studios VP of creative and former Disney exec Tone Thyne; audiyo-yo president Anne Richards; independent music director/producer jeffrey Lesser, of 3rd & Bird fame)
Format: 12 x 25 minutes
Status: cummerbund is an audio-first property, but also has animation, music (cast album), books and more in development.
Delivery: TBD
cummerbund celebrates the joy, pain, humor and drama of community theater. This serialized, musical narrative centers on family, community and the performing arts through the eyes and ears of an aspirational eight-year-old penguin named Cummerbund and her loving, supportive and occasionally over-dramatic human dads. The family bands together with a quirky cast and crew of talented human children and adults to pull off the greatest musical the Myrtle Maple Children's Theater has ever seen.
Welcome to Earth – eight to 16, adults
Producer: New Jersey-based Gen Z Media (Benjamin Strouse, David Kreizman, Chris Tarry, Jenn Levin)
Format: 26 x 10- to 12-minute episodes dropping twice weekly over 13 weeks. Each episode will include a prologue and a stay-tuned cliffhanger.
Status: In development, with plans for a live-action TV drama and books.
Delivery: 2022
The US government secretly establishes the Alien Integration Project nearly five years after an extraterrestrial spacecraft lands on Earth. In a walled-off small town in the Colorado Mountains, teenagers from the planet K2 begin attending Fisher's Landing Middle School and attempt to co-exist with their human counterparts. This serialized drama touches on timely themes of immigration, integration, and racial justice.
buggin' out – five to 12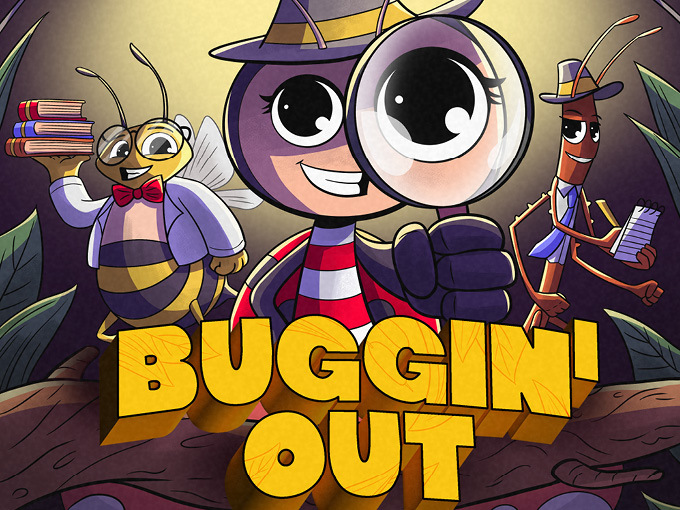 Producer: Amazon podcast studio Wondery (executive produced by Stephanie Jenz and marshall lewy)
Format: 10 episodes between 16 and 22 minutes long on average, launching weekly
Status: In development. Wondery can't speak to additional expansion plans for the IP at the moment.
Delivery: April 26 on subscription service Wondery+ Kids, and May 3 on Wondery
This fun and educational podcast will take listeners into the mysterious world of insects. It stars intrepid detective Eloise the Lady Bug, her reporter partner Elmore the Stick Bug and a brilliant bee named Professor Dash, who knows the ins and outs of the vast insect universe. In each episode, the trio crack capers and share amazing facts and secrets from a sometimes bug-eat-bug world. Many mysteries will be uncovered, like where did Bartleby the Cicada disappear to, what's the great honey bee boogie, and who is behind the hundred-pound of sugar heist?
.