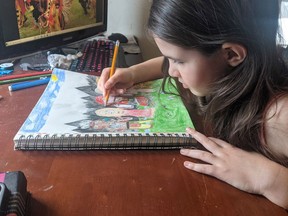 Article content
At the LUSO awards on March 21 students and staff of Blessed Carlo Acutis Continuing Education School won the Steve Mavers Award.
Article content
Winning for a project under the direction of art teacher Crystal Brennan-Yeo, students were recognized for their production of a self-made and published children's book related to the theme of 'Make Your Mark to End Racism'.
"It is a children's picture book that teaches about celebrating diversity, seeing the beauty in our racial differences, understanding bias, being open to change and above all, loving one another no matter what," explained Brennan-Yeo.
"It is our way, as an entire Blessed Carlo community to permanently make our mark against racism. For generations to come people will be able to read our book and learn important lessons."
According to Brennan-Yeo the students took over 30 hours creating and compiling the two-minute documentary and many hours writing and illustrating the book.
A hard copy of the book will also be put into all the school libraries within the Huron-Perth Catholic District School Board as a way for students for generations to learn about racism.
"We were proud that our endeavors reflected the same values ​​of this amazing individual," Brennan-Yeo commented.
"We are honored to be the recipients of such a prestigious award."
The Steve Mavers award that LUSO inaugurated on March 21 honors Steve, a valued friend of the LUSO community for over 20 years, who passed away last year from pancreatic cancer at the young age of 55.
Recognizing a submission that strongly exhibits three areas, the award is presented to a submission that involves inclusivity, community building and provides the opportunity for continued learning.
Article content
"In his role at museum London, Steve was the curator of education and as part of his role, he organized interactive and thoughtful art programs for school aged children," Elizabete Rodrigues, a member of the LUSO community said at the awards ceremony.
"The book created by the students at Blessed Carlo exemplifies the importance of a community approach to eliminating racial discrimination. This book will be a resource to the community."
According to Rodrigues the book will be displayed at Museum London for the month of April and will also be available for purchase.
To receive the award in Steve's name the recipients needed to reflect the values ​​that he embodied in his daily work, committing to inclusivity and lifelong learning.
"Steve would be very proud of all the work you have all done in creating this wonderful book and resources for your community," Rodrigues added.
"You are leaving a mark, just as Steve left his mark with all of us."
A project that had roots in 2020-21, LUSO community services of London invited students from the local area to participate in a video competition with the theme 'Racism Ends With Us'.
Students of Blessed Carlo Acutis of the Huron-Perth Catholic District School Board (HPCDSB) accept that invitation. The finished video was written by students, filmed by guardians and edited by Grade 5 student Alexa Yeo. It included 70 students, 12 staff and many parents.
The students received the top prize award of $1,000 for their video.
Article content
This year LUSO decided to run the contest only this time, the theme was 'Make Your Mark Against Racism'.
Deciding the best way to accomplish the task was to create their own children's book about racism, the students used the money they won last year to publish the book.
Students volunteered to draw, paint, sketch and digitally create the illustrations for the book.
According to Brennan-Yeo the students sent copies to all school libraries within the school board and in doing so, made their mark to end racism.
"Every time it is read, the children's message of inclusion and love for one another will be shared," commented Brennan-Yeo.
"It will help them learn about celebrating our differences."
LUSO Community Services was originally formed in 1979.
Since then, a variety of programs and services have been developed. LUSO is a non-profit multicultural neighborhood resource center dedicated to promoting inclusiveness, well being and prosperity.
"The book created aligned so well with all that was important to Steve and exemplifies the importance of a community approach to eliminating racial discrimination," added Rodrigues.
Staff and students can now sign out the picture book from Catholic school libraries.