Rivals national recruiting director Adam Gorney and national recruiting analyst Adam Friedman along with Jed May from UGASports.com and Andrew Bone from BamaInsider.com tackle three topics and determine whether they believe each statement is FACT or FICTION.
1. Alabama looks like the leader now for Eli Holstein but that takes the Crimson Tide out of it for Arch Manning.
Gorney's take: FICTION. There is a delicate balance being played because Arch Manning is the No. 1 prospect on many recruiting boards but by no means is Eli Holstein a slouch or a second option and all the while the Crimson Tide coaches want to land one and not turn both away . It's going to be an interesting few weeks because Holstein visits Alabama again this weekend and the Crimson Tide look like the program to beat although Stanford, Ohio State, Oregon and others are coming on after his Texas A&M decommitment. Manning goes to Tuscaloosa next weekend. Alabama will figure out its quarterback situation as those visits take place.
Bone's take: FICTION. Holstein has not named Alabama his favorite of him but the Tide seems to have a lot of momentum right now in his recruitment. He will visit Alabama this weekend for the second time in March. Alabama may have an edge but it doesn't push them out of the running for Arch Manning. The No. 1 prospect in the country will return to Alabama for an unofficial visit on April 2. Alabama will likely get a sense of where things stand with Holstein and Manning after these next two weekends. It will then likely make a decision on which target to really push for until they commit.
SHARE YOUR THOUGHTS WITH ALABAMA FANS AT BAMAINSIDER.COM
*****
2. Five-star 2024 quarterback Jadyn Davis will end up playing somewhere in the ACC.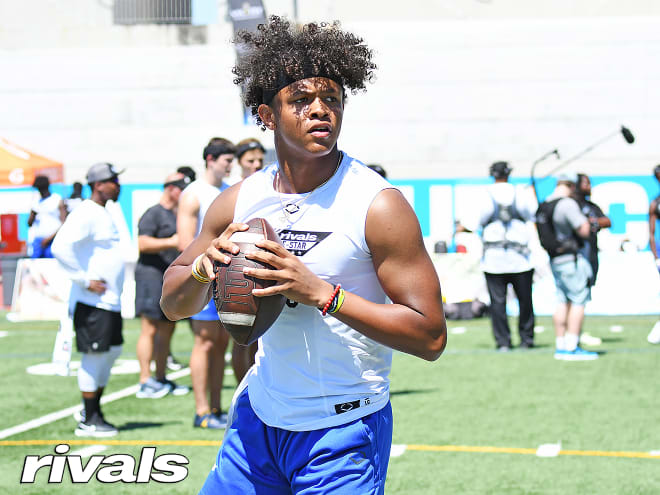 Gorney's take: FACTS The sense I got at the Rivals Camp Series in Charlotte is that Jadyn Davis is going to take at least a regional if not national approach to his recruitment but unless Alabama puts more pressure on or he decides to go to Ohio State mainly or Penn State, this is looking like a battle between Clemson and North Carolina for him. I would almost have always said that means advantage Clemson but coach Mack Brown and his staff have done a great job recruiting Davis and other players in the Carolinas so this will be an interesting one to watch. If I had to guess today, I'd say the five-star ends up in the ACC.
Friedman's take: FACTS The fact that he has Clemson, North Carolina and Florida State under heavy consideration is what gives me the impression that he will end up in the ACC. Especially with the two favorites being the Tigers and the Tar Heels it looks likely at this point that he will end up in that conference.
*****
3. Florida now has the edge for AJ Harris. That could change back to Georgia after this weekend's visit to Athens.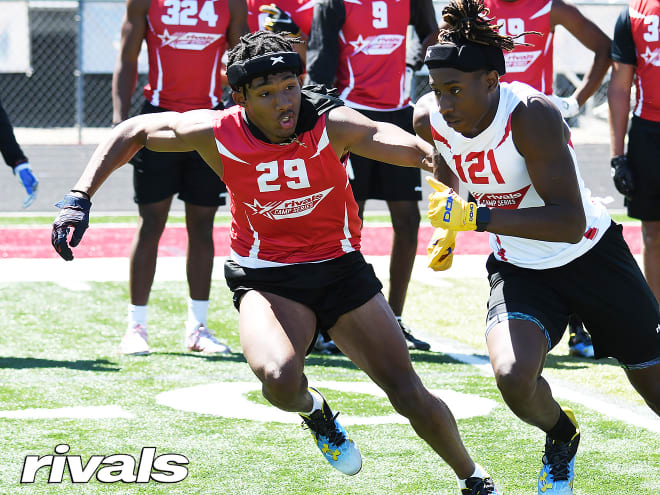 Gorney's take: FACTS I'm not counting Georgia out for anybody and especially since a lot of top recruits have liked meeting with Frank Brown and AJ Harris has liked the Bulldogs so much throughout his recruitment. I would not be surprised at all if Florida, Ohio State and maybe some others have an edge in his recruitment but Georgia was a top program for Harris, he has the mentality coach Kirby Smart likes in his players and after every visit it seems like that school becomes a major player again for Harris. Georgia can get seriously back in this one if it wants.
May's-take: FICTION. Things certainly can't be ruled out in the recruiting world. However, Georgia had been trending downward for AJ Harris even before the departure of former defensive backs coach Jahmile Addae. Fran Brown will take every opportunity to make a strong first impression with Harris on campus this weekend. At this point, however, it seems much more likely that Harris ends up at one of his other top contenders like Florida or Ohio State.
SHARE YOUR THOUGHTS WITH FLORIDA FANS AT 1ST AND TEN FLORIDA