In today's Fact or Fiction national columnist Mike Farrell looks at three big recent topics in college football and decides whether each statement is indeed FACT or if it's FICTION.
1. Emory Jones will land at Arizona State.
Farrell's Take: FACT. The rush of Sun Devils coaches to follow Emory Jones on social media following his announcement and entrance into the transfer portal was fast — and there were many of them. And with Arizona State having limited QB depth with Jayden Daniels off to LSU, the Sun Devils offer him the best Power Five opportunity to win out there.
Remember that Jones, who hails from Georgia, committed to Ohio State out of high school before landing at Florida so distance isn't a factor. Cal, UCLA and Duke are others to come to mind but based on his return interest from him in Arizona State (he has followed five ASU coaches) watch this one come together quickly.
SHARE YOUR THOUGHTS WITH ARIZONA STATE FANS AT DEVILSDIGEST.COM
*****
2. David Ojabo will still be a first-rounder.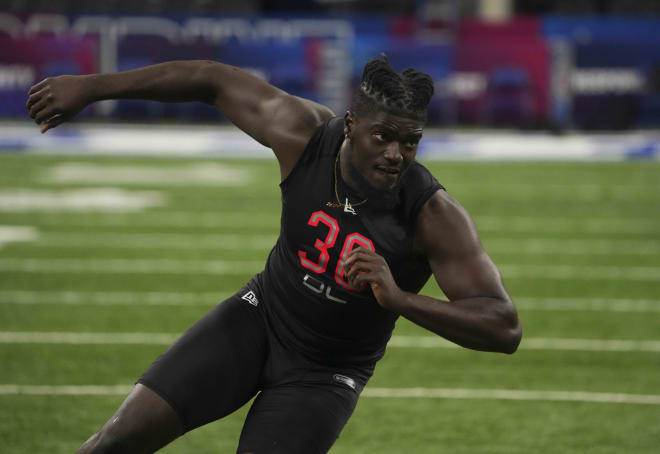 FICTION. David Ojabo sadly blew out his Achilles at his Pro Day at Michigan and the projected top-15 prospect will likely fall out of round one in my opinion. why? This is a deep draft for rush ends and while his athleticism from him among them is rare and Cam Akers came back from such an injury in six months, some NFL teams had him as a project pick who needed to learn the game in his first year .
But now as a potential project and coming off injury it will be hard to find a team that will want to give him a round one contract. The top of the second where Jaylon Smith landed so many years ago after his injury to him in his bowl game is more likely.
SHARE YOUR THOUGHTS WITH MICHIGAN FANS AT MAIZEANDBLUEREVIEW.COM
*****
3. Jaxon Smith-Njigba is hands down the best receiver to return to college football.
Farrell's Take: FACT. Hands down is the key phrase here and I'm usually hesitant to label anyone hands down better than others. And it's a deep receiver group returning to college football. But the more I watch film the more I feel that Jaxon Smith-Njigba is the best fit in the country at wide receiver in college. That doesn't mean he's WR1 for the NFL Draft, but it means he will dwarf other numbers next season including the likes of Jordan Addison (Pitt), Kayshon Boutte (LSU) and Xavier Worthy (Texas).
SHARE YOUR THOUGHTS WITH OHIO STATE FANS AT SCARLETANDGRAYREPORT.COM