Windows are replaced as part of the Cottage School refurbishing effort this winter.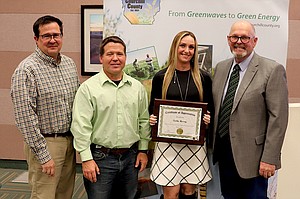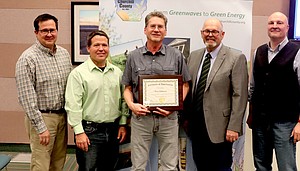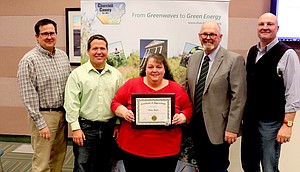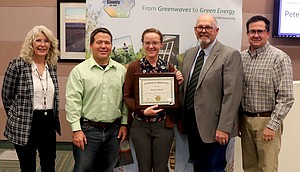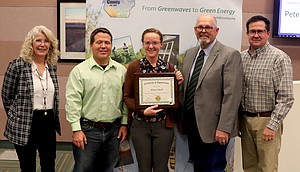 ❮ ❯
New home of Parks & Recreation's after-school CARE program
All are welcome to join Churchill County leadership for a dedication and ribbon-cutting for the middle building of the Cottage School, the new home of Parks & Recreation's after-school CARE program, on Thursday from 5:30-6:30 pm
This historic building saw kindergarteners educated in it in the early- and mid-20th century. County Facilities refurbished the building with new flooring, paint, windows, roof repairs and other upgrades to house the 70-plus children in the county's CARE program. Features in the building include small bathroom fixtures, low chalkboards and coat hooks and floor level cubby storage space. The old intercom system, original to the building, still functions.
Refreshments, a site walk-through and program reflections will be offered for free to those attending.
The Cottage School is located at 255 E. Stillwater Ave., in Fallon. It came into county ownership by way of a trade last October with the City of Fallon for the former county-owned Senior Center building on Court Street.

Churchill County recognizes employees for service
The County Commissioners recognized 14 county employees this month for their years of service to this community.
Five years of service: Briana Schwab, Museum; Mike Heidemann, Emergency Management; Jeffrey Mello, Juvenile Detention; Renae Paholke, Clerk Treasurer's Office; Garrett Long, Sheriff's Office; Dean Patterson, Public Works and Planning; Ashley Peters, Sheriff's Office
10 years of service: Nick Adams, Road Department
15 years of service: Jerilyn Alexander, Sheriff's Office; Tasha Hessey, Recorder's Office; Diane Moyle, Public Works and Planning; Jolie Roat, Sheriff's Office; Manuel Lopez, Social Services
20 years of service: Karl Zulz, Road Department
Each quarter, the Commissioners present plaques and lapel pins to employees for every five years of service to our local community.

Vaccine, testing schedule for April
Churchill County continues to offer COVID to anyone aged 5 years and older. Vaccines are offered at both the Miner's Road Public Health Site and the William N. Pennington Life Center; Testing is only offered at Miner's Road.
Please check for offerings on specific days in April as the schedule varies week to week. No services offered on Fridays, Saturdays or Sundays, but all three vaccines (Pfizer, Moderna and Johnson & Johnson) are available at all vaccine clinics.
For information go to the following link: https://www.churchillcountynv.gov/DocumentCenter/View/16388/Vax_test-schedule-042022.
Booster shots are available to anyone 16+ who is five months out from their second dose of Pfizer or Moderna or two months out from the one-dose Johnson & Johnson vaccine.
Be sure to bring your vaccination card with you if seeking any dose beyond your first dose.
While county public health does not have rapid tests to offer, residents may buy their own and bring it to any testing clinic and county health staff will administer the test and certify the results. Those seeking a PCR COVID test and the quickest results back possible may pre-register for testing. PCR tests currently take about five days to get results back.

Democratic caucus/convention
The 2022 Churchill County Democratic Precinct Caucus/County Convention will be held on April 2 with registration beginning at 9 am at the Old Post Office, 90 N. Maine St.
All registered Churchill County Democrats are invited.
Anyone not registered may register at the caucus. Masks are requested. For information, contact Tracy Swanson, Churchill County Democratic Chair, churchillcountydems@gmail.com.

library events
Stop by the Churchill County Library next month and take advantage of its activities for all ages.
Read
"1,000 Books Before Kindergarten" encourages youngsters to read age-appropriate books before entering school. Book titles are suggested and offered by library staff. Sign-ups accepted at any time.
In-person "Storytime with Ms. Jes" offered Wednesdays and Thursdays at 11 am Children's Librarian Jeslyn MacDiarmid reads picture books to children and offers a craft to accompany most stories. Each session is recorded and posted to the library's YouTube account for on-demand viewing at your convenience.
Reading with Rover takes place on April 14 from 3:30-4:30 pm Children read books to dogs to improve their reading skills and confidence in reading to a decidedly captive audience.

Learn
Learn about 3D printing at drop-in participatory workshops on April 6 and 20 from 3 to 5 pm Using the library's 3D printer, make objects, both useful and pretty, and see about this popular technology.
3D printing will also be featured during the STEAM session on April 22 from 1:30 to 3 pm
Knitting Club meets on Tuesdays at 10 am and Thursdays at 4 pm All are welcome from the beginner to advanced skilled folks.
Have a problem with your computer or smartphone? Head over the William N. Pennington Life Center on Fridays from 10 to 11 am and get answers from Technical Services Librarian Joe Salsman, an expert in all things technology!

Explore
Writer's Group meets Tuesdays from at 5 pm Discover what area writers are inspired by and working on and bring your own manuscript for inspiration.
Check out the Hidden Cave Virtual Reality experience by making an appointment to don the headset and see Churchill County's Hidden Cave from a whole new perspective. Bonus: no guano smell!
Drop-in for a VR session on Tuesdays from 3:15 to 5 pm

enjoy
Join the Churchill County library, local youth artists and the Karma Box project on April 3 from noon to 3 pm
Make a non-perishable food donation to the Karma Box or a cash donation to the Churchill Library Association and receive a bowl of soup, a slice of bread and you keep the hand-made bowl.
Empty Bowls is a movement by artists to raise awareness for hunger in the community. The event is sponsored by the Churchill County High School Ceramics Class students who made and donated the bowls, the Fallon Chamber of Commerce Karma Box and the Churchill Library Association.
The library is located at 553 S. Maine St., in Fallon and at www.churchillcountylibrary.org.
On April 30, the library joins forces with the Churchill Arts Council to bring poet Mindy Nettifee, PhD, to the Oats Park Art Center from 5 to 7 pm for a poetry reading.
April's featured artists are "Flying Artists," a group of Fallon and Fernley artists working in watercolor, oil, pen-and-ink, acrylic and pastels who have their paintings on display throughout the library.

hours
Library hours of operation are Mondays, Thursdays and Fridays from 9 am to 6 pm, Tuesdays and Wednesdays from 9 am to 7 pm and Saturdays from 9 am to 5 pm Closed on Sundays and major holidays.
Call 775-423-7581 for information on any of the activities above. The Churchill County Library is located at 553 South Maine Street in Fallon.

banner blood drive
Banner Churchill Community Hospital along with Vitalant will be hosting a blood drive on April 12 from 10 am to 6 pm at the hospital's Tahoe Room.
Use the outside entrance on the north side of the building. To schedule an appointment log on to donors.vitalint.org click "Donate Blood" use sponsor code; FALLON or call 775-867-7006. Find the hero in you.