IT Certifications in a Cloudy World
Now tackling one of the most heated debates in the IT industry — certifications — is Paul Schnackenburg, who has a bunch of them along with the requisite hands-on experience.
By Paul Schnackenburg
03/31/2022
In this article I'm going to look at the classic source of many heated debates in IT — certifications vs. experience — but from a cloud-first perspective in 2022.
Let's get the basics out of the way first: I'm a Microsoft Certified Trainer (MCT) who started in IT when 286 computers were the cutting edge. That used to be a great way of dating myself, but lately I've realized that anyone under the age of 30 has absolutely no idea what I'm talking about. A better way to say it is that I started tangentially being involved in IT in the late '80s, early '90s. I took my first IT certification in 1997 (Windows NT 4.0 Workstation).
All that is to say, I have a bias towards certifications, especially as I've helped hundreds (thousands?) of students prepare for their exams over the years. Also, I'm partial to Microsoft certifications, but most of what I'll cover in this article can be applied to IT certifications from any organization.
If you want to see what cloud-native skills will be most in demand in 2022, see this article.
But I do think experience is invaluable, both for traditional IT and in this hybrid and cloudy world we find ourselves in, so hopefully I'll present a case for both in this article. Let's dig in.
The Early Years
The IT profession is slowly maturing, but we've still got a long way to go before we're seen as being as professional as civil engineers, lawyers or medical doctors. There are several reasons for this, but I think the main one is that it's changing so fast under our feet. Just imagine if almost everything you'd learned about how to build bridges was suddenly up-ended (on-premises vs. cloud) and you had to learn a whole new way to do it (and then do that about every 10 years or so). ).
This influences everything, from how we educate people interested in the field to how people with a particular skillset can have stellar careers, sometimes even without a Computer Science degree. Degrees in particular can be a real challenge; if the curriculum is only updated every five years, you run a serious risk of graduating with out-of-date knowledge.
I think the main reason IT certifications have become such a big deal in our industry is the challenge of keeping skills fresh. If universities are struggling with it, at the least the manufacturer of the tech itself (Cisco, VMware, AWS, Microsoft and so on) should be able to keep training and exams up to date.
The other reason is hiring. Honestly, if someone has a CS degree or they claim five years' experience, it means very little to me when I'm hiring a tech for my MSP. But if they have recent Microsoft (or whatever tech the company is focusing on — Azure and Microsoft 365 for my company) certifications, I know they have at least basic knowledge of how to do these tasks. And if I'm hiring a junior tech (where you can't ask for years of experience), certifications are the only impartial way I can ascertain their skill level, short of testing it myself.
The final reason I think IT certifications are so important is the partner ecosystem. As a Microsoft partner I know how it works, but I'm sure it works similarly for Cisco, AWS and SAP consultancies. There are levels (gold, silver or whatever), and you need to have a certain number of techs certified on a particular technology. You must also keep those current to be able to maintain your level, which in turn gives you a closer relationship with the vendor. And vendors have built strong business models around this. After all, it's in their interest to have technically skilled people implementing their technology (over the competition), so training and certification exams are priced accordingly and thus the wheel keeps turning.
I have spent thousands of dollars on certification exams (none on training — I do all my exam prep on my own) and it's absolutely the best money I've ever spent in my career. I have opened doors, given me opportunities and a confidence when speaking to clients I wouldn't have without them. But if I only had those certifications, I would be much less valuable to my clients and students. It's the combination of more than 25 years of experience plus certifications that works.
I think another issue that still reverberates in IT is the legacy of "paper MCSEs." Again, this might be too long ago for some readers, but there was a time in the late '90s when you could pay for bootcamp training, spend three weeks locked away in a training facility and take five or six exams and earn a Microsoft Certified Systems Engineer (MCSE) and land a high-paying job in weeks — with no prior IT experience whatsoever. Of course, this led to disasters and the grumblings of the IT person without an MCSE — but with years of experience who actually knew how to do things in the real-world — seeing certifications as all but useless. I think those days are behind us though.
The Benefits of Certification
Notwithstanding that history lesson, here are my reasons that I think IT certifications are useful, particularly in today's cloudy world. Studying and preparing for a certification exam forces you to learn the breadth of a particular technology to cover all the exam objectives. If you're a Microsoft 365 administrator who manages a cloud tenant for your organization, you'll be extremely knowledgeable in a few areas (as you do it every day), but will you know what Information Protection can bring to your business? Or Compliance Manager? If those features aren't ones your organization are using, you may only have a fuzzy idea of ​​how they could benefit your organization.
Second, learning how to do to tasks "the official way" when preparing for an exam may (though not always) give you a better approach than someone who figured it out themselves years ago and knows it works to do it that way, even if there are newer and better ways.
On a personal level, the feeling of having earned a certification gives you a level of confidence that is crucial, particularly for junior staff as they find their way in IT.
On the other side of the coin, experience is of course invaluable. I find it interesting that as the cloud takes over more and more as "the way to do IT," it's getting easier and easier to gain that experience. Buying hardware and building your own Cisco, VMware or Hyper-V lab comes with a cost and commitment, whereas signing up for a trial subscription is easy.
Thus, I think the answer is not one or the other but both — experience plus certifications make for a better IT professional. As your career progresses (at least if you stay technical, otherwise I recommend some training and certification in managing teams), keeping up with certifications is a great way to keep learning and making yourself more versatile.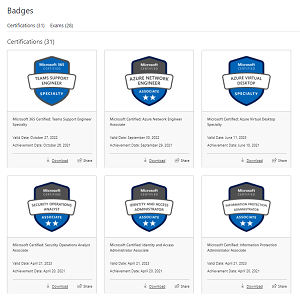 Azure Certifications
If I've convinced you to consider getting certified, here are some pointers and tips. If you're just starting out on your Azure cloud journey, or you're in sales or management but not doing the technical tasks day to day, consider starting with AZ-900 Azure Fundamentals. Part of the fundamentals exams/certifications series, these are designed so that you have to know que you can do, but not how.
If you're more technical (perhaps familiar with another cloud) I'd go for AZ-104 Azure Administrator Associate. After that it depends on your preferences and your daily job role (and the job role you'd like to be promoted to). There are certifications for Security (AZ-500), Networking (AZ-700), AI (AI-102), Database (DP-300) and more. There are also Expert-level exams, which build on the Associate-level certifications such as AZ-305 Azure Solutions Architect Expert and AZ-400 DevOps Engineer Expert. Finally there are Specialist certifications for particular technologies such as SAP (AZ-120), Virtual Desktop (AZ-140) and Cosmos DB (DP-420).
.