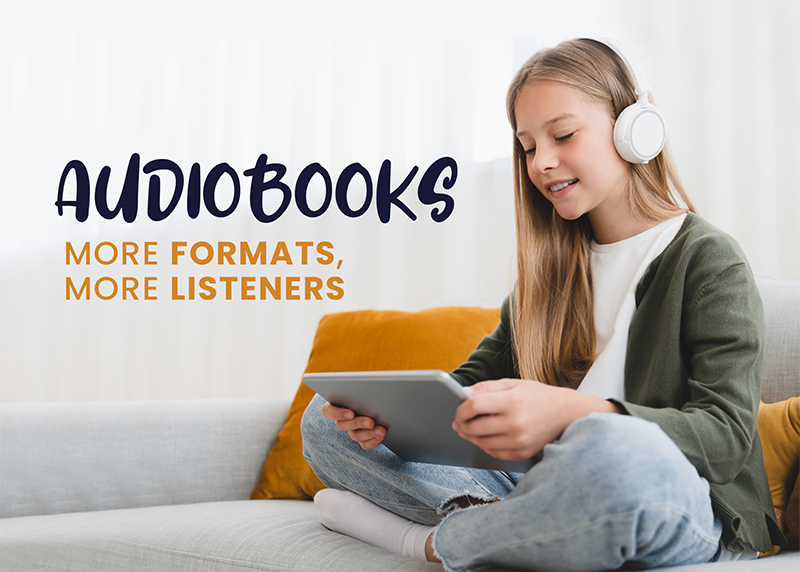 Already a billion-dollar industry, audiobooks are growing more popular every year. In fact, Deloitte predicts the global audiobook market will grow to $15 billion by 2027. While this trend preceded COVID-19, there's no doubt that pandemic-induced lockdowns both increased adults' and children's appetite—and need—for audiobooks. Now, new formats in audiobooks for kids are providing even more ways to consume digital storytelling.
The growing market for audiobooks mirrors the exponential increase in listeners consuming audio content like podcasts. "We have exceeded all expectations, double or more than what was projected," reports Mark de Vera, sales and marketing director of Yen Press. "I still see some room for fiction to grow in the audiobook space. The popularity of podcasts definitely helps us."
In addition to audiobooks, the publishers featured here produced titles in other formats including eBooks with audio and audio-enabled picture books. For example, VOX Books titles combine picture books, chapter books, and nonfiction titles with audio recordings. Children simply push a button to listen and read without any additional technology. "We are targeting reluctant readers as well as kids who are passionate about reading," says Margot Wallace, VOX Books executive editor. "We bring their favorite stories to life with engaging narration, sound effects, and music."
Lois Wallentine, Lerner Publishing's school and library marketing director, emphasized the importance of audio formats for meeting the complex needs of today's students, especially during the COVID-19 pandemic. "We saw exponential growth in eBooks with audio in 2021," notes Wallentine. "When in-person learning got disrupted, digital books became all that more important for libraries across the country."
Read on to discover some of the latest releases in the newest formats for audiobooks.
Lerner Publishing
In 1959, Harry Lerner started publishing medical books for children out of Minneapolis's Lumber Exchange Building. Today, Lerner Publishing Group is one of the largest independently-owned children's book publishers in the United States. In 2012, Lerner Digital began creating Audisee eBooks with Audio and now offers more than 1,500 titles in this format.
Audisee eBooks with Audio combine professional narration and synchronous text-highlighting to engage readers and auditory learners. "Audio eBooks help students who struggle with learning how to read," says Wallentine. "We put the text together with a voice reading the book aloud, which is also a great way to model fluency for English-language learners."
Unspeakable by Carole Boston Weatherford, illustrated by Floyd Cooper, narrated by January LaVoy, November 2021, ISBN 9781728467696, shows the history of African Americans in the Tulsa, OK, Greenwood district and chronicles the devastation that occurred when a white mob attacked the Black community in 1921. Written for middle graders (ages 8–12), Unspeakable won the Coretta Scott King Book Awards for Author and Illustrator and was named a Caldecott Honor Book and Sibert Honor Book.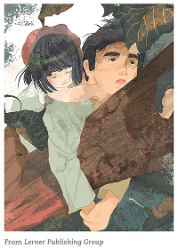 From the Tops of the Trees by Kao Kalia Yang, illustrated by Rachel Wada, narrated by Kao Kalia Yang, January 2022, ISBN 9781728446233, is set in the Ban Vinai Refugee Camp in Thailand that housed thousands of Hmong families during the Vietnam War. Based on the author's own childhood experience, "Kao Kalia Yang reading her own book was very special for us," says Wallentine. "There's more expression, emotion, and intimacy in the narrative."
Honored by the American Indian Youth Literature Awards, Classified: The Secret Career of Mary Golda Ross, Cherokee Aerospace Engineer by Traci Sorell, illustrated by Natasha Donovan, narrated by DeLanna Studi, February 2022, ISBN 9781728476223, is the first book for children ages 7–11 about this pioneering Cherokee aerospace engineer. A hidden figure of the space age, Mary Golda Ross drew upon her cultural values ​​and cooperative work ethic while at the Lockheed Aircraft Corporation. During World War II, Ross joined a top-secret division as the sole female engineer working on space travel and ballistic missiles.
In January 2022, Lerner released the entire six-volume "Issues in Action" series from new imprint Read Woke™ Books. The audiobooks are narrated by Read Woke's founder and executive editor Cicely Lewis. This middle-grade series covers social justice topics including immigration, gun violence, income inequality, police brutality, addiction, and mass incarceration. Readers/listeners learn how these problems developed and how people are fighting for change today.
Some of the key issues the series examines include Gun Violence and the Fight for Public Safety by Elliot Smith, ISBN 9781728447124, a timely look at the Second Amendment and America's high gun violence rate; and Immigration, Refugees, and the Fight for a Better Lifealso written by Smith, ISBN 9781728447155.
Library Ideas, LLC
Based in Fairfax, Virginia, Library Ideas, LLC is in its 13th year of providing innovative solutions to libraries and schools in the US and around the world. At its core is the VOX Books line of audio-enabled children's books, which are beloved by children, caregivers, teachers, and librarians alike.
"The Library Ideas team is passionate about literacy, engagement, and inclusiveness," says Margot Wallace, executive editor. "We believe in the power of cutting-edge technology to foster the development of essential reading skills and a love of learning."
The VOX Books publishing program consists of quarterly releases of picture books in English and Spanish plus bilingual English/Spanish and English/Mandarin. Library Ideas has also released bilingual titles in six additional languages, including German, French, Arabic, Tagalog, Korean, and Russian, and is expanding this program with new titles and languages.
Library Ideas Q1 VOX Books selections include Brilliant Bea by Shaina Rudolph, illustrated by Fiona Lee, narrated by Jeannette Illidge, February 2022, ISBN 9788885190114. In this title, Bea discovers that she has dyslexia. But instead of letting it discourage her, she embraces her teacher's innovative "tips and tricks" and realizes that she is a gifted storyteller. "I'd been on the hunt for picture books featuring differently-abled protagonists, and this was one of my favorites," says Wallace. "It made me think of all the wonderful teachers I've had in my life!"
Salma cheers up her mother with a homemade Syrian meal in Salma the Syrian Chef by Danny Ramadan, illustrated by Anna Bron, narrated by Yasmine Jandali, February 2022, ISBN 9781955675581. Acquired from Annick Press, this inspiring story focuses on themes of displacement, identity, and the importance of friendship. Syrian culture is beautifully represented, while the diverse characters speak to the power of cultivating community under challenging circumstances.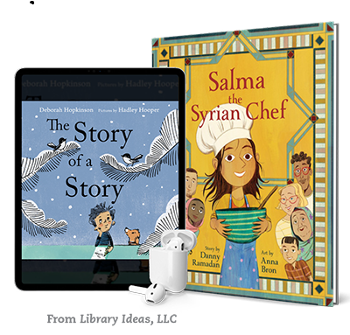 The Story of a Story by Deborah Hopkinson, illustrated by Hadley Hooper, narrated by Maxwell Click, February 2022, ISBN 9781955675376, celebrates the strength of every child's voice and the special story each one has to tell. "I love any opportunity for a 'meta moment,' so when I heard our friends at Holiday House were releasing a story about the process of writing a story, I couldn't wait to read it," Wallace recalls. "I knew we had to find a very special narrator to capture its essence, and after about fourteen rounds of auditions, we did!"
I Can Eat with Chopsticks: The Story of the Chopstick Brothers and How They Became a Pair—A Story in English and Chinese by Xin Lin, illustrated by Xin Lin, narrated by Yajuan Liu, February 2022, ISBN 9781602204522. This book is for anyone who's ever wanted to know how chopsticks became the primary eating utensil of the Chinese people. This lighthearted and cutely illustrated book is also a terrific tool for Mandarin- or English-language learning.
Generation Alpha can discover the world's most famous soccer star in Pele, The King of Soccer/Pele, King of Soccer by Monica Brown, illustrated by Rudy Gutierrez, narrated by Anthony Michael Lopez, February 2022, ISBN 9798885190398. This bilingual picture book shows how a poor Brazilian boy became the first soccer player to score a thousand goals.
Yen Press
Founded in 2006, Yen Press is the second most prolific publisher of Japanese manga in the United States. Now a joint venture of Kadokawa Corporation and Hachette Book Group, Yen Press launched its new imprint for audiobooks, Yen Audio, in May 2021. The company collaborates with Hachette Audio to produce, sell, and distribute digital audiobooks for select titles.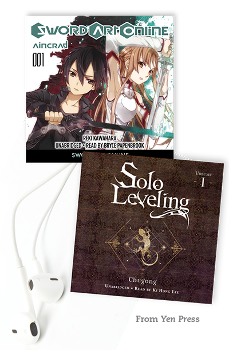 In summer 2021, Yen Audio released Solo Leveling, Vol. 1 by Chugong, narrated by Ki Hong Lee, July 2021, ISBN 9781975325886, based on the Korean webcomic phenomenon featuring superhuman hunters fighting monsters and raiding dungeons for treasure. Fan-favorite Korean star Ki Hong Lee, from the maze runner film series, and Tina Fey's The Unbreakable Kimmy Schmidtrecorded the audiobook. Solo Leveling, Vol 2 came out last fall and Volume 3 was released in February 2022. "Solo Leveling was initially published online as a web novel, chapter by chapter," explains Mark de Vera. "It was the biggest graphic novel debut in 2021, then became a best-selling franchise for manga, anime, and video games."
Also known as ranobe, the Japanese "light novel" is a genre of frequently-serialized, short, prose fiction enjoyed by middle and high school readers. Based on an iconic Japanese light novel series, Sword Art Online, Vol. 1: Aincrad by Reki Kawahara, narrated by Bryce Papenbrook, ISBN 9781975337186, tells the story of a multiplayer virtual-reality game that takes a shocking turn when players find out they can't escape—and must play until victory or death.
"We're the largest publisher of Japanese light novels in North America," says de Vera. "The light novel genre appeals to the young adult audience. They're fun, action-adventure and fantasy-romance stories that are frequently adapted into anime and manga."
Conclusion
While celebrating the growing success of audiobooks in recent years, Margot Wallace stressed the importance of being sensitive to the emotional needs of young readers right now: "We're really trying to be thoughtful about what children are experiencing during the pandemic. In selecting titles, we're mindful that these books are for independent reading time when children might be alone without a parent or caregiver. We consider what will be comforting and helpful to them."
SPONSORED CONTENT
.