For Virgin Islands History Month, more than 30 young people at the City of Refuge Worship Center used their weekly Friday night meetings to write poetry about the culture, history and the physical attributes of the territory and then recited their verses to many of the 200 church members on Friday, March 25.
Janice Simon and six other church members have been working with the youth on the project. They came up with a list of topics about the US Virgin Islands. Then they fine turned the list – parents, students and the team – and students started working on their poems.
They were given their deadlines and Simon pointed them to the University of the Virgin Islands Library and Google for research.
"A big up to the parents for trusting us," Simon said.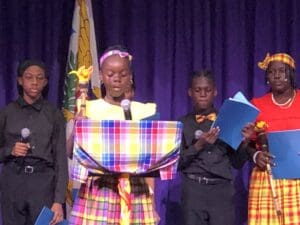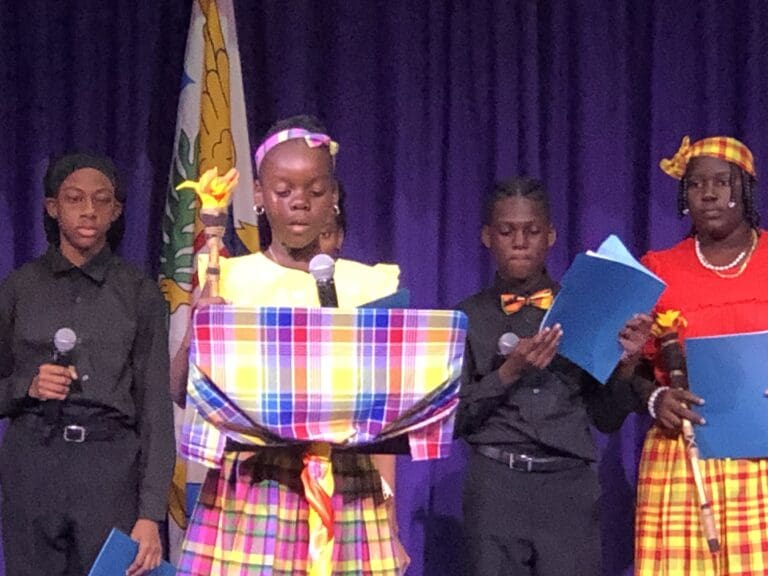 E'leeya Richard's poem rhymed about her grandmother's bush tea. The other poets were Madison Davis, Jahmilah Romain, Mario Samuel, Jr. Nicali Levine and Naisha Jarvis who wrote about farming and agriculture, island fruits and the rain forest.
"Because my grandmother she used to always tell how beneficial bush tea was," Richard told the Source was the reason she picked her topic. "It was easy because I had my grandmother there with me and her life experiences with bush tea."
Richard said she learned about bush tea from her grandmother, her parents and GOOGLE. She carried a basket of lemon grass and other bush tea ingredients while she recited her poem from her.
In another group, Mario Samuel, Jr. wrote about the importance of agriculture and work madras from head to foot. He said from sugar cane to sugar apples, cotton to coconut and animals to provide food that "agriculture is here to stay."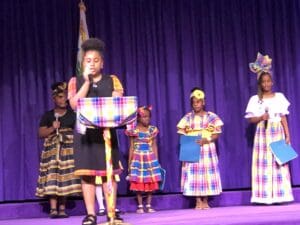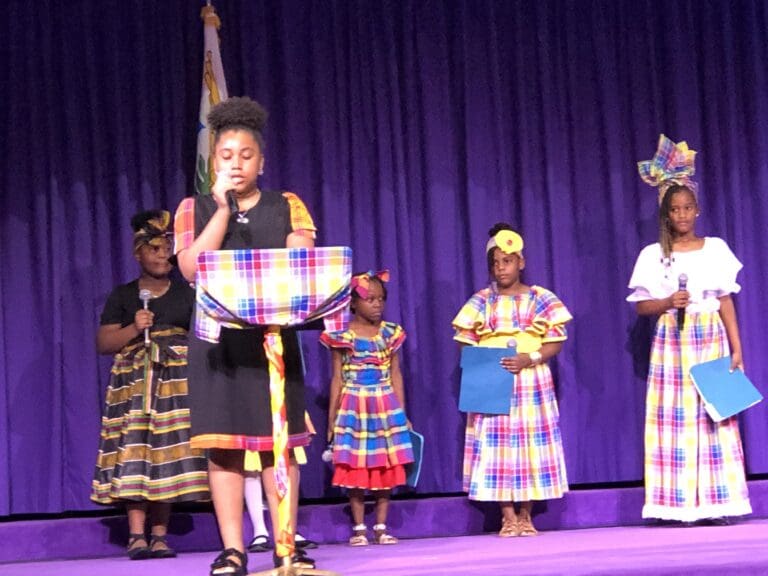 Antenysha Lafond was the first to recite her poem to the audience. She versed about the bravery of General Buddhoe – John Gottlieb – one of the leaders of the enslaved whose rebellion led to emancipation in the territory in 1848, and about St. Croix civil rights leader David Hamilton Jackson. Lafond said she learned about Black history and thinks USVI history is important.
"Because I come from the Virgin Islands and it feels kind of right," she said. "At first it was hard because I couldn't think of anything but then I got thinking about the people and I wrote my poem."
The other poets, in Lafond's group, who rhymed about VI culture, history and manners were Emmanuel Samuel, Hailey Maisoner and Rupert Campbell. Mark McIntoch III and Jahmiyra Johannes praised the beautiful Virgin Island beaches.
Another cluster included Jahnai Peter who wrote his poem about Caruso dancing. J'Shawn Campbell, Lamar'e Williams and Kayla Ault talked about Fort Frederick, Whim Plantation and Hotel on the Cay. J'Quan Campbell said he would like to see the Hams Bluff Light House and Joshua Bryan versed about things to see and do on St. Croix. Sandy Point beach.
Another group comprised Jah'Mira Joseph, Eendya Richard, Jahnir Boulogne and Samya Levine. They wrote of Queen Mary, proud maroons and slavery. Lamar Williams wrote about 200 sugar mills around the island.
Boulogne's poem about slavery was told in the first person. He said he got information about slavery from a video in his US History class. He has written poetry in the past and said it only took him about five minutes to write.
"I did not want for people to forget what our ancestors did for us," he said was the reason he chose the subject.
In another group Geniyah Silverio, Seniya Pitts, Cadyjah Yarwood, Nadiarah Yarwood, Nadine Samuel and Gabriella Tobierre waxed poetic about sun and the sea – Sandy Point, Salt River, turtles, conch shell horns, Rainbow beach and Buck Island.
The final cluster of young poets were Jahliyah Boulogne, Gabriel Tobierre, Elijah Romain and Laniya Christopher who wrote verses about St. John, Quelbe, Gallows Bay and the Virgin Islands Flag.
Most of the youth were dressed in cultural madras garb, made by their parents, from dresses and skirts to shirts, pants and hats. Some girls wore headdresses, scarves and flowers in their hair and some boys donned brimless hats. The headdresses were constructed with starched fabric molded to each head for a perfect fit, by quadrille caller Kareem Smith. Headdresses give a message about the person wearing it – for instance, it can announce that someone is single and pretty.
Several adults spoke to the young poets, including Frandelle Gerard of Crucian Heritage and Nature Tourism. She said it is important to preserve history and culture and remember that sugar mills and the machete are reminders the "represented the hardship our ancestors suffered."
"But sugar mills are beautiful and hold the spirits of our ancestors," she said.
Poet and English teacher Geron AW Richards, focusing on the young people, talked about the history of bamboula dance, which originated in West Africa and encouraged people to not only read more history about the islands and also write about their history.
"Read a lot and continue writing," I have addressed the youth.
St. Clair Williams, radio show host, spoke to the group and Sacha Alexander and her music students sang a cappella a moving song about Buddhoe and enslaved families.
The event ended with Smith calling steps and eight couples dancing quadrille.
There are around 200 church members and 55 in the youth group between the ages of 3 and 15, according to Mona Barnes, apostle and church leader. Most of the youth group are children of church members, she said. When the youth group meets every week they are divided sometimes by age depending on topics or subjects to be learned or they mingle together for social functions.
Slavery
By Jahnir Boulogne
They keep me here all day and night
They beat me up to stay awake
I must fight to prove what's right
So I could save my family if I got what it takes
I pray to myself to save me
But we will never be able to flee
But some believe that we are free
Then we were sold in 1917
From Denmark to the United States
Only cost $25 million dollars
Can we rejoice
Some still don't know
Slavery
Caruso
By Jahnai Peter
Caruso
Caruso, who are you?
Caruso had roots in Africa
Came from West African singing
Caruso was born in the cane fields
Used when African slaves wanted to talk to each other
They sang messages, news, gossip
And other bits of information
slavery ended
Caruso is still here
Used to be a popular dance in St. Croix
Compared with the Bamboula of St. Thomas
The only instruments were drums, imagine only drums
Caruso, it will be great to hear your beat
The beating of the drum
VI History
By Antenysha Lafond
VI History is the History of Bravery
The bravery and courageous Queen Mary
She led the fire burn in St. Croix
The bravery of Anna Heeguard
Who help improve the condition
For enslave African American
David HamiltonJackson
Played a key role in St. Croix's labor rights in the 1900's
General Buddhoe
Who was a brave and courageous leader
These people fight just for the cause
These people inspire me
They help me understand my history
The history of my people
And legacy
It shows me where we come from
It shows me where we are going
It shows us that there is hope for all
It shows me how strong we are
Virgin Islands History
Means a lot for me
My Grandmother Bush Tea
By E'leeya Richard
My grandmother says, "Bush tea good for everything."
In the VI it grows all year long, Summer, Fall and Spring.
You have a fever, drink lemongrass bush tea
Grandma says, "It will heal you that's a guarantee."
You can't sleep, soursop leaves will help you rest
Have the flu, then drink mint to make you feel your best
Grandma say, "If you have a headache get some bay leaf"
"Remember the earth heals if you want quick relief."
You can drink bush tea in the morning, noon and night
All day long. My grandmother says, just make sure to drink something
hot to start the day off right.
The good think about bush tea is that we don't have to get it
over be.
You can find it down the street in most yards which makes it free.
Know your bush tea, "Bush tea good for everything."