This week is National Library Week (coined by the American Library Association), so ArtsHub has used the moment to reflect on how books have inspired artists creatively.
The reality is that some books have a shelf life – whether our personal holdings, academic volumes or within our library – which means books simply get thrown out. For some artists, however, old books are a great resource or material.
Australian artist Kylie Stillman says: 'It's my own form of alchemy – taking something very common and then giving it nobility.'
She added to ArtsHub: 'The books I work with are donated, in many cases they have been offered to me, they range from legal volumes (from art loving lawyers), encyclopedias (from empty nesters down-sizing), novels (weeded from libraries) and text books (from university lecturers).'
'I use books as they serve as an ideal sculpting material, a way of holding an image in its negative form.'
8 artists who use books creatively
Kylie Stillman (melbourne)
As a painting student at RMIT during the 1990's Kylie Stillman simply was not inspired by paint; rather she was attracted to books. Using a scalpel, working page by page, she likens' the approach to intaglio printmaking processes… As I carve into the edges of the books, the dark ink of the printed pages and shadows are revealed to provide the tonality and form to the overall image ,' she told ArtsHub.
Local Branch (2016), pictured at top, was made with decommissioned books donated by the Hawkesbury Library (NSW). Birds, plant life and the artist's own scribbles are frequently used as her subject matter.
Liu Wei (Chinese)
Held in the White Rabbit Gallery collection, and shown in the 2017 exhibition heavy artilleryLiu Wei's work, Densities 1-6 (2013) appears like concrete or stone, but is in fact created from tightly packed textbooks, weighing around 1.4 tons.
Through this artwork Liu disrupts the role of the textbook, only offering an aesthetic reading and perhaps commenting on censorship in China, both in Mao's time and still today.
The gallery writes of the artwork: 'Density has a strange quality of emptiness – books that once contained a wealth of knowledge have been imprisoned within the huge forms, reduced to presenting blank surfaces onto which people must inscribe their own dreams and desires.'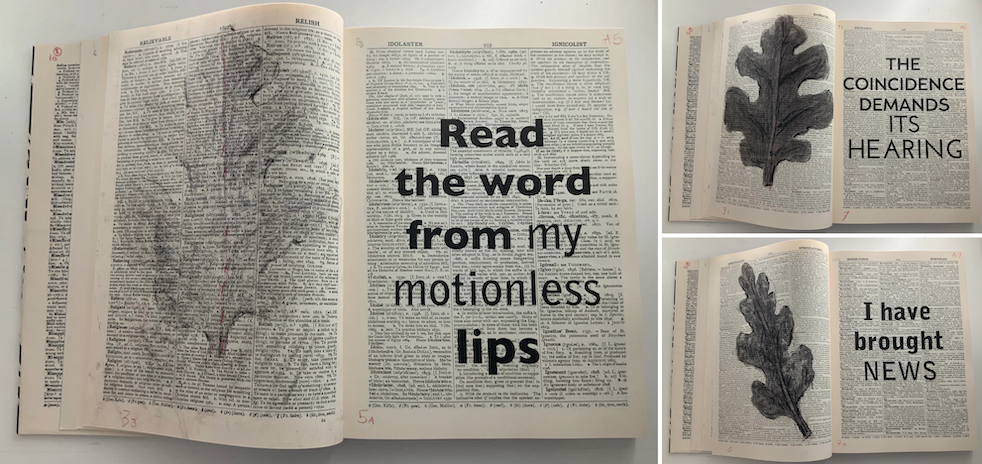 William Kentridge (South Africa)
William Kentridge is a storyteller. Best known for his prints, drawings, and animated films, he often uses books as his source material from him, working in a stop animation style, where the narrative is constructed on a page by the consequent creation and erasure of a charcoal drawing.
His animations deal with political and social themes from a personal and, at times, autobiographical point of view, since the author includes his self-portrait in many of his works.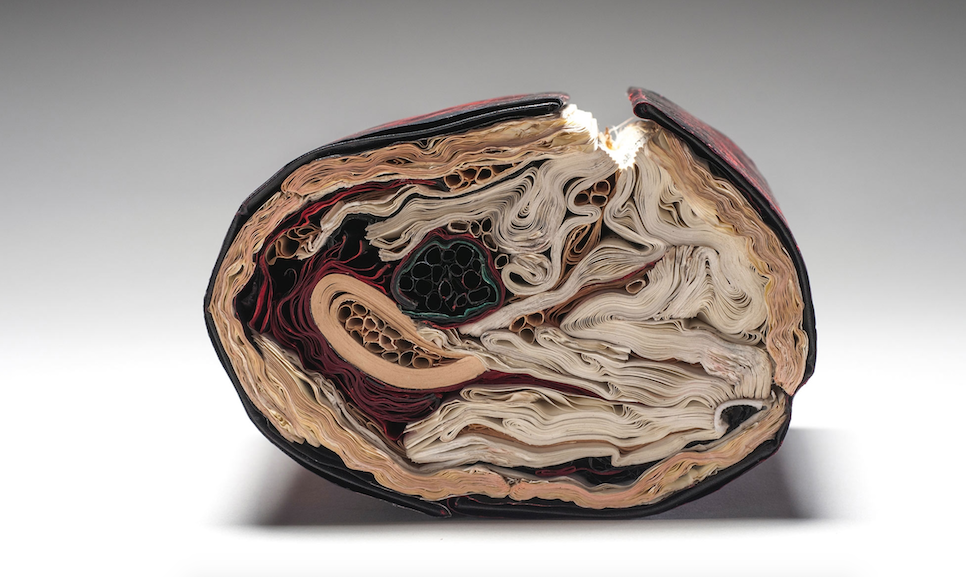 Jacqueline Rush Lee (Hawaii)
Jacqueline Rush Lee is a Hawaii based artist from Northern Ireland who largely turns to books as her primary medium. With a degree in Ceramics – and a recipient of a 2022 Djerassi Artists Program Residency Award – she uses the books wet, then screwed together into organic and geometric forms, before drying.
Curator at Fuller Craft Museum (USA), Beth McLaughlin said her work 'defies our expectations of what books can be with fecund meditations on nature and permanence … drawing parallels between the life-cycles of books and those of humans through forms found in nature. '
This work was created in 2015 from Harvard Loeb's Translation of Ovid's Metamorphosesa signature style that has been carried across her career, including her celebrated Volume series.
Polit-Sheer-Form-Office (China)
Polit Sheer-Form-Office is an art collective from Beijing (members include Song Dong, Xiao Yu, Liu Jianhua, Hong Hao and Leng Lin). Their work Library (2008) is a room-sized installation of 7,980 books placed upon 20 bookshelves – rigidly uniform, and yet unreadable and unable to be borrowed.
The White Rabbit Gallery explained of this artwork: 'The artists had heard about a neo-Maoist collectivist village called Nanjiecun, and they decided to travel there by train, reading on the way, debating ideas about politics and society … From that experience, and other experiences of collective reading, the idea of ​​creating a library took shape.'
Library recalls the Thoughts of Chairman Mao, colloquially known as the Little Red Book, and is a comment on the absolute authority of those who control access to knowledge. Each book is printed with the words 'Polit-Sheer-Form' and has a unique edition number, but its pages are blank.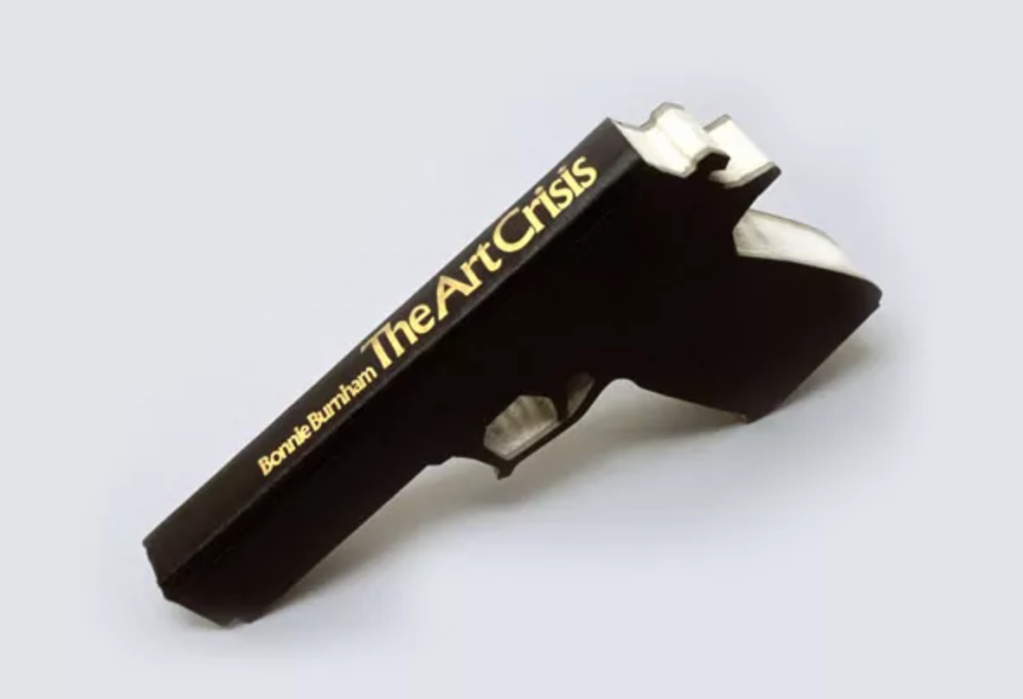 Robert The (America)
Robert The is a New York City artist best known for using books to create guns and other objects as sculptural forms. the Chicago Reader wrote of The's work: 'The is reluctant to betray his trade secrets, saying only that he uses a power saw. "Paper is harder to cut than wood," he says.'
The added in 1995: 'Obsession with the semiotic erosion of meaning and reality led me to create objects that evangelize (sic) their own relevance by a direct fusion of word and form. Books (many culled from dumpsters and thrift store bins) are lovingly vandalized back to life so they can assert themselves against the culture which turned them into debris.'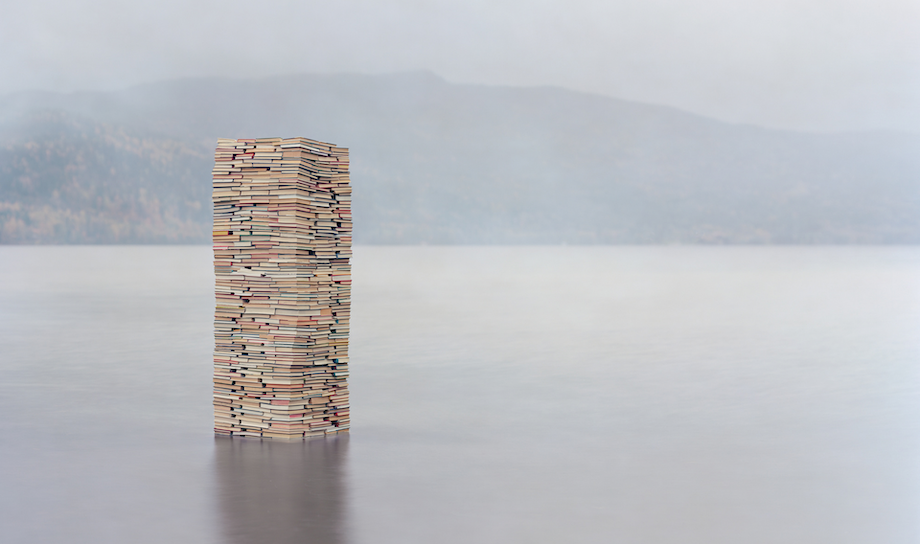 Rune Guneriussen (Norway)
Born in 1977 in Norway, photographer Rune Guneriussen studied in England, where he became interested in the intersection of land art, installation and photography. His works by him using objects in nature started in 2005 – including the frequent use of books. The works are made in situ, and place and time are key in triggering stories, with plenty of scope for the viewer to find their own connection with Guneriussen's book works.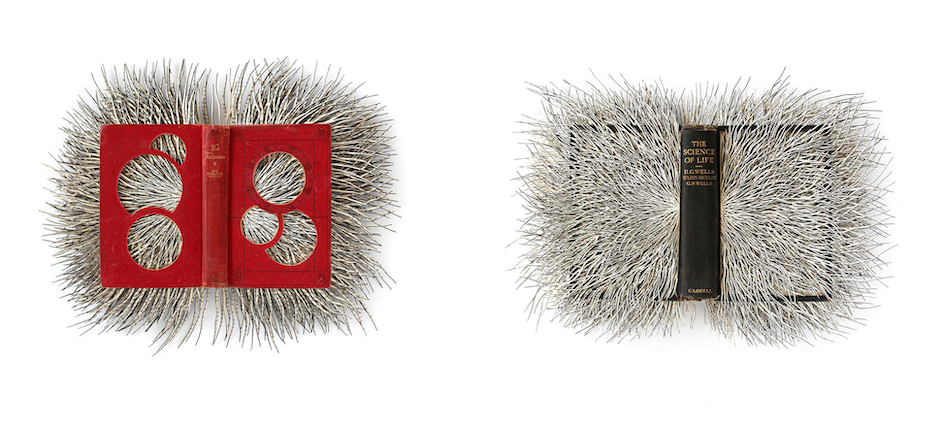 Barbara Wildenboer (South Africa)
Barbara Wildenboer's work consists of collages, photo- and paper-construction, found objects and sculpture. She is best known for her 'altered books' which function as cue to a range of subjects, from History of X-rays, Camera Obscura, Astronomy and Physics. She often turns to maps, atlases and scientific journeys, which she then cuts to offer new narratives.
Her book project, Library of the Infinitesimally Small and Unimaginable Large is a large-scale ongoing project that uses the library as a metaphor for the universe and was inspired by a short story by the Argentinian writer Jorge Luis Borges, titled The Library of Babel.