Strength in numbers – that was the goal in July 2021, when two area Rotary clubs merged into one, becoming the Fitchburg-Verona Rotary Horizons Club.
The two clubs had already been meeting on the same day and not that far apart from each other, with one serving Verona and Fitchburg, while the other served western Madison.
That's what led club president-elect Melissa Carlson to propose the merger of the two organizations, bringing together the individual memberships of around 20 people per club to have more manpower for projects, saying it just made sense.
Among those projects are volunteering with the River Food Pantry in Madison, Badger Prairie Needs Network in Verona, Madison Reading Project, Project Home Paint-a-thon, and selling beer tickets at Verona's Hometown Days.
"Everyone has their pet project," current club president Meredith Shelton said.
Many of those pet projects were set aside over the past two years during the pandemic, as volunteer opportunities became scant during social distancing.
"We're trying to find a way to get back into group volunteer projects with mandates being lifted," she said.
Shelton had to navigate the tricky task of merging the two clubs. It was important that the fundraisers, routines and traditions of both clubs continue, said Carlson, who takes over from Shelton in July.
Some of the two separate club's projects were almost too much work for them on their own, but with more volunteer availability thanks to the unified group, it would make sense to continue, Shelton said.
Despite some "crazy finessing" on Shelton's part during merging, Carlson said the resulting club has been "absolutely awesome so far." She said that they lucked out and everyone respected the decision, they didn't lose members because of the move. Shelton has been instrumental in establishing some expectations for going forward, Carlson said.
Maintaining members
For the most part, the past year has been more about maintenance, Carlson said. They've been focused on finding ways to stay in touch with current members who had become isolated because of the pandemic, rather than worrying about growing membership.
"Membership hasn't been a focus," Carlson said. "Without doing much in person, it's been difficult to find new members and get them involved."
In order to include all of their members, they switched to doing hybrid meetings so that some people could attend virtually. Some members can't slip away during the lunchtime meeting time, other members are snowbirds wintering in other parts of the country.
Now that they've begun doing hybrid meetings, even post-pandemic, they're not going back, Carlson said.
"We had never done hybrid before and now we don't see it going away," she said, who was on the task force for getting hybrid setup. "We invested in equipment trying to encourage people to be there, and accommodated a way to make sure people felt safe meeting online."
The task force wanted to help people beaming-in to feel engaged, ensuring a greeter was available to welcome them to meetings and let them know everyone was ordering lunch and setting-in.
The group meets the first three Tuesdays of every month at Ten Pin Alley in Fitchburg, 6285 Nesbitt Road.
The group hosts guest speakers at most meetings, who share about a wide variety of topics from a Wisconsin Department of Agriculture, Trade and Consumer Protection liaison sharing how to spot fraud, to a representative from the Wisconsin Office of Children's Mental Health coming to speak about mental health issues in youths.
Thanks to hybrid meetings, they are also not limited anymore to only having local speakers at their meetings – such as when they were able to speak to a member of the Toronto, Canada, Rotary about building a community through programs like book clubs.
Other times, it might just be one of the local members sharing about their vacation to the Galapagos Islands.
Bringing in speakers can offer alternative points of view, Shelton said.
"It changed the way I view controversial things like masking and politics," she said. "It's respectful. They talk, we talk, it's an exchange. The ability to just listen – we should be able to do that as adults respectfully."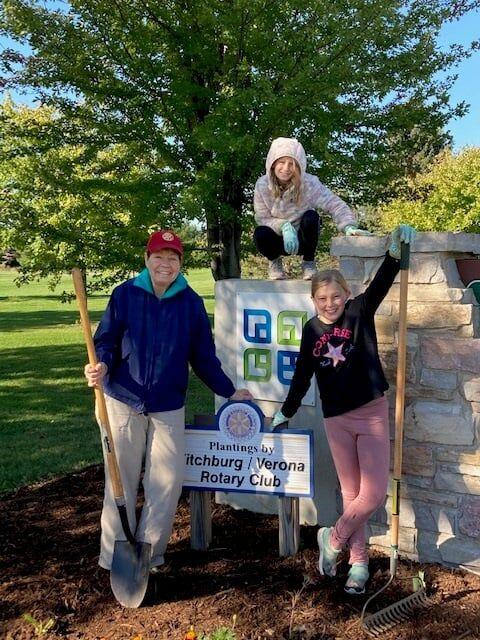 Finding a focus
The national Rotary organization has declared a variety of focus areas for its charter clubs including protecting the environment, food security, literacy, voting, fighting disease, clean water for sanitation and hygiene, supporting mothers and children, supporting education and growing economies.
Through its partnerships with the River and Badger Prairie Needs Network food pantries, along with its volunteering for the Madison Reading Project – the Fitchburg-Verona Rotary Horizons Club will focus on hunger and literacy, Shelton said.
They are looking forward to volunteering for Little John's – the pay-what-you-can meal kitchen – once it completes its move from Verona to Fitchburg in the next year or so.
They've also set a long-term goal, aiming for 2024, of bringing back their support of the Rotary Youth Exchange, which is supported by Rotaries nationwide.
That program sends youths ages 15-19 to more than 100 countries, lasting anywhere from several days to three months to a full academic year.
The club would fundraise to support a local member who is interested in hosting an inbound student. But with travel into the US still in flux because of the pandemic, it's up in the air when the program will resume.
"It's such an incredible experience," Carlson said. "They get to attend school, they live with host families, living as a local. They get the opportunity to see the sights and do touristy things and in addition have the opportunity to experience the country, use a new language, learn new customs, learn a different way of living."
The group also sponsors the Interact Club at Verona Area High School – which is a national initiative to connect Rotaries with local schools.
Students ages 12-18 develop leadership skills by organizing at least two projects every year – one that helps their school or community and one that serves internationally.
One such project was the student members received handmade beads from Kenya, which they made into bracelets, then sold them at the school and to friends and family – with all the money they earned being sent back to Kenya.
Locally, the Interact members have also collected and distributed feminine hygiene products.
Interact Club members are able to attend a conference, held in Wisconsin Dells, to interact with other like-minded, community service-minded peers.
The Fitchburg-Verona Rotary Horizons Club also provides students – particularly those who do community service projects – with a variety of annual scholarships, including a $1,000 one.
Getting everyone involved
The national Rotary's motto is "Service Above Self."
Carlson said she'd like to see every member become involved in at least one of the local service projects. Whether helping re-package food at Badger Prairie Needs Network or cleaning up a park, she says that people can do good work and make a difference while still having fun and socializing.
The club plans service projects on weekdays, weeknights, and weekends – to make sure there is something for everyone, regardless of whether they're working or in school.
"You get more out of something the more involved you get in it," Carlson said. "So it's not a selfish thing. Look for something you can hang your hat on and champion."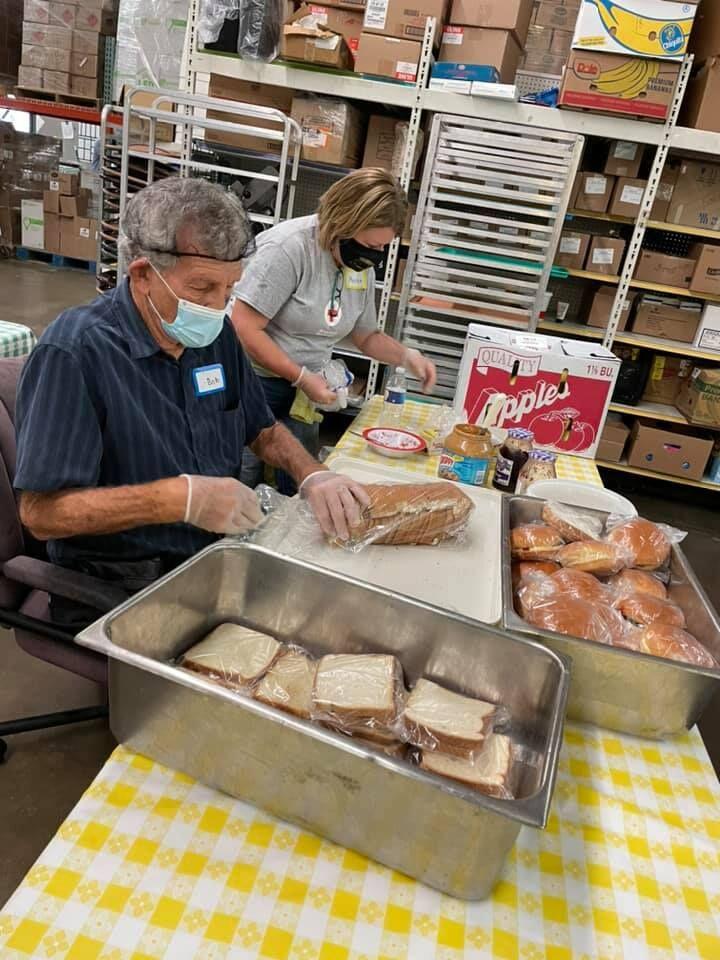 .