Rivals national recruiting director Adam Gorney along with Deana King from TarHeelIllustrated.com, Kyle Kelly from InsideNDSports.com and Christian Clement from AuburnSports.com tackle three topics and determine whether they believe each statement is FACT or FICTION.
1. It's more than likely Jamaal Jarrett teams up again with former high school teammate Travis Shaw and picks North Carolina.
Gorney's take: FICTION. When I traded messages with Jamaal Jarrett following his visit to Georgia it definitely felt like the Bulldogs were not only in this one but they're right there with North Carolina at the top. Jarrett has a decision to make: Play at North Carolina with his friend and former teammate to make up potentially one of the best defensive tackle groups in the country or do his own thing and go to Georgia, compete for SEC and national titles and carve his own path. Right now, I'd say it's a tied race.
King's take: FACT. Jarrett has a strong relationship with Travis Shaw and sees him as a mentor. The Tar Heels are in great shape and they have been one of the favorites since the start and will have to fight off Georgia. I believe the lure of playing with Shaw again and playing for legend Mack Brown will help North Carolina land Jarrett.
*****
2. After seeing him at the Elite 11, Dante Moore could make a case for the No. 1 QB in the 2023 class.
Gorney's take: FACTS When it comes to the four five-star quarterbacks in this class – and I'd throw in some of the four-stars as well – there is nothing written in stone with any of them. Final rankings are going to be based on performance and how we see those players projecting into college and NFL Draft positioning and with that metric, Dante Moore should definitely be in the conversation. So much is discussed about Arch Manning but he hasn't thrown on a national level yet. Moore has made the rounds and been very impressive. Malachi Nelson and Nico Iamaleava have been on the same fields numerous times whether at camps or 7-on-7 events. When it comes to quarterback rankings – and really every position – nothing is locked at all yet.
Kelly's take: FACTS Moore is up against tough competition for the No. 1 quarterback spot in the 2023 class. However, Moore should absolutely be in the conversation. During Saturday's regional Elite 11 in Ohio, Moore displayed his quick release, touch, accuracy and velocity. This summer, Moore will put those same skills on display at the Elite 11 Finals, where he will look to take home the crown as the nation's top quarterback. If Saturday is any indication, he has a real chance to win it.
*****
3. An Auburn offer for Brock Glenn over the weekend changed the entire scope of his recruitment.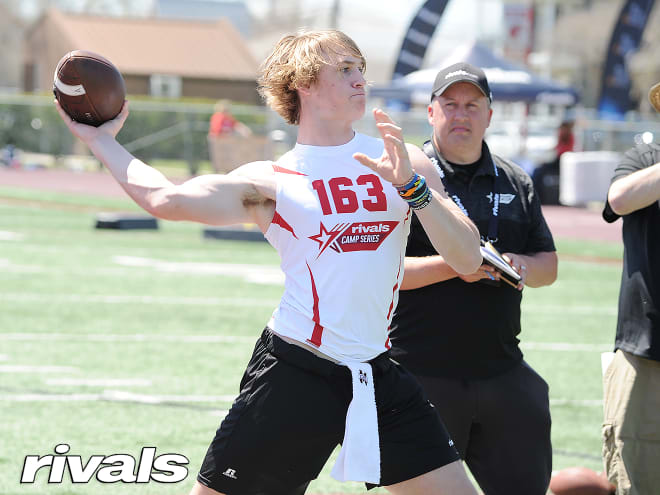 Gorney's take: FACTS Mississippi State is still very much in the picture along with Missouri and Oklahoma State – his favorites heading into last weekend – but the Auburn offer could change a whole lot here. First, his real first name is Auburn. His grandfather went to veterinary school there. He has other family who went there or are huge fans of the program. Other schools were involved earlier and longer but if someone's real first name was Miami and they had an opportunity to play for the Hurricanes, it would be a very serious surprise.
Clemente's take: FACTS Auburn's been focused on Chris Vizzina, and he is still a top target, but the writing is starting to pop on the wall that Clemson is the leader there. Thus, the offer to Glenn, whose first name is actually Auburn. Yes, you read that right, his name is Auburn Brock Glenn. He has deep family connections to Auburn and the offer on Saturday should put Auburn near the forefront of his recruitment.
SHARE YOUR THOUGHTS WITH AUBURN FANS AT AUBURNSPORTS.COM