US Poet Laureate Joy Harjo visited West Virginia University on Tuesday evening to give a live reading of her work. Dozens of community members gathered to hear her words from her.
A member of the Muscogee (Creek) Nation, Harjo is the 23rd Poet Laureate and the first Native American to hold the prestigious position. Harjo is a poet, author, playwright and musician and has received numerous awards for her artistic endeavors from her.
After taking the stage, Harjo started the event with a musical performance of her own and after a short introductory speech, she began the reading. She read poems from her various works by her and following each poem, she spoke about her art by her, her life by her, her culture and current events.
"My favorite thing to do when I was a young woman was to drive my aunt Lois Harjo around the Creek Nation and visit our relatives and visit people, because then you hear all the good stories," said Harjo. Harjo recounted her life as a young woman in Oklahoma, how she would spend time with her relatives and how they would share stories of times past.
Harjo described the cultural influence of her poem "Rabbit is Up to Tricks." She said in Muscogee tradition, the rabbit is a trickster figure. Harjo said that the Muscogee classical references in her work de ella do n't align well with European-American academic poetry as it's often expected to reference ancient Greek stories.
"Every culture has trickster figures, clowns, jesters and they're often near the seat of power because people holding power can forget that the power belongs to everyone, it's to be shared," said Harjo.
Harjo described her thought process at the time when she produced her most recent book of poetry, "An American Sunrise." She said she was in her de ella homeland, what is now Georgia and Alabama, with her husband de ella and she was hit with the history of the land she stood in. Harjo recounted the lives of her people from her before they were forcibly removed.
"Everybody was marched out by gunpoint," said Harjo. "There was a lot of sickness, rapes, all kinds of things that happened, they were kind of people too."
She said she was blown away by the contrast between her excitement to return to her home in Oklahoma when the land she was harbored in such a dark history. Harjo said it was at this time that she was inspired to write her poem "How to Write a Poem in a Time of War."
"What do you do with that, when you know the stories, when you know how hard people fought, just like you would fight hard if somebody came in here right now and put a gun to your back and told you to get your kids and get out," said Harjo. "It's really like what we see going on in Ukraine right now."
The reading was preceded by a musical performance from award-winning recording artist and West Virginia native Cody Blackbird. Blackbird also closed the event with an honoring song for Harjo.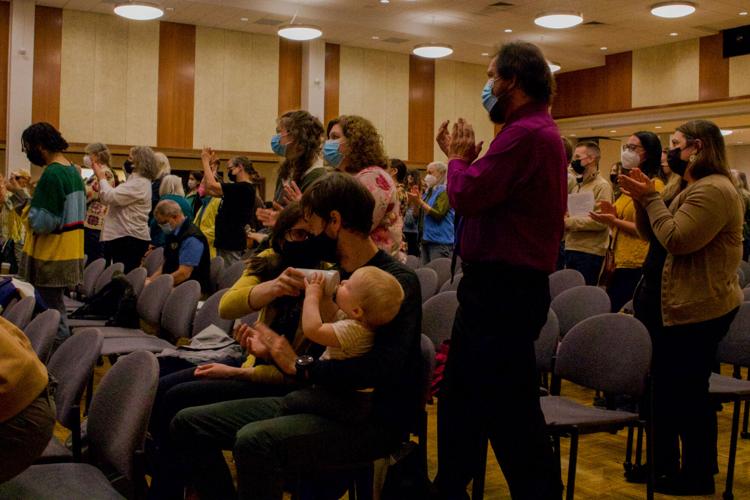 Harjo was introduced by Bonnie M. Brown, Native American Studies program coordinator. This was followed by a land acknowledgment from Christopher Chaney of the Seneca Cayuga Nation. Chaney is a Native American Studies program faculty member as well as a member of the Native American Studies Program Committee.
Renée Nicholson, poet, author and director of the WVU Humanities Center, was then introduced as the guest of honor.
Kaley Vestal, administrative associate at WVU's Center for Women's and Gender Studies, thinks Harjo's message is applicable to current events in Ukraine.
"There's going to be tragedies like this until we all learn to make peace with it," said Vestal. "I think music and poetry and art is one of those ways that you can really express the need and how people want peace, but oftentimes it's not the people who get heard, it's the leaders who get heard."
Vestal said it is important to give people who are suffering a voice, to let them speak for themselves.
"We need to put these artists like Joy Harjo, we need to look into other artists like Cody Blackbird, for instance, and showcase their work, listen to their messages, and share those messages," said Vestal.
.