LITG: Welcome to the Daily LITG. The world can seem like a terrible and strange place sometimes, but at Bleeding Cool, you can still read all about comics, merch, TV shows, games, movies, and more. The Daily Lying In The Gutters remains a long-running run around the day before and the day ahead. You can sign up to receive it as an e-mail here.
LITG: Flash Fact in the ten most-read stories, yesterday
DC Cancels The Ezra Miller Flash Movie Prequel
DC To Get A Complete Overhaul Before Sell Off
Kevin Conroy, The Voice Of Batman The Animated Series, Joins DC Pride
The Sandman: Neil Gaiman on Merv Casting, Respecting Slow News Days
How Each Green Lantern Will Look Going Forward (Spoilers)
DC Cancel Tom King & Jorge Fornes' Danger Street With Darkseid Orders
DC To Cancel Aquamen In July 2022
NBC Revival Pilot "True Quantum Leap Episode", "Homage to The Series"
DC Comics Writers Had Rewrites Over The Death Of The Justice League
Lucifer: Lesley-Ann Brandt Talks Lucifans' Support, Series End & More
ICYMI: more you may prefer from yesterday.
In case you fancied more LITG about comics.
LITG one year ago, Krakoa Gets The Vote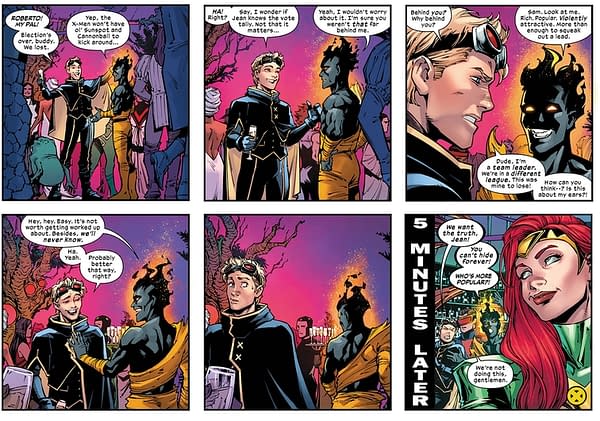 Marvel Confirms Marrow and Armor Lost the X-Men Vote
Barbara Gordon's New Look & Status From DC Comics Today (Spoilers)
Marvel Confirms Sunspot And Cannonball Lost the X-Men Vote
Rick Grimes and Clementine Return To The Walking Dead In Skybound X
Just Banshee and Polaris Left, Tempo and Boom Boom Are Out
New Amsterdam: Anupam Kher Not Returning Amid Wife's Health Crisis
Ben Grimm Is Really Going To Kill Reed Richards, Isn't He? FF#30
The Dark Knight Rises Catwoman Gets New 1/3 Statue From JND Studios
Krakoan Envy In Today's X-Men Comics – Wolverine, Children Of The Atom
Chip Zdarsky's Justice League: The Last Ride No Longer Digital First
Fist of the North Star: Viz Media to Release Ultimate Edition Manga
Frankenstein Comics #19 On Auction Today At ComicConnect
Shakespeare YA Graphic Novels – Twelfth Grade Night and King Cheer
The Beginning After the End: Interview with Writer TurtleMe
Micronauts #1 CGC 9.8 On Auction Right Now On ComicConnect
How Fast Was This Asterix Promotional Image Taken Down, By Toutatis?
Al Ewing Writes Guardians Of The Galaxy – Or Is It Catherine Tate?
Will This Giant-Size X-Men #1 CGC 9.8 Break Records?
A History Of "I Would Have Words With Thee" and Thor #14 Spoilers
Behemoth Comics Hires Steve Ekstrom As Their New Editorial Director
Piranha Comics To Be London's Largest Comics Chain And They're Hiring
Barbara Gordon's Brand New Look, in the Daily LITG, 14th April 2021
LITG two years ago, Deborah, Daredevil, Diamond and DC
People were loving those DC, Marvel and Batman Zoom backgrounds. However, in more substantial articles, it was all about bringing the direct market back – and if Diamond will be able to make that possible.
Daredevil Star Deborah Ann Woll on Current Career Woes; Cast Responds
Diamond Comic Distributors Furloughs Employees, Beginning Today
DC Comics Offers Virtual Backgrounds for Zoom Conferencing
Ubisoft Releases The "Just Dance 2020" Song List
The Death of Superman and of Comics – Michael Davis, From the Edge
A Few Thousand Free Comics Right Now and Where to Find Them
Ronda Rousey Double Breaks Kayfabe to Admit Comments are a Work
Speculators Dropping $100 on Mighty Morphin Power Rangers/TMNT#3
First Marvel/IDW Star Wars Crossover, High Republic, Out In the Fall
Mondo Releasing New A Clockwork Orange Poster Tomorrow
LITG three years ago, a first look at The Mandalorian
Long before we got an inkling of Baby Yoda, we knew the Mandalorian was coming. And we got a look at it one year ago. It's amazing how time flies, right?
'The Mandalorian': 4 Official Images from the Disney+ Series
Larry Hama Denied Guest Privileges at Philadelphia Comic Con (UPDATE)
The Return of the Legion, a Lois Lane Heel Turn, and Superman #13's Final Page Shocker
Mark Hamill Responds to THAT Laugh in 'Star Wars: The Rise of Skywalker' Teaser
'The Mandalorian': Series Footage First-Look [Star Wars Celebration 2019]
Comic book birthdays today
There may still not be much of a party atmosphere right now. It all depends on which state you are living in. But comics folk are always getting older and still celebrating that special date.
Sara Pickelli of Miles Morales: Spider-Man.
Mike Lake, co-founder of Forbidden Planet and Titan Books.
Mike Nortoncreator of Battlepug.
SteveWillis, creator of Morty The Dog.
Disney Comics Writer, Geoff Blum.
cartoonist Tom Sutton of Star Trek, Eerie, Marvel Comics Presents, Creepy,
Mike Kanterovich, writer on Fantastic Force, Sonic The Hedgehog and Secret Defenders.
Daniel Presedo, writer/artist of Dream Wolves, Razor, Raw City.
Bruce Beattiepolitical cartoonist.
If you are in comics and have a birthday coming up – or you know someone who has – get in touch at richjohnston@bleedingcool.com.