Rivals national recruiting director Adam Gorney and national recruiting analyst Ryan Wright along with Zack Carpenter of ScarletandGrayReport.com and Julie Boudwin of TigerDetails.com tackle three topics and determine whether they believe each statement is FACT or FICTION.
*****
RESPECT MY DECISION PODCAST: Donald Driver joins Adam Gorney
CLASS OF 2023 RANKINGS: Rivals250 | Team | Position | State
CLASS OF 2024 RANKINGS: Rivals250 | Team | Position | State
PORTAL TRANSFER: Stories/coverage | message board
RIVALS CAMP SERIES: Info for 2022 series
*****
1. The start of Mario Cristobal's era from a recruiting perspective at Miami has been underwhelming.
Gorney's take: FICTION. If the expectation for Mario Cristobal was to come in and start landing every single South Florida prospect or the elite ones across the state, that's ludicrous and won't happen. There has definitely been a wait-and-see approach from a lot of the top guys in Florida and that has allowed all the programs that come in and raid the state an opportunity to keep getting the best of the best. If none of the top 10 prospects in the Florida state rankings end up at Miami, it wouldn't be a surprise. But there is a different sense with those kids and many others that Cristobal is the right man for the job and his track record of recruiting at Oregon is phenomenal. The mentality has to change first and that's happening, then results will need to be seen on the field and then a lot more top players will stay home. The process is in motion.
Wright's take: FACTS To Cristobal's credit, the recruiting cupboard left by Manny Diaz's staff was barren. In the modern era of recruiting, a class is essentially closed by the Early Signing Period. The picks of top talents left for National Signing Day are slim to none. By the Rivals average star rankings, Miami had the No. 13 2022 class, which is far better than their overall slot at No. 35. In the 2023 cycle, only six teams have landed nine or more verbal commits; the process is still early. The Hurricanes are in the running for some of Florida's best, but players still have a feel of uncertainty with the program. The class ranking shouldn't be as important to the fanbase as restocking the proverbial shelves with players that can get Miami back on top in the ACC.
SHARE YOUR THOUGHTS WITH MIAMI FANS AT CANESPORT.COM
*****
2. LSU has a very real shot to land five-star WR Carnell Tate now that he's taking a visit later this month.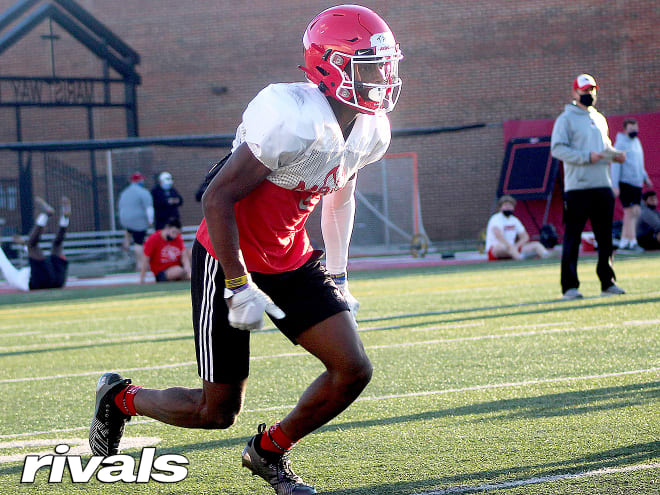 Gorney's take: FACTS As it stands right this moment, Ohio State and Tennessee are the front-runners with Notre Dame still very high but LSU has a real shot at Carnell Tate and that could be emphasized even more after his visit to Baton Rouge next weekend. It cannot be overstated how important it is that Tate and five-star quarterback Dante Moore are going to be on campus at the same time. The idea of ​​playing together is at least possible, LSU would make a lot of sense and there is a real chance that the two could fall in love with coach Brian Kelly's vision there. I would not be shocked at all if Tate picked the Buckeyes or the Volunteers. But LSU is seriously in this one and will be even more after his trip from him.
Boudwin's take: FICTION. Until we see and hear from the five-star wide receiver after his official visit next weekend to Baton Rouge, it's hard for me to envision him picking the Tigers when it seems he's been extremely high on Tennessee, Ohio State and Notre Dame for quite some time now. He's visited the Volunteers multiple times already, including an official last weekend. But the LSU official for Tate will certainly allow wide receivers coach Cortez Hanktonhead coach Brian Kelly and staffers to roll out the red carpet and show the country's No. 3 wideout what they're trying to build with this 2023 class — it also helps that five-star quarterback Dante Moore will be on his official at the same time.
SHARE YOUR THOUGHTS WITH LSU FANS AT TIGERDETAILS.COM
*****
3. Ohio State will take the lead for 2024 QB Dylan Raiola after his visit this weekend.
Gorney's take: FACTS If the visit to Ohio State goes really well for Dylan Raiola this weekend – and there's no indication it won't – then the Buckeyes could gain a small edge in his recruitment although it's going to be very slight. There were some rumors of a possible commitment from Raiola during his visit to Columbus but the 2024 star quarterback tells me that's not going to happen. Ohio State and USC probably are the two standouts right now for the Chandler, Ariz., standout but others are still in the running especially since he's been all over the country taking visits. If it's clear that Raiola is the top target for 2024 quarterbacks following this weekend then the Buckeyes could be tough to beat.
Carpenter's take: FACTS For more than six months, Ohio State's top quarterback in the class was Jadyn Davis, the No. 1-ranked QB in the cycle. But Raiola sort of exploded into the forefront as the top target over the last couple months. Both are visiting Ohio State this weekend, making that the No. 1 storyline in Buckeyes recruiting over the next few days. This could be a make-or-break visit for each of them, and we will know a lot more about where each stands with the Buckeyes by Sunday evening. At this point, I'm strongly leaning toward Raiola being the Buckeyes' guy. Raiola is visiting for a second time in three weeks, flying in from Arizona, and there is a true buzz among him, Ryan Day and quarterbacks coach Corey Dennis.
SHARE YOUR THOUGHTS WITH OHIO STATE FANS AT SCARLETANDGRAYREPORT.COM