---
The NHL Playoffs are closer than you think, meaning every game matters now for those teams on the outside looking in. This is the ideal time to be playing Daily Fantasy or Pick'em at sites like Underdog Fantasy. FantasyData has player projections and an NHL Optimizer to help you win!
---
NHL DFS Trending Forwards
DFS is all about finding the hot hand. Here are a few guys who have been hot recently, and a couple of forwards returning from an injury that could have a big impact on the rest of the season.
Mikko Rantanen has been a stud this season for the potential President's Trophy winner, the Colorado Avalanche. Rantanen's linemate, Nathan MacKinnon, is one of the league's best playmakers and Rantanen is benefiting from his production of him. Rantanen is averaging 1.24 points per game (ppg). Rantanen will continue to be heavily involved in the Avalanche's goal-scoring opportunities and is definitely worth putting into your DFS lineups.
Maybe one of the most underrated players in the NHL is JT Miller. The Canucks forward is an offensive star averaging 1.24 PPG. Miller is also on the first powerplay line, giving him more opportunities to be involved in scoring plays. Miller is consistently involved in the offense and has the ability to be of great value every game.
Jake DeBrusk of the Boston Bruins is a sneaky play in the right matchup. With Pastrnak missing some games, DeBrusk has been promoted to the number one line. Playing with Bergeron and Marchand is bound to open up more ways in which DeBrusk can be involved in the offense. He is surrounded by playmakers and usually has a very manageable salary to fit into your DFS lineups.
Kirill Caprizov of the Minnesota Wild is electric every night he touches the ice. The 24-year-old forward is a huge difference-maker every game. Kaprizov is averaging 1.26 points per game and about 19 minutes of ice time. He is also attempting 3.6 shots a game. There are not many players in the NHL who have the ceiling that Kaprizov has every night. The Wild are fourth in the league in goals per game and Kaprizov is a huge contributor to that. To put him into your DFS lineup you will definitely have to pay up, but he is very worth it.
Nikolay Ehlers is a very solid forward to put in your lineups. The Winnipeg Jets right-winger is very consistent, and consistency is key in DFS. Ehlers averages four shots a game and has a .9 PPG%. Ehlers is on the second forward line and on the first powerplay unit. He is utilized heavily on the offense and is not afraid to shoot the puck. Ehlers won't break the bank to fit into your lineup and has the ability to put up good points every game.
claude-giroux, who the Florida Panthers acquired at the trade deadline, has been very involved in the offense on his new team. With his move from the Flyers to the Panthers, Giroux will be much more prominent in DFS. The Panthers are one of the best offensive teams in the league and Giroux is a great playmaker. Since joining the Panthers, Giroux is averaging 1.09 points and 2.9 shots per game.
Cole Caufield, of the Montreal Canadiens, is a trending player that is good for your DFS lineup, if in the right matchup. Since Martin St.Louis took over as head coach, the Canadiens have been improving. Caufield is a pretty inexpensive option to throw in your lineups and he has the opportunity to be the Canadiens' number one option every night. He is on the first line and on the first powerplay unit. Not to mention his young centreman, Nick Suzuki is a great playmaker. A more risky play in your lineup, but for the price, it is hard to find a player with more upside than Cole Caufield.
Jakub Vrana you have missed most of this season but he is finishing strong for the Red Wings. It has been a small sample size but Vrana has been productive. He is averaging .77 points and 2.4 shots a game. Vrana has a more affordable price tag than other forwards and with the right matchup, he is a good choice for your lineup.
Underdog Fantasy Picks
Las Vegas Golden Knights Captain, Mark Stone, is coming back from injury just in time to try and make a playoff push. The Golden Knights have had to endure many injuries this season but they are starting to get healthy. Stone is averaging .93 points per game. Stone is a very impactful player for the Golden Knights and because he is coming back from injury, his over/under for shots tonight is just 1.5. I think 2 shots shouldn't be too difficult for Stone to hit.
The Tampa Bay Lightning have been slumping as of late. They're 5-3-2 in their last ten games and face a desperate Jets team that could be out of the playoff race if they're not careful. The Bolts are one of the best teams in the league playing on home-ice and play a deflated Jets squad that we're handed a 6-1 loss just last night. I expect a tight game early on, with Stamkos and company pulling away late. The best defense is offense – the Bolts caption only needs one shot per period to hit this over.

Jordan Staal has 4 goals on 9 shots in his last 3 games. The Hurricanes have clinched the playoffs and are counting down the remainder of the regular season games until the playoffs, however, a game against the top team from the west might be motivated to kick things up a notch. Sportsbooks offering NHL Futures have the Avalanche as the favorite to win the Stanley Cup this year, so I'm expecting a good game. Over 2 shots shouldn't be difficult

Underdog Fantasy Pick'em Recap
Three of the players we mentioned in this article are added to an Underdog Pick'em Game for tonight, if you can add two more guys you'll get 20X your bet! Underdog Fantasy is FantasyData's go-to source for NHL, NBA, and NFL daily and Best Ball gaming. If you've never heard of them, check out our Underdog Fantasy Review or just visit their site and see all the awesome games they have to play.
Exclusive FantasyData Sign Up Bonus Offer: Underdog Fantasy will double your first deposit (up to $100) in bonus cash for first-time signups. – Click Here to Claim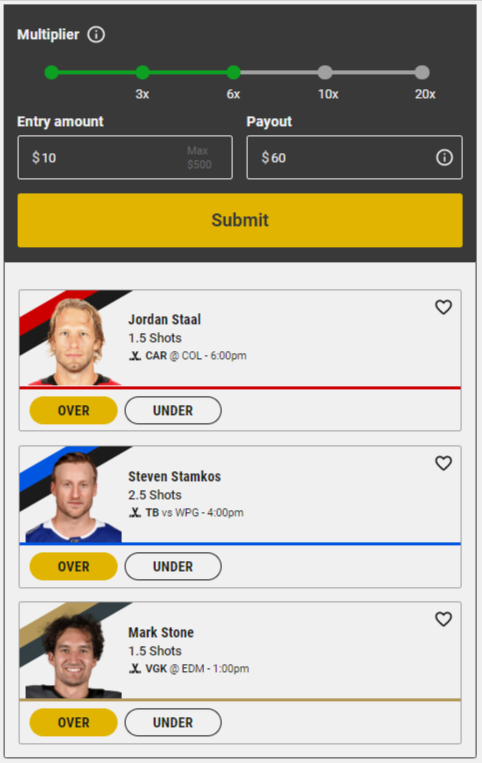 Previous Article
NHL DFS: Opportunity vs. necessity
STAY-IN-TOUCH
Sign up for FantasyData's newsletter and get awesome content sent to your inbox.
We'll never share your email address and you can opt out at any time, we promise.
---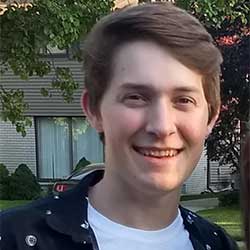 Matthew St. Pierre

Matthew St.Pierre has always had a deep love for sports. Throughout his life, he has played and watched just about every major sport there is. With over nine years competing in fantasy leagues for football, hockey, and baseball, sports have always been a huge part of his life. Matt looks forward to building a successful career as a journalist, offering in-depth investigations and quality insights across all sports topics. Outside of sports, you'll find Matt playing video games, walking his dog, Simba, and traveling.