Seasons2021-22Everton News
Jimmy Harris, who passed away this weekend, had been Everton's second-oldest former player (after Billy Bingham). He would have turned 89 in August.
Jimmy was raised on Temple Road, Birkenhead, in sight of Prenton Park and he would perform match-day ball-boy duties there. He attended the school across the road from his home and excelled at various sports. He told me:
'I was Captain of Birkenhead Schoolboys and then I played for Cheshire County Schoolboys. At school, I started as a left-half but, as I got a better shot and got faster, I was altered to inside-right. I'd play for Birkenhead Boys in the morning at left-half and then for Bebington Hawks in the afternoon at inside-right.'
His aunt Elsie put in a word about her 15-year-old nephew with an Everton director and he was offered a trial across the water. It was the start of an enduring association with the Toffees.
Article continues below video content
Jimmy's early years at Goodison saw him juggle training with serving an apprenticeship at a printers on the Wirral (at his father's insistence). He came through the ranks at the same time as his pal, fellow Birkenhead lad and near-namesake, Brian Harris. On returning from national service, he forced his way into the reckoning of manager Cliff Britton — displacing crowd favorite Dave Hickson as the wearer of the famous number nine shirt in 1955. He recalled:
'I was a different type of player to Dave. I was quick, 5ft 10½in, just under 12st, good with both feet and not bad in the air. I didn't get involved in as much trouble as Dave did. I took his place from him and made my debut at Burnley. I got brought down for a penalty – and we won 1-0. In the next game, we played West Brom at home, I scored early, and we won 2-0'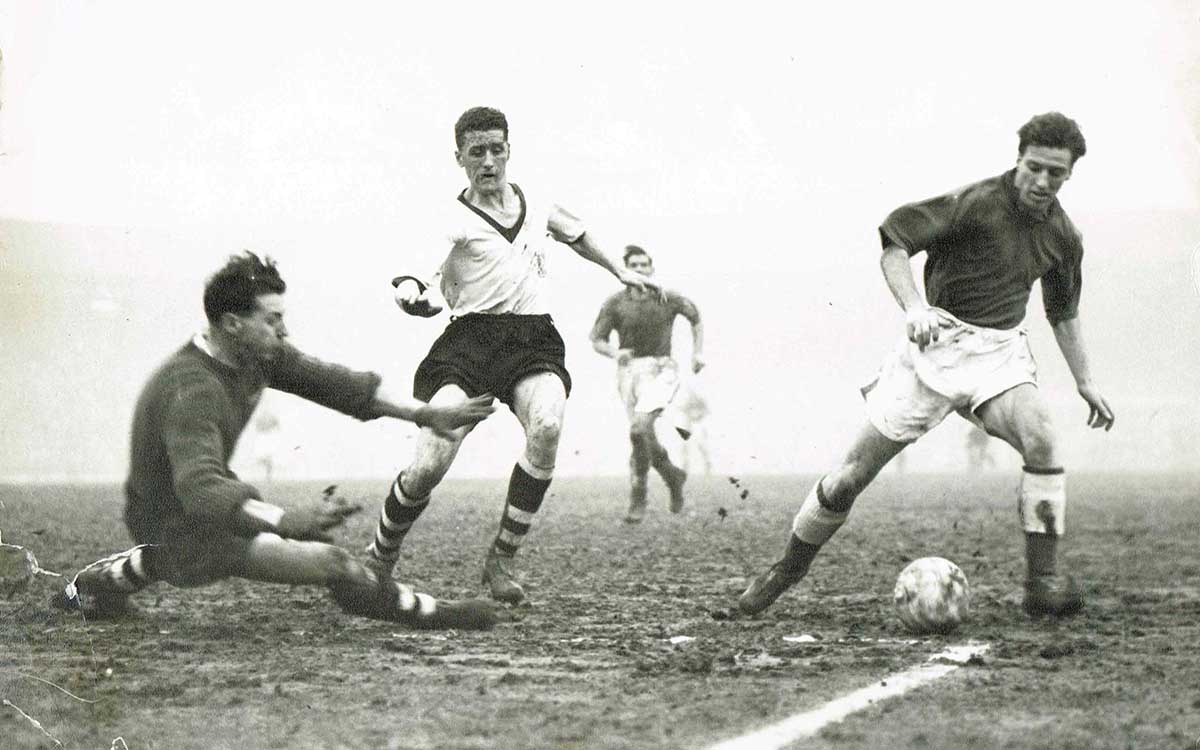 Jimmy playing against Port Vale, 1955-56
As a clever, pacy forward, there is little doubt that he would have thrived in today's version of the game, played on billiard table pitches. Jimmy netted 21 times in his debut season as a first teamer but went on to suffer hamstring issues — the bane of explosive sprinters. He won England Under 23 honours, lining up alongside Duncan Edwards, who he rated highly. He was also a huge admirer of Bobby Collins once the Scot joined the Blues in 1958.
Jimmy was converted to a right winger with the return of Dave Hickson to Everton, before he reclaimed a central striker position at the turn of the decade, just as Everton began to splash to cash. He didn't always see eye to eye with manager Johnny Carey and was transferred to Birmingham City in December 1960, where he was assured of the centre-forward position. He left Everton having scored a creditable 72 goals in 207 appearances. He told me that he regretted not staying put as he'd have achieved playing under Harry Catterick (Carey departed Everton less than four months after Jimmy). He enjoyed four happy years in the Midlands — particularly his exploits of him in the League Cup (a winner in 1963) and the 1960/61 Inter-Cities Fairs Cup, in which Blues overcame Inter Milan but lost to Roma in the final.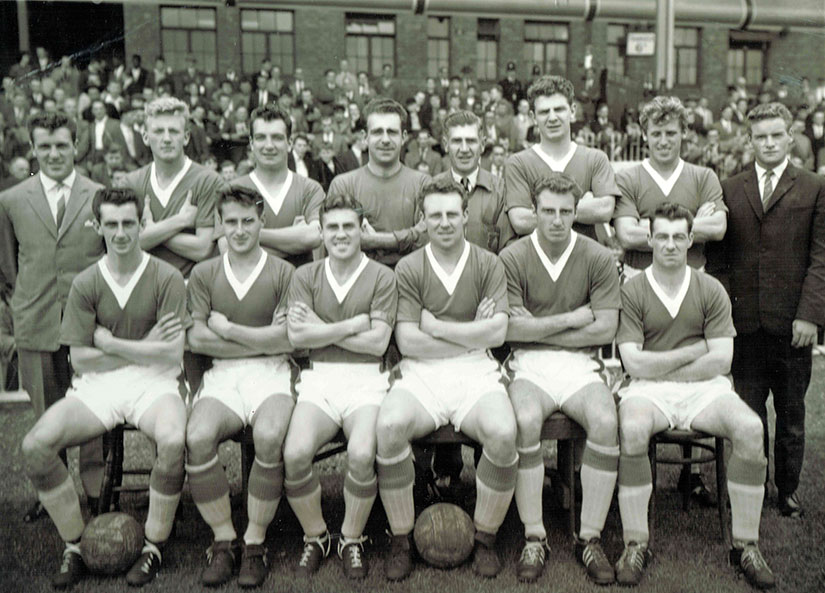 Everton team in 1960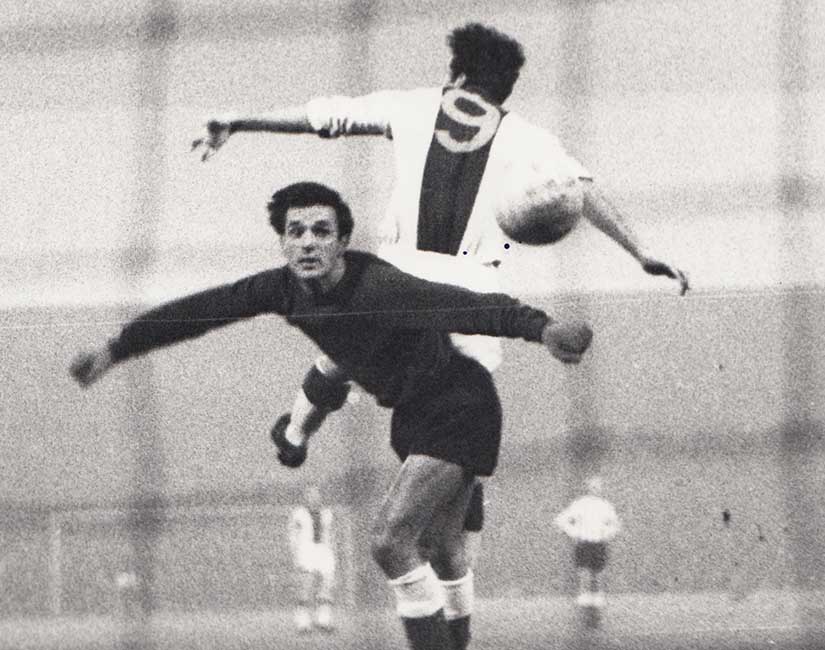 Jimmy scores for Oldham against Bristol City, 1964
Later he played for Oldham Athletic and St Patrick's Athletic of Dublin. Finally, in 1967, he became player manager of Ellesmere Port Town. During this period, he married Joan Boardman and they had two sons together — Jamie and Ian. Sadly, the latter passed away in the past year. Jimmy worked shifts for Vauxhall and played at Prenton Golf Club to a high standard — getting his handicap down to three. In the late 1970s, former Everton teammate Johnny King persuaded him to run Tranmere Rovers' reserve team and he did a fine job — helping Derek Mountfield, among others, to develop.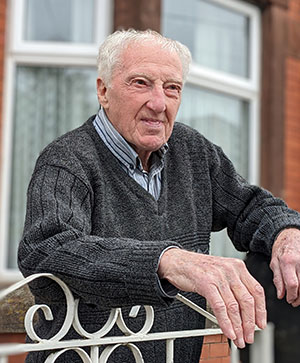 In retirement, Jimmy became a familiar face at Goodison Park matches — often accompanied by his grandson, Robert. He only stopped going when the pandemic struck, and he began to struggle more with his mobility than him. He was always delighted to attend Everton functions, including those organized by the Former Players' foundation. I've ways enjoyed Jimmy's company — he possessed an excellent recall of his own career and those he played alongside — and he was always more than happy to assist me with my research for books / articles. He could display an acerbic sense of humor when describing his experiences of him as a Everton player — including the infamous 10-4 drubbing by Spurs in 1958, when he scored his only hat-trick for the club.
But, above all else, Jimmy's life-long affection for Everton shone through. I only saw him a few days ago and he was in good spirits, this news came as a great shock. I send my condolences to the Harris family. Rest in peace Jimmy — it was my privilege to share your company.
Here is my 2014 article, written with Jimmy:
---
Note: the following content is not moderated or vetoed by the site owners at the time of submission. Comments are the responsibility of the poster. Disclaimer
There are no responses so far to this article. Be the first to offer a comment using the form below.
About these ads