Nestor Cortes announced himself to much of the baseball fandom last week, striking out 12 Orioles over five shutout innings while allowing just three hits and walking one in an eventual no-decision. But Baltimore, all the haters cried. Everyone knows you only get 50% credit for games against the O's!
Well, there was also his first start of the season, when Cortes cooled off a red-hot Toronto offense for 4.1 IP, allowing zero runs on three hits and striking out five. And then there was the 2.90 ERA and 27.5% that he ran over 93 IP in 2021, starting in the bullpen before moving to the rotation full-time in late July. But regardless; yes, all small-sample caveats are in play.
He may have been good for a while but the whiff show he put on Baltimore was easily his best game to date, racking up 12 strikeouts on a 39% CSW%, 17.0% SwStr%, and 34.9% Whiff%. He got it done with a four-pitch mix (mostly, as a few changeups also got used) that's dominated by a cutter/four-seam combo where the latter averages just 90-91 mph.
And all while that villainous caterpillar lives on his upper lip:
Robinson Chirinos may have thought Cortes snuck a wiffle ball in but that was just Nestor's nasty cutter getting the wicked hard horizontal break that it wont to do.
Likely still reeling, Chirinos had no chance in the fourth inning, getting sat down by some patented low-90s high heat:
So, is Cortes the newest ace in New York, waxing as teammate Gerrit Cole wanes? Or will this run over his last 100 IP+ end up being a house of cards built upon funky arm angles and locations that will soon get figured out by the league? Considering he's tied for my highest-rostered player in 2022, you can probably guess which way I lean but how about a clue as to the why…It rhymes with "dream-gifted snakes".
No, that's not the name of the world's worst punk band or the latest collection of original poems from Thom Yorke. Rather, it's instead a crude allusion to the phenomenon I believe is one of the main culprits powering Cortes's recent success.
Wake and bake is so yesterday – today is all about seizing that seam-shifted wake.
Seam Shifted Recapitulations
One of the biggest revelations brought to the forefront by the Hawk-Eye camera system that Baseball Savant implemented in 2020 was the discovery that the downward forces of gravity and Magnus (the force placed upon a spinning object) were not the only ones coming into play in regards to pitch movement. A third actor was also involved, according to the new eye in the sky, and this "side force" acts upon the ball depending on how the seams are oriented as it flys through space. Depending on this orientation, seams can "catch" the air differently than if they were elsewhere, leaving behind a "seam-shifted wake" with more (and/or different) movement than if only gravity+Magnus was involved.
And now for a brief station identification of the irresistible force in my brain that thinks it's lame to quote myself meeting the immovable object of my absolutely hating to repeat/repurpose anything I've written before. But since I have to pick a side – sigh – here's something from my piece about leveraging SSW in search of sleepers (including our boy, Nestor) for the FTN preseason draft guide:
Pitches generating seam-shifted wakes not only move more than those without them but can also create a sort of optical illusion for batters, with the "push" of the side forces moving the ball more than they might be expecting. We shouldn't get carried away in using SSW as an explanatory cure-all but it does seem to be giving more voice to the nebulous area of ​​a pitcher's "deception" and what a hitter might be facing when they anecdotally speak about pitchers they just can't seem to "square-up", even when the offering doesn't seem dominant on the surface.
okay, whew. That's over. Back to our regularly scheduled original programming. I cannot be more clear that SSW is not a catch-all for explaining deception and fastballs that seem to play up more than their velocity should be able to back up. But I believe it can help fill in some gaps about breaking down the 'why's' of how less obvious pitch mixes can work together to better confound hitters.
Breakouts are So Last Season
For a term that people seem to love to use/debate so much, "breakout" doesn't have a very clear definition. For me, players don't break out when they're first discovered by the fantasy community, that often occurs much earlier (or later) and is a label that requires a measure of hindsight to properly bestow. Steven Kwan didn't break out the first week of the season because we won't really know the truth until we see how he adjusts (and readjusts, and so on) to how the league adjusts to him. And Nestor Cortes didn't "break out" in his 12K performance against the Orioles – that breakout already started last year.
What this year has been (albeit in scant two starts), is what breakouts do when they're really "breaking out"…They stay on the breaking path they've already trodden. And Cortes's path from bullpen jag to the Yankees rotation starts and ends with the seam-shifted cutter that he added in 2021.
Nestor's cutter(pillar) was very nice:
But also very evil:
With the addition to his arsenal, this new-and-improved version of Cortes got stretched out in the bullpen with multiple-inning appearances in June, dominating with a 1.02 ERA and 12.7 K/9 over his first 18 IP. Twelve of his remaining 13 appearances came as a starter, finishing that stretch with a 3.38 ERA, 1.09 WHIP, and 25.3% K% – take out the one relief appearance he made in that period (2 IP, 3 ER) and the ERA drops under three.
The fantasy world didn't believe this was much of a breakout, as Cortes finished the draft season with a 340 ADP in NFBC, though, it did rise there the way to a 327 ADP from March 1 on. But the Yankees seemed to believe, or at least, their failure to sign a free-agent starter perhaps should've signaled they believed Cortes was a viable option for their 2022 rotation considering that their plans also included the oft-injured Luis Severino and Jameson Taillon.
Puzzle Pieces

The cutter is the keystone to the success of Cortes's new pitch mix but the other pitches aren't junky, they've just been made much more effective by how they track with his cutpurse. For example, the changeup and sinker aren't on the same level as his three main pitches (hence the light usage) but they do serve the important function of giving right-handed hitters two looks that tend to work away from them, in contrast to his four-seam, cutter, and slider that all work in.
The sinker is the third banana in Cortes's fastball trio and is mixed in against LHH but is mostly reserved for RHH. There's nothing special here, much like his other backseat pitch, the changeup that is thrown exclusively to RHH. Like the sinker, nothing sticks out about the changeup's movement profile or results but it is an offering that can fade down and away from righties, serving as a complement to the rest of his mix by keeping righties on their toes:
Not to be a broken record but the slider's results also aren't going to blow your doors off and it got below-average whiffs in 2021 (11.4% SwStr%). But an impressive 33.7% CSW% shows just how well he can work it for strikes – a 22.2% CallStr% in 2021 was the third-highest among starters (min 2oo sliders).
It's now up to a 25.9% CallStr% in the small sample from this year and Cortes has added even more horizontal break, increasing from 14.5 inches last season (1.7 inches vs average pitches thrown at similar speed/extension) to 17.3 inches in 2022 ( 2.7 inches vs average):
But just like everything else, the slider is just another setup for the meat and potatoes pairing of Cortes's four-seam/cutter combo both of which leverage his cockeyed arm slot and seam-shiftiness to get on top of batters much quicker than their velocities may imply is possible.
As mentioned, there isn't any premium velocity to find with Corte's four-seamer, as it averaged 90.7 mph in 2021 and 90.6 mph so far in 2022, topping out at around 93-94 mph. But while the velo isn't elite, the (relative) rise is and has been even more so in 2022. Cortes's heater got 2.3 inches more rise (/less drop) than average in 2021 and it's up to 3.3 inches vs Avg so far in 2022. Remember that this is relative to other four-seamers at his velocity/extension range, so "elite" can be a very fluid term.
But Bo knows. Or, at least he does now:
Okay, so far we have some ordinary secondaries and a 91 mph heater. Sounds like a recipe for great success, right? Well, not(!) until you add the final linchpin of his aforementioned cutter, around which all his other tumblers fall into place.
SSW—Activate
The cutter was filthy in 2021, finishing the season with 13.1% SwStr% which was the seventh-highest among starters (min 300 cutters), rising to a 14.3% SwStr% in the second half. Coming in around 85 mph, Cortes's cutter averaged 5.2 inches of horizontal break in 2021, 2.5 inches more than average. At 2.7 inches more than average in 2022, the cutter still seems about the same compared to similar pitches but while the relative comparison has stayed the same, the raw movement has jumped up further, moving from an average of 5.2 inches in 2021 to 6.4 inches in 2022. That's a fair amount of extra wiggle for a pitch being thrown at the same velocity.
Here it is getting Bobby Dalbec in 2021:
And here is Chris Owings failing to handle it in 2022:
Whether last year or this one, the cutter's horizontal break is powered (in part) by the seam-shifted wake that it generates, adding even more disappointment to what his unique arm slot brings. Here are his inferred and observed spin directions in 2022, with the crudely drawn arrows added to approximate the average spin direction of the cutter: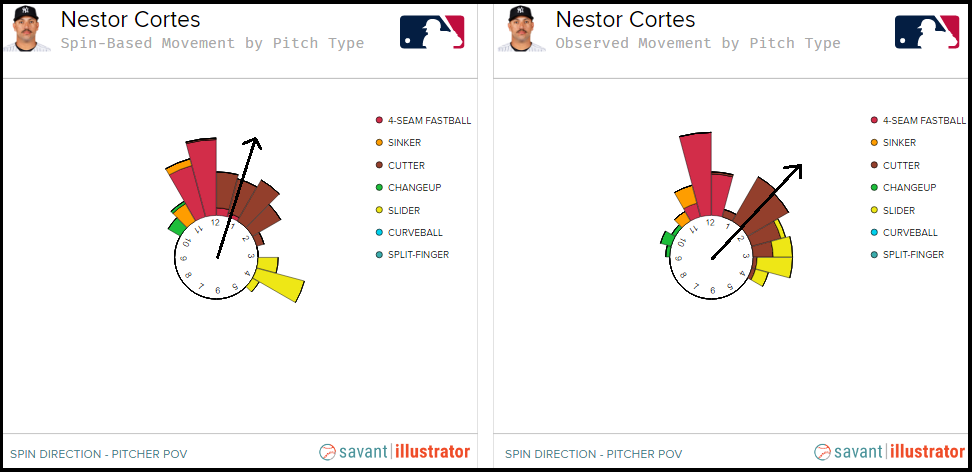 The deviation between the cutter's observed and inferred spin axis was at -75 minutes in 2021 and is at -45 minutes so far in 2022. While it's true that the deviation is "less" so far in 2022, don't get fooled by making the relationship between deviation and pitch quality too linear. We're dealing with spectrums here and, in my opinion, the presence of the effect can be just as important as its current magnitude. Every cutter may not get the same seam-shifted movement boosts but that just makes its final path even harder to anticipate on any given pitch.
Knowing what we know about how his pitch mix behaves, we can pull back to the tracks and better put ourselves in the batter's shoes to try and see what they're dealing with. Let's look at his pitch tracks from him from 2021 (as he hasn't yet thrown enough CH / SI in 2022 to show up in the Savant illustrator):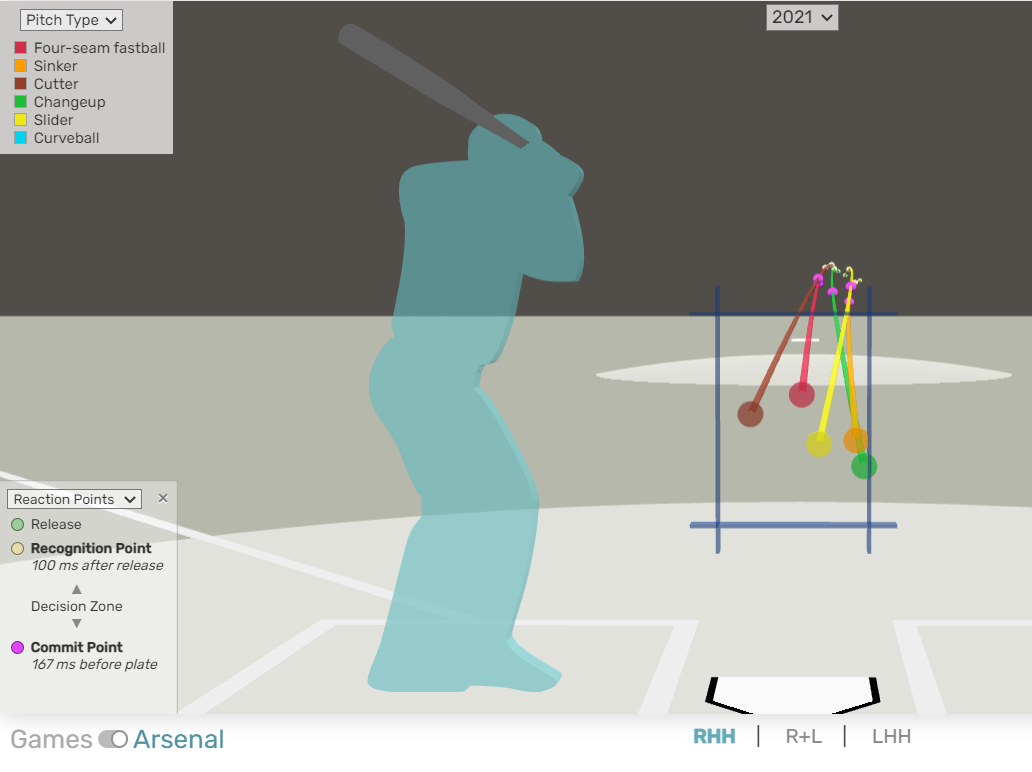 Thinking like a right-hander (which is the riddle most left-handers have to solve if they want to stay in the rotation), we can see how Cortes can keep them off balance. The main course is the FC/FF combination that tracks well moving towards the commitment point, with the cutter doing the SSW-slide across the plate, while the four-seamer can rise up. Add that to a slider that can sweep in for strikes and a sinker/changeup combo that can at least keep them honest and you're left with a mix that seems perfectly designed to keep hitters on their toes and off the bases.
Simply put, the whole of Cortes's pitch mix is ​​greater than the sum of its seam-shifted parts and that whole is what's allowing him to get superlative results even while lacking the primo veil that gets the people moving.
Final Ruminations
If you're in a 15-team league or deeper, your chance to roster Cortes probably ended with last week's FAAB run. But he's still not universally owned, currently coming in at 80% rostered on Yahoo/CBS and 60% on ESPN, so make sure and double-check.
We should still keep expectations in check until we get deeper in the season, as fantasy pitching success often has just as much to do with innings, as it does talent. And expecting a former reliever to suddenly pop for 160 IP+ in his first full year in the rotation might be asking too much. Not to mention that pitching in the AL East is always sure to exact a tax on fantasy arms. But Cortes has shown us the skills that kill since last season and should be backed by a strong offense (still pending) and a bullpen that will help him collect some of those all-elusive wins.
Sum it all together and a whole fantasy breakout starts looking more likely.