WordPlay is celebrating 10 years in business at a new location and with new programming, which was delayed during the pandemic.
"We're thrilled with the incredible talent of students," says Michael Link, chief storyteller at WordPlay.
WordPlay has been working with students for a decade, giving them a voice and allowing them to be heard in environments where they might otherwise be silenced. 2020 was supposed to be the first year that the organization announced Cincinnati's first poet laureate, but WordPlay decided to hold off until it became safer to have a forward-facing program.
Last week, they announced their selection of the first youth poet laureate in the region — Rimel Kamran, a junior at the Summit Country Day School.
Rimel will have poems published in the National Youth Poet Laureate publication, a feature in the National Youth Poet Laureate annual anthology, entry into Regional Youth Poet Laureate contest, mentoring sessions and public performances with Cincinnati Poet Laureates Pauletta Hansel and Manuel Iris, and reading and speaking engagements from April 2022 through March 2023.
"When you center student voices and rally to allow them to tell their own stories, it's amazing, says Link. "All our communities will be better off."
effects of the pandemic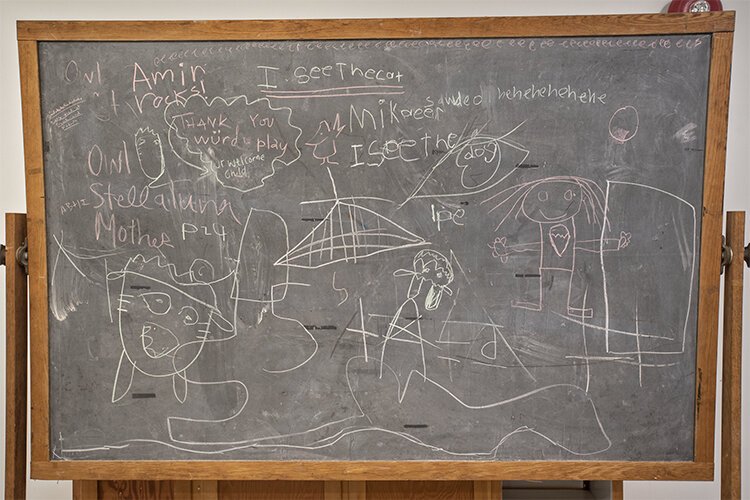 Ninety percent of the kids who participate in WordPlay's programs come from lower-income families, and the pandemic has created trauma on top of trauma.
"Love first is the most important thing right now," says Libby Hunter, executive director of WordPlay. "The building is just a representation."
WordPlay taps into from 22 Cincinnati Public Schools, and has a goal to be a resource to the kids, not a takeover.
"We want our schools to think of it as an extension of the school campus," says Hunter. We're committed to equality and creating the most family-like structure."
However, most of this work was postponed in March 2020.
"We decided to put [the poet laureate program] on hold until it became safer to have the forward-facing program, Says Link. "2022 became the inaugural year."
But now they are back in a new building in the Northside with a variety of programs, along with their first ever youth poet laureate alongside Dr. Yalie Kamara, who will serve as Cincinnati's poet laureate for the next two years.
"We have a number of school programs, and we work closely with civic engagement, CPS [Cincinnati Public Schools]and summer scholars," says Link.
Aiken also has a permanent writers' room now, and the new building is open for public programming, which will have summer camps, spring workshops, and various classes about mastering the personal essay, writing, songwriting, humor, intergenerational, poetry, children's books , weekly drop-in time for creative writing (ages 10–18), and an opera and resource center.
Dr. Kamara will work closely with Rimel, offering support and mentorship.
"We really want this to be an interactive experience with our youth," says Link.
"WordPlay historically has a mission to create spaces for young people by discovering, honoring, and sharing their voices," says Link.
"Libby and Elissa [Yancey, a WordPlay founder] really saw a need in the neighborhood, and that's been the focus ever since then, using writing reading and multi-disciplined art so students can create connections to their own stories, each other, and the communities in which they live. [We] want it to be a safe place for creative, including stories."
He calls it a "lightening rod of inspiration" and hopes that Rimel — and future poet laureates — will be inspired by the program and the mural that graces their new building.
The space, located at 1556 Chase Avenue, means so much for WordPlay on so many levels, according to Hunter.
"To own our own space has always been a goal of ours, representing long-term strength for the organization so that we can remain a constant in the lives of our young people and their families," says Hunter.
"Having bought the building just before the pandemic, we had no idea of ​​the breadth of what this physical home would come to mean," she continues. "Our kids have been denied so much of their person-to-person experiences over the past two-plus years, and the safe space we offer is a critical foundation for processing the impact of the pandemic compounded by the national reckoning with systemic injustices. We are a space to share, find ways to heal, and move forward together."
YPL is hosted by WordPlay Cincy with the support of community partners, including The City of Cincinnati, The Public Library of Cincinnati and Hamilton County, University of Cincinnati's Elliston Poetry Room, and Cincinnati's Adult Poet Laureate Program.
Any and all invitations and inquiries should be directed to [email protected].
.