As finals week approaches, students are beginning to get ready for exams and are looking for resources and materials to prepare. The Texas Tech Library has different resources to help students be successful through the academic year and for finals week.
The library offers WEPA printing services, laptop checkout at the service desk and 270 public computers. There are PC's throughout the facility and mac computers located on the second floor at dynamic media services.
"There's a lot of creative things that happen on the DMS," library manager of communications and marketing, Julie Barnett, said. "You can check out digital equipment, like cameras, lighting kids, all sorts of things for projects."
Barnett said students can check out anatomy models for those studying anatomy, there is a VR lab, audio books and DVDs available for check out. The makerspace is also located in the DMS which has 3D printing and a Cricut for student use.
"In addition to the equipment and computers and printers and study spaces that we offer, we have experts within our building that can help them with their research, with their projects and with navigating our website," Barnett said.
Barnett said the library works with a student advisory board comprised of graduate and undergraduate students who give feedback on what they need to succeed and what the library needs to offer.
"A lot of that feedback is study space, and comfortable study space," Barnett said.
Barnett said students can plug-in and can connect with different screens or devices for a group project.
"It's just a good space that is comfortable and flexible and easy to access, easy to find, so we call that the study hub," Barnett said.
There are expert subject librarians that are available for each major, specialized towards one subject. They are available for face-to-face meetings or via the chat widget on the library website.
"So if a student is an engineering student, there's a librarian that can help them research and find those resources that help them complete projects, papers and answer questions in general," Barnett said. "We have all of these hundreds of thousands of resources and databases that are available via our website, and then librarians are available to help find exactly what they are looking for."
Barnett said this year HEB has generously donated a lot of snacks, water and coffee that will be available over the week of finals in the library building.
The library will be open 24 hours during finals week, but the date the hours of availability change has not been finalized yet. Students can check the library website for the most updated hours.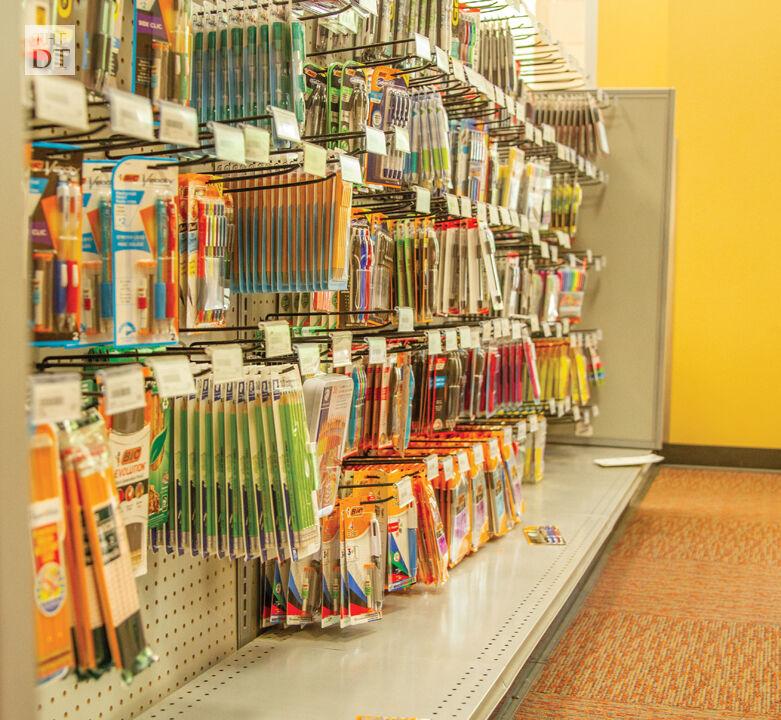 Another resource for final supplies is the Texas Tech Campus Store. The bookstore is located on the first floor of the Student Union Building and contains different study supplies for students from orange or red scantrons, blue books and more.
"We have colored pens to color coordinate, as well as flash cards," general merchandise department manager, Emily Contreras, said. We also have a lot of notebooks for note taking and planners if they want to keep track of their finals schedule."
Contreras said they try and stay up-to-date with the materials they have, keeping up with current preferences for student access.
"It's convenient that we're right on campus," Contreras said. "We want to get them in and out as much as they want to be in and out as well."
To prepare for finals, there are different things that students can do to promote their academic success. Between her position as a community advisor at Chitwood Hall, staying an active member in the Hispanic Student Society and keeping up with academics, second-year biology student Adriana Botero works to stay on top of school and recommends students get prepared for finals sooner rather than later, she said.
"You're setting yourself up for success if you start sooner rather than later," Botero said. "I am a procrastinator, but I realized if you just look at the information, like an assignment or something even if you're not gonna do it, if you just look at it, it puts it in your head that it's real, and you have to start looking forward to it or studying for it."
Botero said students need space to study and the closer it gets to finals, the harder it is to find a good spot.
There are different places that students can go besides the SUB because the upper floors can get full too.
"Check the days you have your finals on, make sure even the night before so you have rest and then double check the location," Botero said. "If you need supplies like scantrons, double check which one you need. I've definitely bought the wrong one before. But you can get scantrons in the SUB, and they have vending machines in the library and Holden Hall."
Botero said she recommends students take a walk, study for an hour or two, then walk somewhere around the building and come back to your spot to give yourself a mental break.
"It's becoming sunny out, so might as well," Botero said.
Botero said she knows most people want to study until midnight or 1 am, but students need to make sure they are getting enough sleep to retain the information.
"You're almost done," Botero said. "Once finals are over, go home, go party, go read a book that you actually want to read. Something for yourself. Study hard until then but give yourself a reward because you did work hard for whatever grade you got."
The last day of classes was May 3, and finals begin May 5 to 10.
.