Confessions of a Comic Book Guy is a weekly column by Steve Bennett of Super-Fly Comics and Games in Yellow Springs, Ohio. This week, Bennett reveals some of his new favorite books of him coming to market, including some of Ron Fortier's work as well as manga by Chifuyu Sasaki and Naoko Kawano (Gurihiru).
Due diligence compels me to reveal Ron Fortier, writer on such comics as Green Hornet, Terminator: Burning Earthand Gene Roddenberry's Lost Universe, has been a friend of mine for decades. Back in January 2009 (see "The New Cool"), I plugged his comic Mr Jigsaw, and as I said then, I know promoting the work of a friend can open me up to accusations of cronyism. But I was a fan of his work from him first and his friend from him much later, and knowing me has never guaranteed anyone a positive review.
I felt that preface necessary because this week I wanted to write about Fortier's latest comic, beyond the stars, a six-issue mini-series about "a group of unique Science-Warriors called upon to save all of mankind from an unimaginable horror." I've seen a PDF of the first issue, and it's well worth your attention, because it's a kind of science fiction we don't often get in comic books these days.
At the moment, the comic racks are over-stuffed with dour dystopian science fiction titles, so much so it's become the default face of the genre in comics. Which is the other reason why I like Beyond The Stars as much as I do: Its future is unapologetically on the Utopian side without ever seeming creakingly old fashioned.
Fortier and Italian artist Andrea Bormida (whose work is nothing short of amazing) do a first rate job of world building, creating unique looking fashions, gadgets and spaceships. Along with a well realized vision of the future, Fortier does his usual outstanding job of balancing mythology, action and characterization in just the right amounts.
Beyond the Stars #1 is 1/3 of a "Silverline Sci-fi Extravaganza" for a Kickstarter campaign slated to run from May 5 through May 22, the other two comics being obsolete #1 by Wes Locher, Aaron Humphres, Jose Fuentes, and Haley Martin, and Krey #1 RemiX band Roland Mann, Steven Butler, Ken Branch, and Jeremy Kahn. The trade paperback will feature a total of 70 pages of story and art.
If the Kickstarter is successful, comic retailers can order any combination of the individual comics; 5-10 copies = $4 per copy(+$8 Priority Mail Flat Rate), 11-20 copies = $3.50 per copy(+$8 Priority Mail Flat Rate, 21-30 copies = $3.25 per copy(+$14 Priority Mail Flat Rate) and 30+ copies (up to 100) = $3 per copy (+$14 Priority Mail Flat Rate) Retailers who want to order the trade can PM Roland Mann for the details.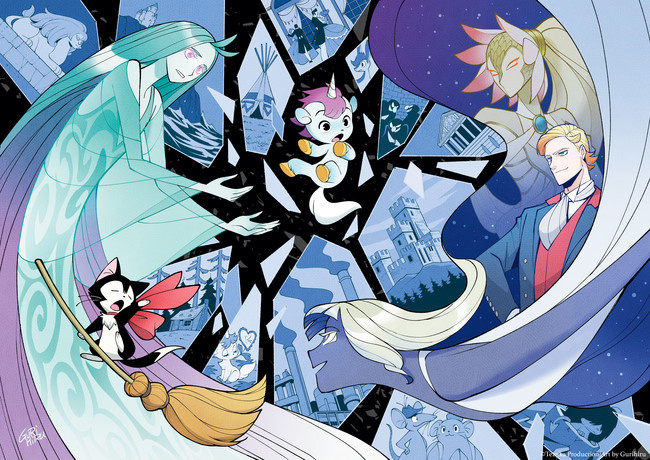 I've long been a fan of both Astro Boy and his creator Osamu Tezuka (see "The Impending Boy Robot Renaissance") and a huge fan of the illustration team Gurihiru (see "Where The Eyeballs Are"), aka Chifuyu Sasaki and Naoko Kawano (artists on the Eisner Award winning comic Superman Smashes The Klan). So, imagine my stunned surprise when I learned that Tezuka Productions, Gurihiru and Samuel Sattin (who wrote the graphic novel adaptation of the animated film Wolfwalkers) had launched a Kickstarter for a new version of Tezuka's Only manga titled Only: awakening (Only: Mezame no Ohanashi).
unlike AstroBoy and Kimba the White Lion, Unico, an incredibly adorable baby unicorn "born with the gift of making all living creatures lighthearted and happy" isn't that well known in the United States. But I'm already a fan because back in the 80s while on vacation, and without knowing anything about them, I picked up two tapes from the video store, The Fantastic Adventures of Unico and Unique in the Island of Magic, and was blown away. Both are available for free on YouTube.
The Kickstarter had a goal of $50,000, but as of yesterday over $83,000 had been pledged. So, it's pretty much a sure thing that in 2023 we'll be seeing Only: awakening in print. Gurihiru has worked with Tezuka Productions and drawn Superman. Maybe, eventually, we'll finally see the Astro Boy Meets Superman comic I've been wanting to see since I was 10.
The opinions expressed in this column are solely those of the writer, and do not necessarily reflect the views of the editorial staff of ICv2.com.
.