Rivals national recruiting analyst NickHarris, national recruiting director Adam Gorney, Cole Patterson from Orangebloods.com and Andrew Bone from BamaInsider.com look at some hot topics in relation to college football recruiting.
*****
MORE FACT OR FICTION: Francis Mauigoa will stay in the Southeast | Virginia will eventually sign Joel Starlings
CLASS OF 2023 RANKINGS: Rivals250 | Team | Position | State
CLASS OF 2024 RANKINGS: Rivals250 | Team | Position | State
PORTAL TRANSFER: Stories/coverage | message board
RIVALS CAMP SERIES: Info for 2022 series
*****
1. USC has the best chance – as of now – to finish No. 1 in the 2023 team rankings.
Harris' take: FACT. The potential for USC's 2023 class is sky-high, especially if the Trojans can succeed on the field in 2022 in lincoln riley's first season. With commitments already in from Malachi Nelson, Zachariah Branch, Makai Lemon and more, the foundation is arguably more solid than any class in the country right now. Look at targets such as Brandon Inniss, Duce Robinson, Anthony Hill, among others, and it shows that the Trojans have the makings of a potential No. 1 class.
Gorney's take: FICTION. USC is going to have a very real shot at the top spot, especially if everything falls the right way. But Georgia is once again going to load up in a big way and could claim that top spot again, especially if the Bulldogs land five-star QB Arch Manning. Five-star Jayden Wayne also really likes Georgia and then a bunch of players on the fringe of five-star status – RB Justice Haynes, DB Caleb Downs and others – are leaning that way. So, while USC will load up, the national champs could load up even more.
SHARE YOUR THOUGHTS WITH USC FANS AT TROJANSPORTS.COM
SHARE YOUR THOUGHTS WITH GEORGIA FANS AT UGASPORTS.COM
*****
2. An Eli Holstein commitment would shut the door on Alabama's chances at Arch Manning.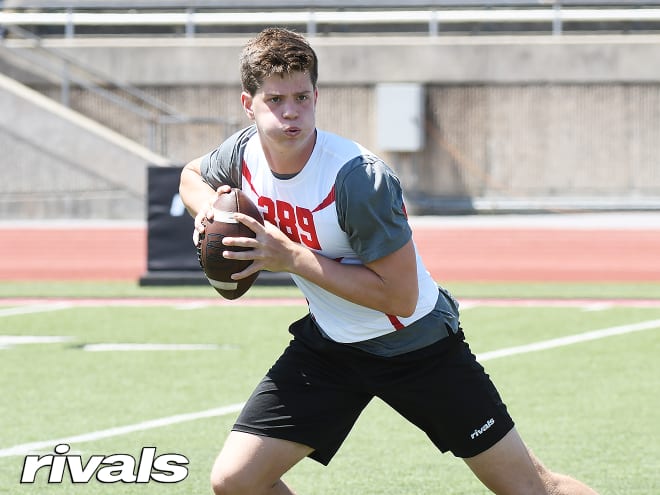 Harris' take: FICTION. If one thing is for certain in Arch Manning's recruitment, it is that he will choose whatever school fits him, not who is in the class. If Eli Holstein decides to lock in with Alabama before Manning makes his decision I don't see that stopping the five-star from also committing to the Tide if he wants to. Alabama has been clear about its pursuit of multiple quarterbacks this cycle and that it hasn't seemed to face Manning up to this point.
Bone's take: FICTION. There is an ongoing debate as to which quarterback Alabama will sign between Arch Manning and Eli Holstein. The Crimson Tide will also receive an official visit in early June from Dylan Lonergan. Alabama is expected to continue recruiting the position no matter what recruitment decisions come in. Alabama signed two quarterbacks in 2017, Tua Tagovailoa and Mac Jones. Both were drafted by the NFL in the first round. That's rare. It's also rare for a school to sign two top-flight quarterbacks in one class. Holstein and Manning don't appear to be prospects who are bothered with competition. It may give other schools an advantage, but it won't stop Alabama's pursuit until each quarterback signs his letter of intent.
SHARE YOUR THOUGHTS WITH ALABAMA FANS AT BAMAINSIDER.COM
*****
3. Johntay Cook is the top wide receiver in the state of Texas.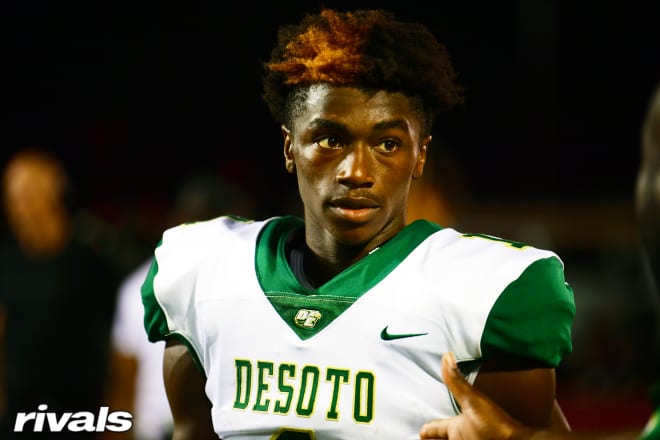 Harris' take: FACT. The wide receiver class in the state of Texas in the 2023 cycle is definitely top heavy, with elite talents such as Johntay Cook, Jaquaize Pettaway, Jaden Greathouse and more. But Cook leads that pack in my eyes. His speed and route-running ability put him in the conversation, but it's his IQ at the position that helps the quarterback extend plays, and that makes him an invaluable asset for any offense. He knows where to hide in various coverages and creates separation with defenders that may sometimes even be a little quicker than him. His knowledge of him at the position makes him the top receiver in the state, but I'm watching Pettaway closely during their respective senior seasons.
Patterson's take: FACT. Cook has a case to be among the top receivers in the entire 2023 class. The DeSoto (Texas) pass catcher is a dynamic threat with his smooth route running and playmaking ability. He turned in a very good junior campaign last fall and has been dominant on the 7v7 circuit this spring. In addition to his return ability from him, Cook makes an impact wherever he lines up, making him one of the most coveted overall prospects in the Lone Star State. He has instant-impact ability on the collegiate level with long-term NFL Draft potential.