All kids are readers. Some just haven't discovered it yet.
That's the belief of Kitty Felde, former NPR correspondent and current host and executive producer of the podcast "Book Club for Kids."
In May, she joined Kerri Miller for a Friday episode of Big Books and Bold Ideas to talk about how to get kids reading over their summer break. Here are a few of her top tips from her.
If you have a reluctant reader, any book is a good book.
Felde recommends parents or caregivers take children to a library or a bookstore and let them choose any book they show interest in.
"Don't censor them," she cautions. "They are going to go and [choose] the dumbest thing you've ever seen in your entire life. But I don't care! They will be reading words, and that's what you want them to do."
Stop looking down on graphic novels.
Felde believes the new crop of graphic novels is some of the most wonderful literature around. They aren't lesser reading experiences. She recommends kids and adults alike check out Jerry Craft's "New Kid" for a story that is both beautiful and compelling.
She also points to the many books now being re-released as graphic novels. Rick Riordan's "Percy Jackson" series, the popular books about a modern boy who finds out he is a Greek demigod, is coming out in graphic form. So are the original "Baby-Sitters Club" books. (Attention Millennial parents.)
Find a series to keep their interest.
"Kids like to spend more time with the characters they've invested in so much emotionally," advises Felde. "If you can help them find a good series they enjoy, that will keep them reading."
Consider a daily 20-minute quiet time where everybody reads.
That includes parents, says Felde.
"This is really the secret sauce. Whether kids admit it or not, they do want to emulate the good side of you. And if the good side of you is reading, then it makes reading less onerous."
Read out loud.
"We all like to be read to," Felde says, "that's why we get audio books."
Use their beloved devices in your favor.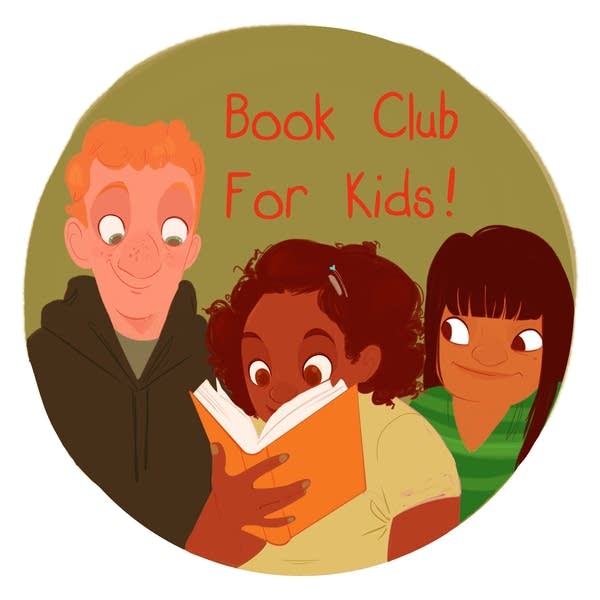 "Kids are going to use screens," Felde admits. "They just are. But we can use those screens to get them to start enjoying books."
Audio books are one way, she says.
But podcasts for kids about books — like Book Club for Kids — are also powerful tools. They let kids hear other kids talk about what they like to read and why.
"That's one way to use a device for good," Felde says.
Tap librarians to help kids find a book they connect with.
If you have a child that hasn't found a book that's connected with them, "librarians are like gold," says Felde. "Or the person who works in the children's department at your favorite indie bookstore."
"I've watched them work. They will interview a kid. They will say, 'Well, what do you like?'
'Oh, I hate books.'
'That's fine, but what do you like?'
'Oh well, I like fishing.'
'OK, then let's go look at the fishing section.'
Or: 'I only like video games.'
'Great! Let me show you this fabulous Minecraft series.'"
Let the experts find a sneaky way in that might tempt kids to read.
Start a book club for kids.
Take a tip from social media, and use books as a social tool. Felde says there are great examples of this all over the country, especially in the summer.
"If a kid won't read by themselves, get a few of their friends over. Serve some cookies. Set it up like a grown-up book club — without the alcohol — but you start with a book and let the conversation go."
And again, try not to be judgmental about what they want to read.
Don't forget about nonfiction.
There are two kids of people in the world," says Felde, "fiction readers and nonfiction readers."
Don't neglect the Dewey decimal side of the library.
To listen to the full conversation between Kerri Miller and Kitty Felde, you can use the audio player above.
Subscribe to the MPR News with Kerri Miller podcast on Apple Podcasts, Google Podcasts or RSS.
Subscribe to the Thread newsletter for the latest book and author news and must-read recommendations.
Kitty's Book Suggestions
Graphic novel favorites:
Dog Man series by Dav Pilkey
Check out the Baby-Sitters Club graphic novel series
If your child likes gaming, look for the Minecraft series by Sfé R. Monster
Rick Riordan's Percy Jackson books are also being released as graphic novels
Anything by Raina Telgemeier, but especially "Sisters," "Guts," and "Smile"
New graphic novels:
"New Kid" by Jerry Craft
"Amulet" by Kazu Kibuishi
For younger kids who just graduated from "Captain Underpants":
"The Wild Robot" by Peter Brown
"Stella Diaz Has Something to Say" by Angela Dominguez
fairytales:
Anything by Gail Carson Levine
Tuck Everlasting by Natalie Babbitt
"The Girl Who Drank the Moon" by Kelly Barnhill
"Rooftoppers" by Katherine Rundell
"Red Queen" by Victoria Aveyard
For kids who will miss school over the summer:
"Because of Mr. Terupt" by Rob Buyea
"Ungifted" by Gordon Korman
"Lupe Wong Won't Dance" by Donna Barba Higuera
For kids who are asking about the war in Ukraine:
"Good Night, Mr. Tom" by Michelle Magorian
"The War That Saved My Life" by Kimberly Brubaker Bradley
"Code Talker" by Joseph Bruchac
"Chains" by Laurie Halse Anderson
"The Night Diary" by Veera Hiranandani
"Other Words for Home" by Jasmine Warga
"The Book Thief" by Marcus Zusak
Spooky/Sci Fi books:
"Ghost Boys" by Jewell Parker Rhodes
"Hoodoo"by Ronald L. Smith
"When You Reach Me" by Rebecca Stead
"Orleans" by Sherri L. Smith
"A Wish in the Dark" by Christina Soontornvat
mythology:
"The Storm Runner" by JC Cervantes
"Peasprout Chen: Future Legend of Skate and Sword" by Henry Lien
"The Hound of Rowan" by Henry Neff
"The Jumbies" by Tracey Baptiste
Just plain good writing:
"The Crossover" by Kwame Alexander
"Dead End in Norvelt" by Jack Gantos
"Skelig" by David Almond
"Loving vs. Virginia: A Documentary Novel of the Landmark Civil Rights Case" by Patricia Hruby Powell
"Orbiting Jupiter" by Gary D. Schmidt
"The Vanderbeekers of 141st Street" by Karina Yan Glaser
spies:
"Spy School"by Stuart Gibbs
"Stormbreaker" by Anthony Horowitz
"Milo Speck, Accidental Agent" by Linda Urban
"Spy Mice" by Heather Vogel Frederick
You make MPR News possible. Individual donations are behind the clarity in coverage from our reporters across the state, stories that connect us, and conversations that provide perspectives. Help ensure MPR remains a resource that brings Minnesotans together.
Donate today. A gift of $17 makes a difference.