When I decided to write a cozy mystery, I purposely set out to read a whole bunch of them in a row in order to figure out what type of cozy I wanted to focus on. There are so many, after all—cozies set in cupcake shops and centered around crafts like knitting or quilting, even cozies featuring witches (which would seem like a natural fit, since I've written both fiction and nonfiction books about witchcraft).
It turned out that there were two different subgenres of cozy mystery that I liked the best. Anything to do with books, like those set in bookstores or libraries, immediately goes to the top of my to-be-checked-out list. But most of all, I loved cozies with animals in them. I have cats, after all, and they clearly influence my reading choices.
In the end, they influenced my writing choices as well. Which is how the Catskills Pet Rescue series came to be, inspired by a local independent shelter where I did a little volunteer work and found three of my five cats. My protagonist, Kari Stuart, gets a fluke lottery win and uses the money to buy a rundown shelter that's on the verge of closing, added and abetted by the tiny black kitten she finds and names Queenie (because she's the queen of everything).
Kari has two other cats and a dog, but it is little Queenie who pokes her nose into things, and seems to figure out the clues before anyone else. In Claws for Suspicion, the third book in the series, Kari and Queenie have their work cut out for them when Kari's ex-husband shows up and breaks the bad news that he and Kari were never actually divorced, and now he wants his share of her lottery winnings. But he'll settle for the Serenity Sanctuary. When he dies under mysterious circumstances, Kari finds herself the prime suspect, and maybe even Queenie won't be able to solve this one in time to keep Kari out of jail.
Article continues after advertisement
There are a number of other pet-centric cozy series that are among my favorites.
Second Chance Cat Mysteries, by Sofie Ryan
Set in Maine, these books feature a protagonist who runs a secondhand shop called Second Chance, and has a big black cat with a scar across his nose named Elvis who adopted her one day by jumping into her truck. The first book featuring Sarah Grayson and Elvis is The Whole Cat and Caboodle, and the pair have to help out when her elderly friend Maddie becomes the prime suspect when a body is found in her garden. So far there are nine books in the series.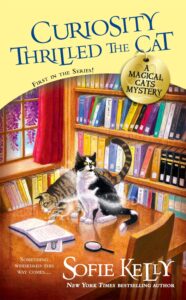 Magical Cats Mysteries, by Sofie Kelly
This series is another great one, not surprising when you discover that Sofie Kelly is the same author as Sofie Ryan, simply writing under another name. These mysteries have a fun twist; Kathleen Paulson is a librarian who moves to a small town in Minnesota and is adopted by two stray cats with a little something extra. One of them can walk through walls, and the other can turn invisible at will. Initially, Kathleen finds this hard to believe, but Owen (who has a serious catnip addiction) and Hercules (who shares her love of Barry Manilow), turn out to be very handy in solving mysteries because of her special abilities. The first book in the series is Curiosity Thrilled the Cat.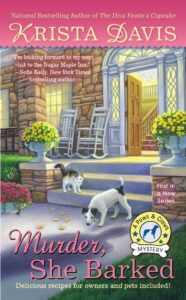 Paws and Claws Mysteries, by Krista Davis
This series is set in the fictional town of Wagtail, Virginia, a tourist destination for those who don't want to leave their pets at home. The entire town is set up to cater to those with cats and dogs, including the inn run by protagonist Holly Miller's grandmother. Holly's life is a mess when she is called home by her grandmother de ella. On her way there, she picks up a scruffy Jack Russell Terrier, and then is adopted by an adorable calico kitten named Twinkletoes. Together, the three of them have to solve the mystery of a hit-and-run accident, and Holly ends up deciding to stay in Murder She Barked. Davis also has a cozy series called The Domestic Diva, which includes recipes, and one called Pen & Ink featuring a bookstore run by a coloring book artist.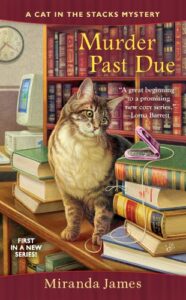 Cat in the Stacks Mysteries, by Miranda James
If you like me, you enjoy cozies with bookstores and libraries in them, you should check out this series featuring a rare male protagonist, librarian Charlie Harris, and his cat Diesel. In Murder Past Due, the first in the series, Charlie and Diesel (who unlike my cats, will actually walk on a harness) have to solve a mystery in which most of Charlie's friends and co-workers are suspects. This long-running series has fifteen books so far, and is a New York Times bestseller.
Article continues after advertisement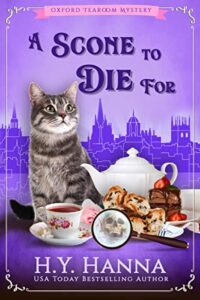 Oxford Tea Room Mysteries, by HY Hanna
HY Hanna is another prolific author of multiple cozy series, many of them containing cats. In her first Oxford Tea room book, A Scone to Die For, protagonist Gemma and her cat open a traditional tea room back in her home town, only to find an American tourist murdered using one of her signature scones. This series is set in England, although her many other series are in interesting locations around the world.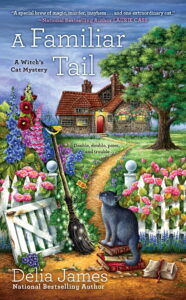 A Witch's Cat Mysteries, by Delia James
If you like a little magic with your cozy mysteries, try the Witch's Cat series, starting with A Familiar Tail. Protagonist Annabelle Britton, a down-on-her-luck artist, decides to visit the seaside town of Portsmith, New Hampshire, only to discover a cottage full of witchcraft and a gray cat named Alistair who turns out to be her familiar with her. Annabelle, Alistair, and a group of friendly local witches have to find out who killed Alistair's former owner.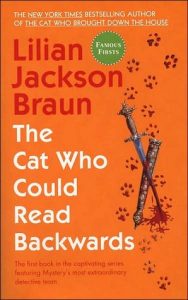 The Cat Who Mysteries, by Lilian Jackson Braun
You can't have a list of mysteries featuring animals without mentioning the woman who started it all, Lilian Jackson Braun. She started writing about her protagonist, a reporter named Jim Qwilleran, and his mystery-solving Siamese cat Koko, before cozy mysteries were even a thing. Her books by her were charming and clever, and for many of us, became the introduction to our love of mysteries coupled with animals. Braun died in 2011, but her legacy lives on.
***