FLINT, Mich. — Freeman Elementary held a virtual poetry performance titled Poetry Paints: Ekphrastic Writing led by a group of 5th and 6th graders called The Freeman Poets on Wednesday, May 18.
Poetry Paints at Freeman started as a cLaborative conversation with 2nd Ward Councilwoman Ladel Lewis and Semaj Brown, Flint's inaugural Poet Laureate, pre-pandemic. The Freeman Poets work closely with Brown on collaborative poems that were based on pieces in the private collection of fine art created by artists of the African diaspora from the Mott Warsh Collection located in downtown Flint.
The event was the culmination of intensive poetry sessions with the students over Zoom meetings during the height of the pandemic.
The Freeman Poets performed at the virtual event for a colorful ensemble of parents, teachers, administrative staff, and diverse community partners and collaborators. These partners included the Mott Warsh Collection Director, Stephanie James; Gallery Assistant Janice McCoy; Freeman Elementary School Principal Anna Johnson; Librarian and Technician, Rebecca Robertson; and The Zeta Foundation of Flint Zeta Beta Zeta chapter. It was made possible by the Academy of American Poets and funded by the Andrew Mellon Foundation.
Even with this much excitement and community assistance, Semaj Brown notes that the task was quite difficult.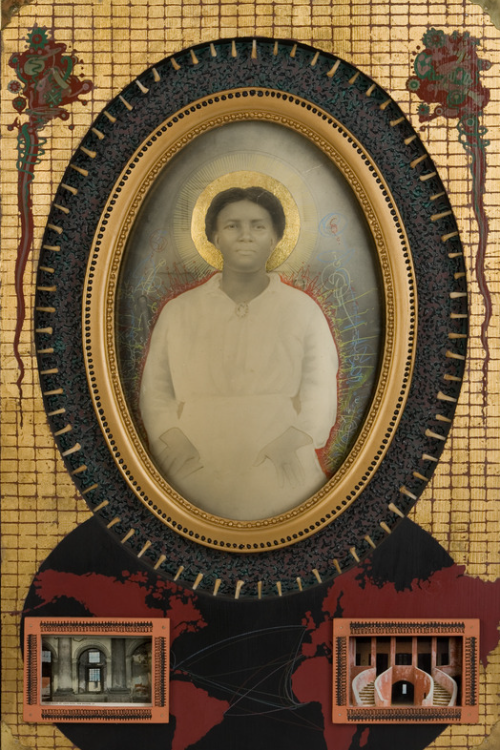 Mark Steven Greenfield, "Patron Saint of Middle Passengers," 2000, Mixed Media. © Courtesy of Mark Steven Greenfield Mark Steven Greenfield (b. 1951) Mixed media on paper, 36 x 23.63 in. (91.44 x 60.02 cm) Mott-Warsh Collection, Flint, Michigan Courtesy of Mark Steven Greenfield
"Yes, I was challenged. Upon [starting] Poetry Paints: Ekphrastic Writing, I was aware there may be children who had never thoroughly engaged poetry. I understand poetry does not erase seemingly intractable social barriers. However, Poetry with a capital P is medicine when organized as a precious power tool," Brown said. "I meditated and prayed and reconfigured my interdisciplinary/intergenerational art/science pedagogy to adjust to the extreme circumstances of the pandemic. It worked! It was an ambitious collaborative effort."
Three students took the mantle of performing their poetry pieces, with one invoking southern African American traditions and food like "spicy greens, macaroni and cheese" and "beans."
Another acknowledged that era's illicit thoughts and feelings by saying, "We ain't getting out-of-here" as a response. Finally, one Freeman Poet drew particular inspiration from Patron Saint of Middle Passengers by Mark Steven Greenfield, honoring enslaved Black Americans with the words "she smells like royalty, a halo with a golden touch."
At the end of the event, students were given bookbags filled with writing materials, books, a certificate of completion, and other gifts donated by The Zeta Foundation-Flint, in alliance with chapter Zeta Beta Zeta of Zeta Phi Beta Sorority, Inc. evening concluded with the Freeman staff and students giving thanks and appreciation for being able to perform and working with Semaj.
While funding has ended for the Flint chapter, Poetry Paints: Ekphrastic Writing from Semaj Brown's manuscript, Poetry as a 2nd Language: Rewriting Writingis expanding into the Grand Rapids area for the academic year 2021-2022.
For more information about "Poetry Paints: Ekphrastic Writing" and any of the programs Brown conducted during her Academy of American Poets Laureate Fellowship, or to arrange an interview with any of the participants, contact Chene Koppitz at (248) 318-7678.