The star of Netflix's Chef's Table and owner of London's Darjeeling Express charts a lifetime of cooking in her second cookbook, Ammu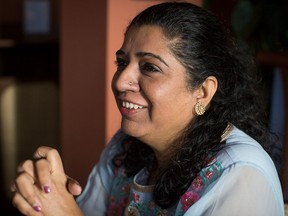 Reviews and recommendations are unbiased and products are independently selected. Postmedia may earn an affiliate commission from purchases made through links on this page.
Article content
Our cookbook of the week is Ammu by Asma Khan, owner of London's Darjeeling Express and star of Netflix's Chef's Table. To try a recipe from the book, check out: Buttermilk chicken pakoras, navratan (nine-jewel) korma and shami kabab (stuffed meat patties).
Article content
It took the silence of a global pandemic for chef Asma Khan to capture a lifetime of love. Unable to travel from her home of her in London, England to Kolkata, India to see her mother of her, she turned to her memories of her instead of her.
Khan had always wanted to write a book about the closeness she shares with her ammu (mother), Faizana. The stillness of lockdown afforded her the time to start. "It was like emptying out your heart on a piece of paper," says Khan. "I just thought, 'No, this I will write in her lifetime of her. I want her to see it. I want this to be a living story.'"
Their relationship is at the heart of Khan's second cookbook, Ammu (Interlink Books, 2022). Dedicated to Faizana, the collection of home-cooking recipes covers five decades of Khan's life, beginning with the comfort food of her childhood de ella ("still the food I love to eat now") and ending with being a mother herself.
Article content
At home in central London in spring 2020, birdsong replaced the usual traffic noise. Khan's acclaimed restaurant, Darjeeling Express, was closed due to COVID-19 restrictions. Writing through the night, entirely by hand, she waited for sunrise to sleep.
"I needed to see light breaking through the dark," says Khan. "It kind of felt like this was what I was also doing through the book: bringing hope and how food can be this great healer and also a way of communicating."
Food is a language of love, Khan writes. Like her mother of her, she uses it to express her emotions of her.
The first thing her mother would ask when Khan got home from school or anywhere else was, "What do you want to eat?" She would give it to her, then sit and watch her devour it. Khan never understood but she found herself doing the same with her sons de ella during the pandemic.
Article content
"As a restaurateur, where I never get to eat any meals with my kids, I got to eat a lot of meals with my kids for the first time," says Khan.
"Suddenly I realized that I was now becoming Ammu in some ways. I was using food as a way of communicating with my London-accented, foreign-born kids who were not immersed in the same culture and ethos as me."
This experience helped the book's final chapter, "Being Ammu" flow easily, she adds. Ella's recipes such as her buttermilk chicken pakoras — halfway "between a chicken nugget and a spicy pakora" — merge ella's Khan's culinary heritage with foods her sons de ella, Ariz and Fariz, enjoy.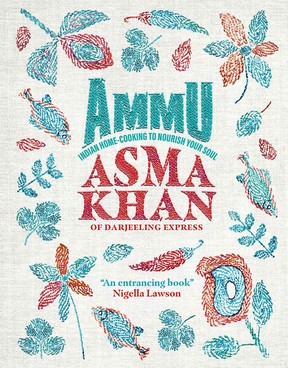 When Khan started writing at the beginning of the pandemic, she expected the process to be emotionally difficult — and it was. "I raised a lot," she says. "But it did help that I didn't want to talk to my family about the book."
Article content
She wrote in solitude, without asking for anyone's opinion on the recipes she chose or family photographs she selected from her grandfather's archive.
Khan's grandfather had a darkroom where he would develop his own photographs; one of her uncles restored images from his collection of him for the book. For Khan, these photographs opened a whole world she had no idea existed; for her mother de ella, they added to her surprise de ella when Khan presented her with a copy of Ammu.
"She was speechless," Khan recalls. "Ella She did n't speak for a while after seeing the book. Because for her, it was her her entire life in her hands in some ways. All her childhood pictures of her and all the stories about her of her: her of her business of her, who she was, what she'd done. It was quite emotional."
Article content
Khan hadn't made the connection before she started writing Ammu, but her mother has had a "huge impact" on the way she sees food as a vehicle for change. As the founder of a catering business and the first female entrepreneur in her family de ella, Faizana also used food to inspire and empower others.
"She shook the world gently around her. And I realized how much I had absorbed all this. That you don't need to burn everything around you to make a point. You can stay steeped in your culture, in your culinary traditions," says Khan.
"You can wear the same clothes. You can hold onto your accent, you don't have to give everything up. Because you can be whatever you want to be. You live your life on your terms."
Cook this: Buttermilk chicken pakoras from Ammu

Cook this: Nine-jewel korma from Ammu

Cook this: Shami kabab — stuffed meat patties — from Ammu
Article content
Khan found her calling when she learned how to cook. Feeling "rootless and lost" after moving to Cambridge, England with her husband in 1991, food became her companion.
Slow-cooking dishes gave her a sense of nostalgia, some of which she features in Ammu: kala channa (black chickpeas), methi chicken (chicken with fenugreek), pot-roast beef, shrimp biryani and bharwan kofta (stuffed meat kofta). But it wasn't the act of cooking alone that resonated so deeply: Feeding others gave her a sense of purpose.
"There's a word in my culture called 'sukoon.' Sukoon is a deep sense of peace. You feel it in your soul. And that I felt when I saw people eating," says Khan.
A trained lawyer with a PhD in constitutional law, Khan started her cooking career hosting supper clubs in her apartment. She now staffs her restaurant entirely with women, none of whom have formal culinary training. In 2019, she became the first British chef to star in Netflix's Chef's Table — her team standing beside her.
Article content
On her 50th birthday that same year, Khan went to Iraq and opened a café in a Yazidi refugee camp. She trained girls who had been enslaved by ISIS so that they might use food as a way forward.
Khan quotes Atticus Finch in Harper Lee's To Kill a Mockingbird: "You never really understand a person until you consider things from his point of view — until you climb into his skin and walk around in it."
She adds: "It's very humbling to see where they're coming from, the women in my kitchen." During the pandemic, they became her anchor. "We were able to give each other a huge amount of strength."
In Nepal and India — where many of her staff are from — COVID-19 "ravaged families"; four members of Khan's extended family died within 40 days early on in the pandemic. Migrant workers were suddenly out of work, walking home hungry without jobs. From London, her team set out to help feed them.
"They were in control from so far away: organizing food, organizing rations, which is rice and wheat. And I saw that this is how change happens. It is not one great explosion of a rebellion. It happens gently. And this is what my mother did as well," says Khan. "She walked with her head high, but she changed everything around her."