Odds and ends from the local arts and entertainment scene.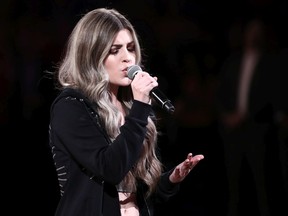 Reviews and recommendations are unbiased and products are independently selected. Postmedia may earn an affiliate commission from purchases made through links on this page.
Article content
Tenille Arts is coming home to Saskatchewan as the latest addition to the outdoor stage at the Queen City Exhibition.
Article content
The Weyburn native is slated to headline QCX's Saturday night show on Aug. 6, joined by fellow country singer Tebey.
Arts, one of the rising stars in country music, received a 2022 Juno nomination for country album of the year (Girl to Girl). She was also nominated for best new country artist at the iHeartRadio Music Awards and best new female artist at the Academy of Country Music Awards. She was a finalist for female artist-of-the-year and fans' choice honors at the 2021 Canadian Country Music Association awards.
Previous lineup announcements for QCX included classic rock bands the Headpins and Streetheart (Aug. 3), American pop and R&B star Jason Derulo (Aug. 4), and Canadian country artists Tim Hicks and Kendra Kay (Aug. 5).
The Ex runs Aug. 3-7 at REAL District.
VIP tables and Fan Zone passes are available now from realdistrict.ca.
——-
The National Screen Institute and Creative Saskatchewan have selected 19 Saskatchewan participants for a new pilot program: NSI Crew Training for the Film and TV Industry.
They are: Allia Janzen (Saskatoon), Anna Hrytsenko (North Battleford), Blair Doucette (Saskatoon), Blessing Alasan (Regina), Chelsa Reil (Regina), Craig Farrell (Regina), Curtis McGillivray (Regina), Hayden Schutz (Regina ), Jessica Gares (Regina), Justin Erhardt (Craven), Legbo Menegbo (Regina), Madison Osterhout (Regina), Maria Hirsi (Saskatoon), Maximillian Poelzer (Saskatoon), Parker Dittmer (Clavet), Steven D. Schneider (Regina ), Tess Dueck (Regina), Tyson Zack O'Brien (La Ronge), and Wendy Whitebear (Regina).
Article content
"Film and TV is bringing big business into Saskatchewan," Erin Dean, CEO of Creative Saskatchewan, said in a media release. "We're proud to work with a nationally renowned training partner for its high-quality programming to prepare the next generation of filmmakers to meet industry demand. The skill sets obtained in this industry lead to well-paying careers and are transferable across sectors, creating strong economic spin-offs for the province."
The participants concluded online training last week in the areas of script writing, set orientation, locations, background performing, post-production, essential paperwork, etc.
The training was designed to prepare them for a six-day in-person workshop that began Monday in Regina. They will experience what it's like to work in the industry in addition to immersing themselves in the production of their own short film.
——-
Regina singer-songwriter-pianist Jeffery Straker is slated to perform on Friday night at the University of Regina's Darke Hall as part of the Regina Jazz Society's gala for 2022 JazzFest Regina.
The fundraising event also features a live auction with artwork by Jason Robins. Doors open at 6:30 pm to view the silent auction items, followed by the concert at 8 pm
More info and tickets ($40) at jazzregina.ca.
JazzFest runs from June 16 to 20 in Regina.
——-
Tickets are still available for The Moist Tour featuring Australian comedian Jim Jefferies on Saturday night at the Conexus Arts Centre.
Article content
"This Sydney native is one of the most popular and respected comedians of his generation, entertaining audiences across the globe with his provocative, belief-challenging, and thought-provoking comedy," according to the Arts Center's website.
Jefferies was named stand-up comedian of the year at the 2019 Just for Laughs Festival. His ninth stand-up special, Intolerant, came out on Netflix last year. He also hosts his own podcast: I Don't Know About That with Jim Jefferies.
Meanwhile, on Monday night, the Arts Center hosts Primus: A Tribute to Kings.
Primus is a California band that pays homage to rock legends Rush by performing the classic 1977 album A Farewell to Kings, in addition to Primus' own music.
The show's opening act is Black Mountain.
Tickets at conexusartscentre.ca.
——-
Casino Regina is hosting a tribute to classic rock band Queen on Friday (8 pm) at the Show Lounge.
The concert — Queen: It's a Kinda Magic — features Dominic Warren as Freddie Mercury. He recreates Queen's 1986 world tour concert with over 20 of the band's greatest hits, including We Will Rock You, Bohemian Rhapsody, We Are the Champions, Under Pressure, and Fat-Bottomed Girls.
Tickets at casinoregina.com.