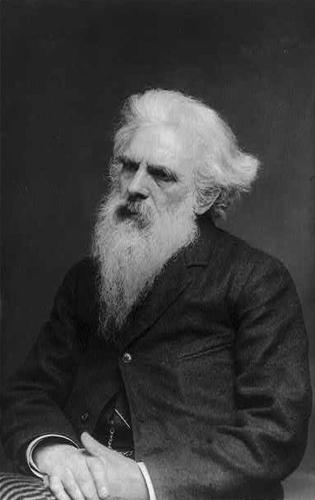 This is the most San Franciscan of stories.
It features a historic tech innovator, sex, mental illness, Stanford money and pet videos. And because this is a tale from history, the entire thing is being recalled.
There is a reason San Francisco has a statue of Eadweard Muybridge in the Presidio. He helped to invent moving pictures here by photographing animals and people in motion. You have seen the historic galloping horse video, which many see as the world's first movie. you may not have seen the short films of nude women kissing, and nude men blacksmithing, and playing leapfrog and baseball.
Yes, San Francisco had nude videos before the rest of the country had light bulbs.
But let's turn back in the archives of The City's oldest newspaper, The Examiner you are reading right now, to before Muybridge became world famous.
Of course, the Board of Supervisors was involved. In 1871, the board approved a business sign for Muybridge at 111 Montgomery Street, about where La Fromagerie Cheese Shop is now, near Sutter Street in the Financial District.
The sign was advertising for Muybridge's photography business, which was booming. His Montgomery Street studio was his home base for his photos of construction of the US Mint a half-mile away at Fifth and Mission streets. He also showcased photos of Yosemite and the coast there. The photos soon caught the eye of former California governor Leland Stanford, but not until after someone else caught Muybridge's eye.
The same year he put up the sign, Muybridge married Flora Shallcross Stone, who at 21 was half his age. Theirs was not a close marriage. Flora liked the theater, Edward did not, and Flora became friends with a dashing theater critic named Harry Larkyns. Then they became more than friends. Muybridge warned Larkyns to end the relationship, and Larkyns moved to Calistoga. But Muybridge discovered a recent letter confirming his suspicions of him, and traveled from San Francisco to Calistoga to confront him. Here is how The Examiner reported the scene on October 19, 1874:
"When he opened the door he was at once confronted by Muybridge, who, in words of terrible import, said 'This is the reply to the letter you sent my wife,' and drawing a revolver, fired. The aim was well taken and deadly. Larkyns had no opportunity to defend himself or utter word. He ran a few steps and fell a corpse."
In the ensuing Napa Valley trial, Muybridge's attorneys – paid in part by Stanford – argued that Muybridge was not guilty by reason of temporary insanity. Acquaintances testified that a head injury in a stage coach accident had altered his personality, making him erratic. The jury did not cite that in their verdict, but they did acquit Muybridge, ruling the killing was justified. Four months after he killed Larkyns, Muybridge was a free man.
After his acquittal, Muybridge traveled to Central America, but returned to his Bay Area photography studies. Chief among them was high-speed photography of animals and people in motion. Especially horses.
In a brief note on Page 3 of the Oct. 2, 1877, Examiner, it was noted that a photographic print had been made of "the racer Occident as photographed by Muybridge in less than the one-thousandth part of a second."
That photo was a glimpse of the future. Because it was captured so fast, other frames could be captured in succession, providing a sequence of motion. When spliced ​​together and projected, they showed horses, buffalo, and other animals running. And Muybridge, who considered himself an artist, captured people, many unclothed, doing all kinds of things.
Appreciation of the early movies started slowly.
On July 10, 1878, The Examiner reported that "attendance was not so large as might have been expected" for a lecture Muybridge gave at the San Francisco Art Association, which was located above a fish market on Pine Street. (Coincidentally, a block from The Examiner's current newsroom in the historic Merchants Exchange Building.)
In fact, the small crowd thought the first movie was funny – and not in a good way. What "aroused astonishment and mirth was the action of the racer at full gallop, some of the delineations being seemingly utterly devoid of all naturalness," The Examiner wrote in history's first snarky movie review.
It doesn't matter. Just 10 days later The Examiner wrote that the movie was showing on a Saturday night – and charging 50 cents for a ticket. That would be about $14.50 today, so surprisingly on par with 2022 movie ticket prices.
A month later The Examiner referred to Muybridge as "the noted photographic artist of this city who has accomplished the extraordinary feat of accurately photographing trotting and running horses at highest speed."
The next year Muybridge invented the zoopraxiscope, a predecessor of the movie projector, and took his show on the road. Over the next decade, The Examiner noted his global fame.
"The instantaneous photographs taken of various animals in motion have received marked attention from the Berlin Physical Society," The Examiner reported on June 22, 1884. "These achievements of Mr. Muybridge of San Francisco in photography have won for him a deservedly high European reputation."
Another Muybridge moving picture has surfaced recently – about him, not made by him. "Exposing Muybridge," a documentary funded by the National Endowment for the Humanities, is now showing at film festivals around the world. In the film, actor Gary Oldman says of Muybridge's work, "It's like splitting the atom, it's like discovering penicillin – it's a monumental achievement."
The filmmakers note a pivotal time in the life of the inventor, who was born with the name Muggeridge in England. He got a taste of The City living here for a few years and selling books. Then he went home to England, but not for long.
"In 1866 he returned to San Francisco with a new name and new profession. He was now Muybridge, a photographer who went by the pseudonym Helios, the Greek god of the sun."
He was ready for his quintessentially San Franciscan story to unfold.
Muybridge was The City's first great tech innovator, says Marc Shaffer, director of "Exposing Muybridge."
"Today the Bay Area has become home to free thinkers who, supported by financial backers, invent technologies that change the way we live. But it started with Muybridge, San Francisco's first technological disruptor," Shaffer says.
"Very few artists can claim to change the world – Muybridge did, and he did it here, in the Bay Area."
.