Rivals national recruiting director Adam Gorney and national recruiting analyst Ryan Wright – along with Ryan Young of DuckSportsAuthority.com and Mark Passwaters from AggieYell.com tackle three topics and determine whether they believe each statement is FACT or FICTION.
*****
MORE FACT OR FICTION: Ohio State will land more elite Florida prospects | NC State has the edge with WR Noah Rogers
CLASS OF 2023 RANKINGS: Rivals250 | Team | Position | State
CLASS OF 2024 RANKINGS: Rivals250 | Team | Position | State
PORTAL TRANSFER: Stories/coverage | message board
RIVALS CAMP SERIES: Info for 2022 series
*****
1. Oregon is now the school to beat for five-star QB Dante Moore.
Gorney's take: FACT. I definitely think this is true. That has been the rumor in recent days that Oregon has taken the lead in his recruitment and with all the other five-stars now off the board except Moore, he could be ready to make a commitment soon. The Detroit Martin Luther King standout keeps considering Michigan and a recent visit there was big, but Texas A&M is now targeting some others and it seems like the Ducks are sitting in prime position. A big visit to Eugene this weekend could solidify things.
Young's take: FACT. At least it sure looks that way. We've always thought Oregon made a lot of sense for Moore, and then we talked to him two weekends ago in Las Vegas and he had such effusive things to say about Ducks offensive coordinator Kenny Dillingham and the strength of their connection. That reaffirmed to us that the Ducks are legitimate contenders. And to return to Eugene this weekend for another look after taking his Oregon official visit two months ago speaks loudly. Oregon has continued to recruit well under this new coaching staff, already winning some high-profile commitment battles, so none of this is a major surprise.
SHARE YOUR THOUGHTS WITH OREGON FANS AT DUCKSPORTSAUTHORITY.COM
*****
2. Richard Young is back at Oregon this weekend. The Ducks have a real chance to get him now.
Gorney's take: FACT. Young is not traveling across the country multiple times for his health. The high four-star running back knows coach Dan Lanning from his days at Georgia, offensive coordinator Kenny Dillingham from when he was at Florida State, position coach Charles Locklyn and after a recent trip to Eugene, it's a great sign that the Florida running back has returned. I still think Alabama will be very tough to beat him in his recruitment, but there could be something cooking between Young and five-star QB Dante Moore, who is also on campus this weekend.
Wright's take: FACT. There are 20 four-star running backs in the 2023 class, and 10 of them are committed. The pickings for top programs are narrowing on backs, which puts an extra emphasis on Oregon landing Young. The watercooler talk has Young seriously considering Alabama and Oregon; this could be the Ducks' opportunity to land an influential recruit at a key position in this cycle.
*****
3. USC commit Zachariah Branch visits Texas A&M this weekend. The Aggies have a real chance at flipping him.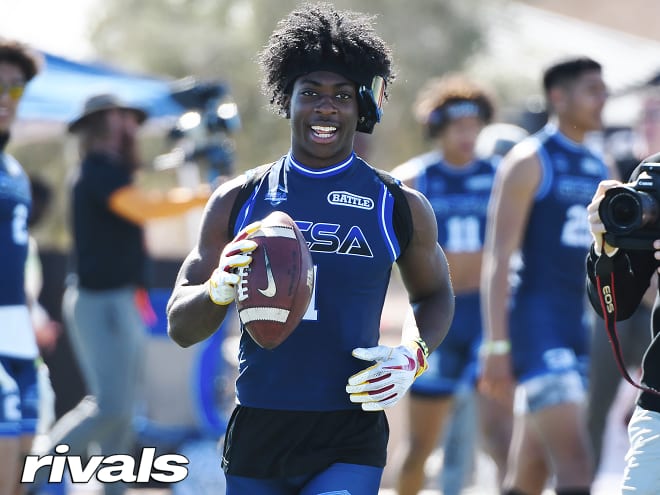 Gorney's take: FICTION. I would be stunned if Branch ends up anywhere other than USC. He is so close with his brother from him, he loves the offense under coach Lincoln Riley, and while I have been surprised before – and it did take me back that Branch was even taking this A&M visit – I just don't see it happening. Maybe I'm being naive and missing something, but my bet is that Branch just wants to see some other schools and experience some visits, but I'd be floored if he didn't end up with the Trojans.
Passwaters' take: FACT. But not immediately. Remember, A&M has had big-time success flipping players and snagging guys who were heavy leans elsewhere — Antonio Johnson, Walter Nolen, Smoke Bouie, Denver Harris and Evan Stewart immediately come to mind. The strategy probably isn't to go for the immediate flip, but give him a lot to think about and arrange a return trip. If they can do that, then game on.
SHARE YOUR THOUGHTS WITH TEXAS A&M FANS AT AGGIEYELL.COM
SHARE YOUR THOUGHTS WITH USC FANS AT TROJANSPORTS.COM