Rivals national recruiting analyst NickHarris, Cole Patterson of Orangebloods.com, Ryan Young of TrojanSports.com and Jerit Roser of TigerDetails.com tackle three topics and determine whether they believe each statement is FACT or FICTION.
1. Arch Manning's commitment all but guarantees a top-five class for Texas in 2023.
Harris' take: FACT. Texas secured arguably its biggest commitment in program history on Thursday with Arch Manning's pledge, and it has the buzz in Austin scorching hot with other notable recruits. Johntay Cook, Cedric Baxter, Connor Stroh and Liona Lefau have all either received FutureCasts or have made a commitment since Manning's announcement, and it has the Texas catching the attention of other notable prospects as well. If the Longhorns can capitalize on their already leaning targets while also pulling in some on the fence, the likeliness of pulling in a top-five class skyrockets.
Patterson's take: FACT. Arch Manning committing to Texas will have a big impact on the field, but there is a good chance that it could have an even bigger impact off of it. Manning to the Longhorns gives Steve Sarkisian and Texas instant credibility on the recruiting trail in a way that very few recruits can do. The Longhorns are the overwhelming favorites to land Rivals100 wide receivers Johntay Cook and four-stars Mikal Harrison-Pilot and Jonah Wilson. Additionally, Texas is in the game for top talents like Malik Muhammad and Braylan Shelby. Furthermore, the Manning commitment has put Texas in play for five-star defensive lineman David Hicks Jr. and top pass catcher Jalen Hale. I'm not sure how high Texas can go, but anything less than a top-five class would be a disappointment after landing Manning.
SHARE YOUR THOUGHTS WITH TEXAS FANS AT ORANGEBLOODS.COM
*****
2. USC is a legitimate contender for four-star wide receiver Jalen Hale.
Harris' take: FACT. Buzz around Longview (Texas) four-star wide receiver Jalen Hale was mostly erratic up until this past weekend when the East Texas standout set the record straight with a large group of reporters at Texas State 7-on-7. In the interview, Hale laid out that Georgia and USC are in his top two, in that order, after big official visits to each program. Hale praised the job of lincoln riley and outside receivers coach Dennis Simmons going back to when they were recruiting him at Oklahoma, and the experience in Los Angeles on his official visit exceeded his expectations. If the Trojans can get him back on campus during the season and continue to develop on the already strong relationship, they could very realistically win this recruitment in its latter stages.
Young's take: FACT. Let me preface by saying I don't think USC is the favorite here. For that matter, Jalen Hale straight out told us Georgia is the clear favorite in his recruitment of him at this point, but there's a long way to go. Hale said USC is No. 2 as of now, but he still has three official visits left for Texas, Texas A&M and Alabama. The key for USC is if it can get Hale back on campus in the fall to see a game in the Coliseum. That is something Hale and his family are indeed considering, but nothing is set up yet. That would be essential for the Trojans to maintain a chance here. But if that happens, and if Lincoln Riley's offense puts on a show this year in his Trojans debut, then yes, they will be a contender until the end. Hale knows the coaching staff well, having spent time with them when they were at Oklahoma, and his USC official visit from him last weekend went better than even he expected. The Trojans indeed gave him plenty to think about. It might be hard to usurp Georgia, but five and a half months is an eternity in recruiting and anything can happen.
SHARE YOUR THOUGHTS WITH USC FANS AT TROJANSPORTS.COM
*****
3. LSU is starting to fall behind schedule recruiting its 2023 class.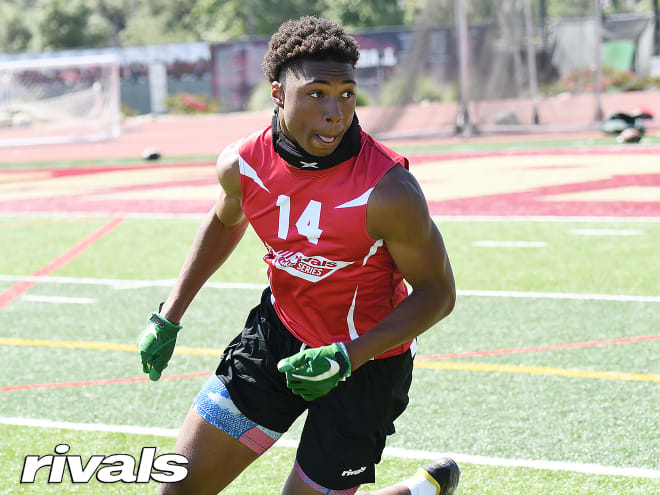 Harris' take: FACT. Don't get me wrong here. While LSU has missed on some top targets that would've been crucial towards building its 2023 class, the Tigers are still positioned well to have a solid transition class under Brian Kelly. But recruiting is a results-oriented business, and the results haven't quite hit in Baton Rouge just yet. That being said, if I were a betting man, I'd bet on a quick bounce back in the coming weeks as it is far from panic time. The Tigers are closing in on targets such as Kaleb Jackson and Shelton Sampson on the offensive side of the ball while turning up the heat on defensive prospects such as Jordan Matthews.
Roser's take: FICTION. At least, I'll hold off another couple weeks before raising the concern level. LSU's six commitments as we approach July is certainly a lower number than we're used to seeing at the same time in recent years. But a somewhat slower start was to be expected with an almost entirely new staff, and several targets with whom the Tigers are well-positioned are scheduled for July decisions and announcements. And many of their biggest recruiting rivals — like Alabama and Texas A&M with five pledges and Florida with seven — are actually still in the same ballpark as far as 2023 numbers go so far.
SHARE YOUR THOUGHTS WITH LSU FANS AT TIGERDETAILS.COM